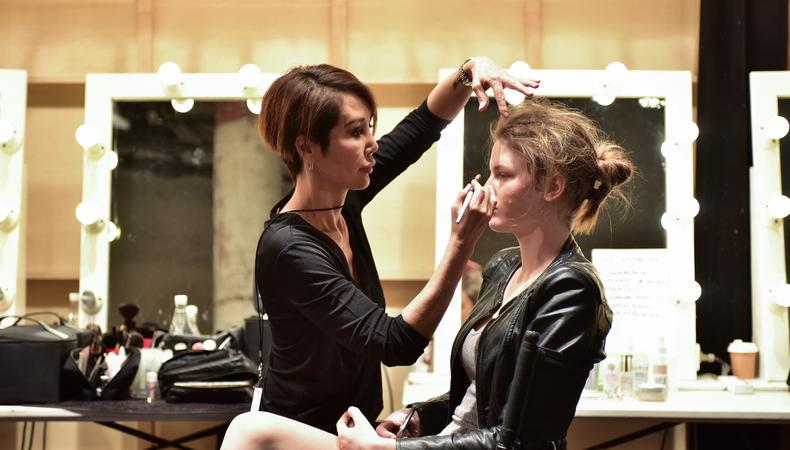 Having the ability to apply stage makeup that suits your character is key to succeeding as a theatrical actor. Here's everything you need to know about making your face pop onstage, including a list of products to use, a step-by-step guide, and links to video tutorials.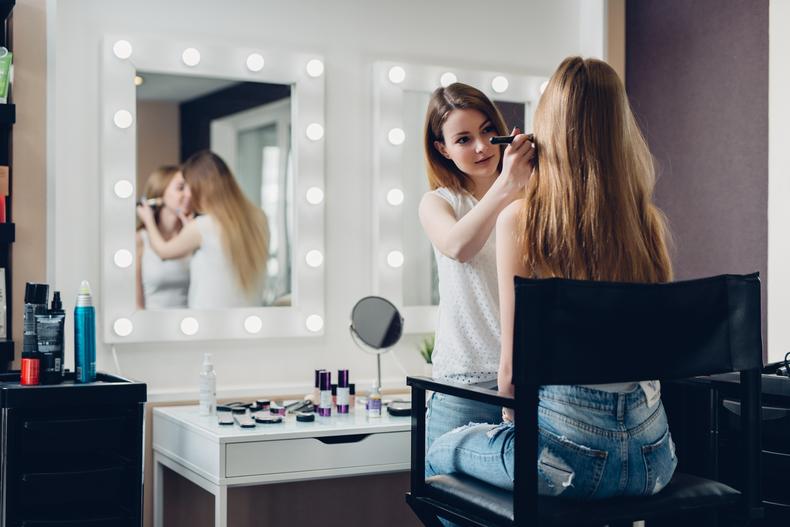 Undrey/Shutterstock
In the theater, actors use cosmetics to enhance or change their appearance to suit their character. Due to the intensity of stage lighting and the distance between performers and the audience, stage makeup is a specialty that requires using different materials and more dramatic looks than day-to-day cosmetics.
In larger professional productions, a professional artist will usually apply makeup to the actors. But for smaller or amateur shows, you may have to do it yourself.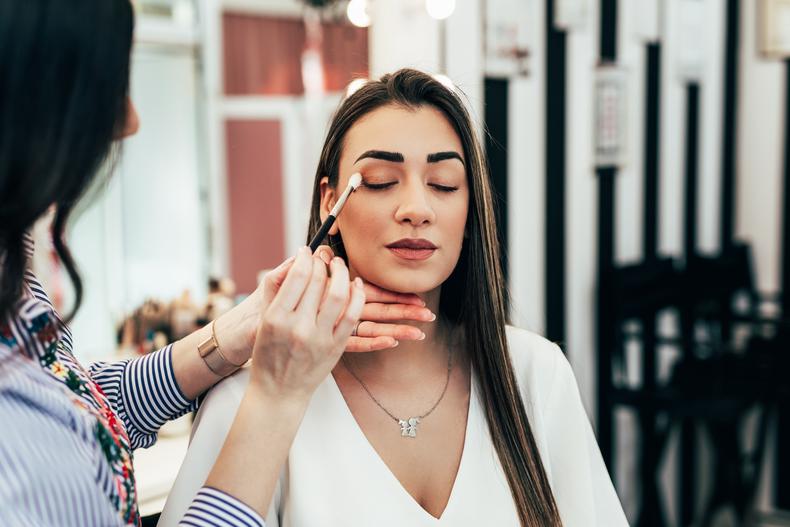 hedgehog94/Shutterstock
Tools:
Makeup sponges and brushes

Facial toner wipes

Primer

Foundation

Powder

Contouring makeup

Rouge

Grease, stick, and dry eye shadow

Eyeliner

Fake eyelashes

Eyebrow pencils

Lipstick

Lip liner
Techniques:
Start with a blank slate:

Wash your face and moisturize your skin, then wait half an hour to let it set. Then, prep your facial canvas with primer so that it's clean, clear, and ready to go. If you have oily skin, use a facial toner wipe before starting.

Apply foundation:

Use a warmer foundation than you would for regular makeup, since stage lights can make you look washed out. Apply greasepaint heavily, and be sure to blend it into your hairline and neck as much as possible.

Contour:

You might want to use darker colors to create depth and define your features, such as your jawline, or lighter colors to draw attention to other features, such as your eyes. Depending on the type of character you're playing, you might even use contouring to create a skeletal appearance or make yourself look younger. It all depends on what you want to emphasize.

Add blush:

Start at the apples of your cheek and

blend the rouge outward

.

Fill in your eyebrows:

Use a brow pencil or stencil that's a shade or two darker than your natural brows to make them appear more prominent.

The eyes have it:

Make your eyes stand out by laying eyeshadow, eyeliner, and mascara (or falsies) on thick.

Pay lip service:

Line your lips in a color one shade darker than the lipstick you usually use to emphasize their shape and make them look bigger.

Set the stage:

Finally, apply translucent powder over your entire face to set your makeup and reduce shine.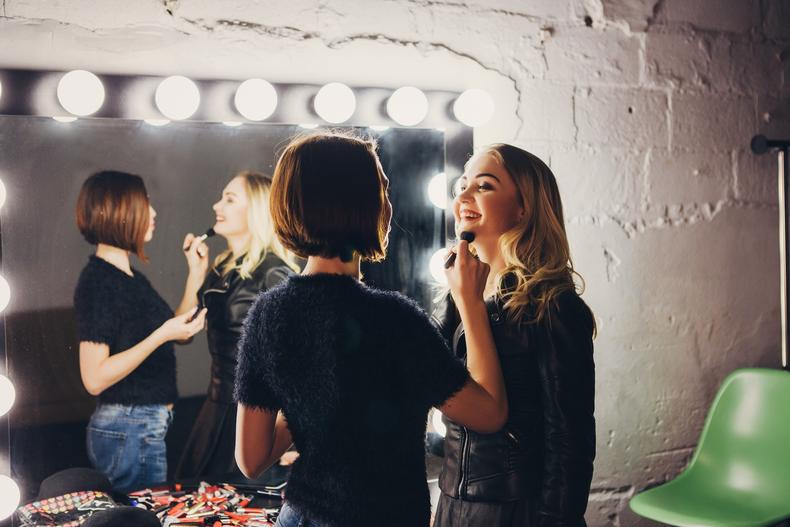 Kokulina/Shutterstock
Primer is key
Putting on primer gives you a smooth base for the rest of your makeup. It also helps your look last longer.
Go darker and warmer
Stage lights are notorious for making actors look washed-out. Wearing a darker, warmer foundation two shades off from your natural skin color can prevent this from happening. Of course, if you're playing a ghost or sickly Victorian child, you'll likely want to appear pale; it all depends on the specific requirements of the role.
Think in terms of light and shadow
"The purpose of highlight and shadow, especially onstage, is to literally rebuild your bone structure from the ground up," explained stage makeup specialist Ashley Griffin. "You've just covered your skin with foundation that can be read under the lights; now, you need to make sure that the bone structure of your face is just as clear under those lights as it is in real life."
Everyone performing in a show needs to wear makeup
Although some actors might be hesitant about putting on dramatic makeup, the bright lights of the theater mean that the face paint is a necessity. If you're makeup-shy, you should at the very least try to emphasize your features: Line your eyes and lips, fill in your brows, and wear blush.
Waterproof and nontransferable products are your friend
Using makeup designed to last will make your life much easier. Otherwise, a single tear or kiss can throw off your character's look entirely.
Use setting spray
Similarly, setting spray helps keep your foundation and contouring in place.
More is better
Unlike makeup for headshots, demo reels, or everyday life, stage makeup is about impact rather than nuance. Don't be afraid to use a heavy hand.
Watch tutorials
Follow in the footsteps of famed stage makeup artists like Angelina Avallone, Joe Dulude II, and Sarah Cimino—or any number of stage makeup artists in training—by watching stage makeup tutorials and putting your studies into practice.