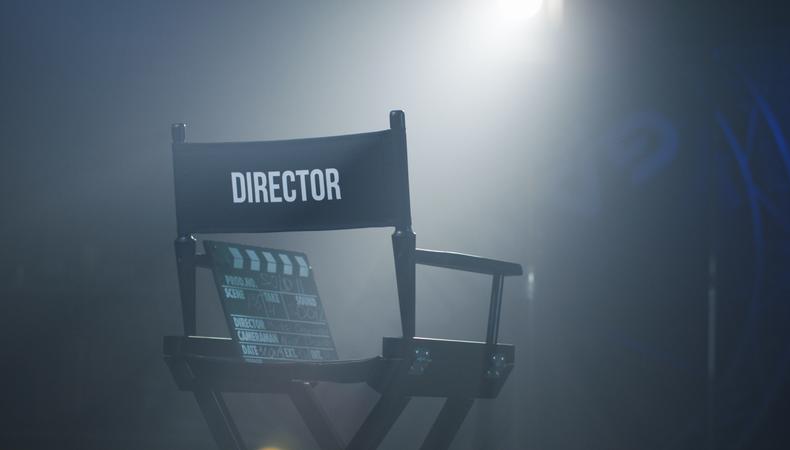 Creatively and logistically, directors are the ultimate guiding force in film. A production would be rudderless without them. Read on for our guide to entry-level film directing jobs, how to maximize your chances of finding work, and what skills you should develop on your way to becoming a sought-after director.
While directing feature-length scripted films is often the ultimate goal of aspiring directors, the reality is that most begin their careers in other areas of the industry and a variety of positions on sets. Entry-level roles that can lead to directing jobs include camera operator, production assistant, gaffer, key grip, and working in postproduction departments like editing. (Actors often make great directors, too!)
Helming short films, either scripted or documentary, is a common steppingstone toward directing features. Other entry-level directors gain experience in areas of production with high turnover, such as commercials, episodic TV, or digital video and social media content.
Regardless of medium, most directors at all career levels piece together work on a project-to-project basis. Networking and applying for jobs in order to gain on-set experience is essential.
On a big-budget movie or TV production, aspiring filmmakers can target other crew positions, all of which sit under the director. First assistant directors work under the director, helping them execute their artistic choices on a given project. The first AD serves as a go-between when it comes to passing along information from the director to high-ranking producers and other crew members; second ADs and even third ADs further fill out the hierarchy on a professional set. Many aspiring filmmakers begin in assistant positions and work their way up to associate and co-director jobs.
Pursuing a formal education in directing is another common path. Bachelor's and master's degrees in film directing and production abound. Such programs can give you a leg up on the technical skills required, and are also a great place to network with the award-winning filmmakers of tomorrow.
Sitting in the director's chair requires a variety of artistic and practical skills, including but not limited to:
Leadership skills:

A director is the team leader, staff manager, and person responsible for setting the tone on set. The most successful examples are assertive, decisive about filmmaking elements both big and small, and charismatic enough to inspire the best possible work from everyone.

Collaboration and communication skills:

Directors must be in constant communication with their teammates, which include producers; assistant directors; cinematographers; production, costume, and prop designers; location scouts and managers; and all postproduction departments, especially editing. Detailing and delegating responsibilities, often under tight, shifting deadlines in a fast-paced environment, is a central part of the job.

Creative vision and style:

Directors make something out of nothing. They have a keen eye for visual details and a well-trained ear for sound. Their job, fundamentally, is to transfer the vision in their head onto film in ways that best tell that distinct story with the help of cinematographers and others.
A mastery of the filmmaking process: Established directors have enough experience on set, likely in various departments, to know the ins and outs, plus potential challenges that may arise during shooting. They also work closely with directors of photography (DPs), which means they need to have firsthand familiarity with the latest equipment and filmmaking technologies.
If you live in a production hub such as Los Angeles, New York City, or Atlanta, big-budget productions are all around you. If you're located in a more rural area, shorts, student films, and DIY independent movies are areas where you're likely to find job opportunities.
Wherever you are, the internet is a valuable tool for researching and finding freelance directing jobs in film production:
Industry job websites

include those with specialized search engines and resources specifically tailored to people looking for work in film and TV. Productions seeking behind-the-camera services often post in online marketplaces like

Backstage

and

Mandy

.

Print and online databases

like

Production Weekly

and

Production Bulletin

are key resources for those looking for film and TV work, in particular. These databases are kept up-to-date with information on what's filming where, so aspiring filmmakers and cinematographers can subscribe to keep track of various productions.

Online communities

that facilitate networking between entertainment industry members at all levels also post job opportunities. Check out

Staff Me Up

, or type relevant terms into LinkedIn's search bar to connect with fellow cinematography enthusiasts or film industry professionals. Keep an eye on the activity in Facebook

groups like

Film Production & Jobs

and

Paid Film/TV Production Jobs: Los Angeles Area

.
Another important way to find work as a film director is through your professional connections. Networking with mentors and fellow filmmakers is the most essential skill when it comes to navigating the entertainment industry. Landing jobs can often be the result of who you know. Reach out to professional or amateur filmmaking contacts you may have, or reach out cold to those you don't with a portfolio. If you play the long game and keep building relationships, professional opportunities are more likely to come your way. Be patient and persistent.
Any job in the industry requires you to have a résumé in which prospective employers can see all relevant production information. In order to apply for jobs on film sets using websites like the ones above, you must typically submit a polished résumé and a thoughtful cover letter explaining why you're a good fit for the job.
Aspiring directors should also think about their online presence. For many, that means building a professional-looking website that shows off video and still images of their best work, plus any positive press coverage. Working directors often create a reel that doubles as their calling card; it's a good way to present your directorial style in a concise two- to five-minute video. Social media can be another powerful tool for both networking and sharing your work.
Another path forward is to create your own screen work. Few successful directors today managed to break through without fiddling with equipment and software, and writing their own stories for the screen. If you can get your hands on a camera (or even a smartphone!) and team up with fellow early-career artists to create a visual project from scratch, no matter how small, that will take you one step closer to the director's chair.
For more on how to get work on a film crew, visit Backstage's crew hub!