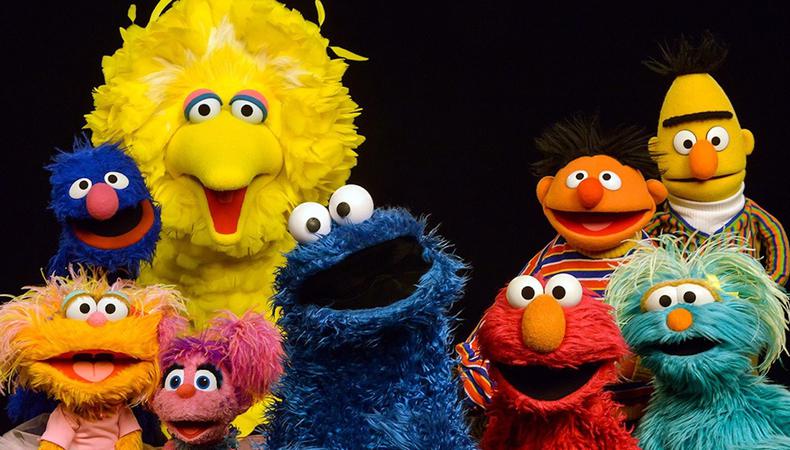 For those singing, "Can you tell me how to get to Sesame Street?" look no further. More than 50 years ago (1969), "Sesame Street" premiered. Today, it's a legendary educational kids' program that features live action, puppetry, animation, sketch comedy, a revolving door of celebrity guests, and has been entertaining and helping families for decades with its advocacy for kindness, acceptance, diversity, and guidance through tough situations.
In the midst of shooting Season 51, the show halted production in March 2020 as a result of COVID-19. But despite setbacks to its normal schedule, "Sesame Street"—which was renewed for Seasons 51 through 55 and four spinoffs via HBO Max in late 2019—has been extremely active over the course of the pandemic with its "Caring for Each Other" initiative and programming.
Due to the uncertainty of the year and the timeline toward normalcy, there has yet to be an official announcement regarding Season 52 and casting. However, the sheer number of "Sesame Street"-related projects in the works this year (and beyond) all but ensure that producers will soon be searching for authentic kids to hang out on the happiest street in the world. "The Kids," any group of children performing on the show, have always been a mainstay, whether in street scenes, songs, or stand-alone segments with the Muppets. Just last year, Violet Tinnirello advanced from one of "The Kids" to a full-time cast member—becoming the first child to join the main cast in more than 10 years.
"Sesame Street" was created by Joan Ganz Cooney and Lloyd Morrisett and has been executive produced by Benjamin Lehmann since 2018. It debuted in November 1969 on National Educational Television (NET) before moving to Public Broadcasting Service (PBS) the following year. It was renewed for seasons 51-55 on Oct. 3, 2019.
While Season 51 of "Sesame Street" was not completed before production shut down due to COVID-19, there is still no information regarding casting calls or auditions for the show. Be sure to keep an eye on Backstage for opportunities to join the series.
Past casting calls for "Sesame Street" have included:
Young Latino talent, aged 6–8

Must be comfortable in front of the camera and be able to take direction; strong reading skills are preferred
Latino male actor, aged 60–79, to play a non-speaking grandfather role
Auditions held in Chicago, Illinois
Kid and teen actors needed to play the roles of a Chinese American boy and girl, a Nigerian American boy and girl, and a Mexican American girl

Ages 9-16

Pays according to SAG/AFTRA scale ($484-$937/day)
A 2012 casting call sought a bilingual actor to portray a new recurring character who interacts with Muppets and the kids. According to casting director, Pat McCorkle, producers were searching for "a warm, likable, and engaging young male or female Latino actor between the ages of 18-25 years old who is fluent in both English and Spanish, and comfortable with multiple Spanish dialects and accents," in addition to possessing strong physical/improvisational comedy and musicality skills. While this was a specific casting call, it's a good indicator of what kind of personality is needed to be a performer on the show: someone who's diverse, good with kids, able to entertain, improvise, and convincingly act alongside Muppets and inanimate objects.
Since its very first episode, "Sesame Street" has been a platform for ethnically and socially diverse personalities, adults and children alike. Kids, of course, have always been the show's main focus and since 1969, producers have cast with them in mind: the earliest audition tapes for adult actors were screened for children to gauge their reactions, and cast based on the kids' enthusiasm.
Additionally, producers figured out early on that kids want to see/listen to themselves on TV, so real children (not Hollywood actors!) became an integral part of the program. For 50 years now, producers have sought non-professional, non-actor kids across races and backgrounds—their spontaneous actions, hesitations, and mistakes (and in-the-moment reactions from the adult cast) often remain in the show.
Some of the biggest names in the industry who began as kids on "Sesame Street" are Maggie Gyllenhaal, Aldis Hodge, Lindsay Lohan, and Ashley Tisdale."That was pretty cool, going to work every day to see Big Bird and Elmo and Oscar the Grouch," said "Leverage" and "City on a Hill" star Hodge, who was cast on the show at five years old. "You're living in the fantasy of this being your reality every day."
Because the show has been on for more than 50 seasons, the cast has naturally gone through many changes—both the human and puppet cast (voices/puppeteers alike). The current cast consists of:
Alan Muraoka as Alan

Chris Knowings as Chris

Suki Lopez as Nina

Bill Irwin as Mr. Noodle

Violet Tinnirello as Charlie

Matt Vogel as Big Bird/Count von Count

Eric Jacobson as Oscar the Grouch/Bert/Grover

Peter Linz as Ernie

Ryan Dillon as Elmo

David Rudman as Cookie Monster

Jennifer Barnhart as Zoe

Carmen Osbahr as Rosita
Over the course of its run, "Sesame Street" has had several casting directors/assistants, but most commonly, casting is conducted by different agencies and teams with producers reaching out to local/regional talent agencies to find prospective on-air personalities. A majority of the series' casting department focuses on children's casting: Gabrielle Howard cast over 160 episodes from 1988-1997, Carolyn Volpe cast 21 episodes from 2010-2014. McCorkle Casting, Ltd. has also been involved with many casting endeavors.
Carol-Lynn Parente, executive producer of "Sesame Street" from 2005 to 2017, for which she has won numerous Emmy awards, has also been extremely hands-on when it comes to choosing the show's new and diverse faces. In 2012, she ran the show's first-ever open casting calls for a Hispanic neighbor role. The audition required participants to speak/sing in fluent Spanish and perform cold reads.
"We know that the Hispanic population in the U.S. is growing and 'Sesame Street' has always modeled that diversity from the very beginning," Parente said during the casting call.
One of the auditioners said, "I think that having an example for kids that are Latino, for kids that are immigrants, for kids that are Spanish speakers, that aren't native English speakers is really important because they see it and say, 'I belong.'"
After the initial casting call, callbacks were held wherein runner-ups appeared on camera and performed alongside a Muppet. After a series of auditions, Ismael Cruz Córdova landed the role of Mando, appearing in 12 episodes before acting in series like "Ray Donovan," "The Mandalorian," and the upcoming "Lord of the Rings" TV adaptation.
On the audition process, Córdova said, "It was like 'American Idol' but for 'Sesame Street'—the amount of people [that] were there! They were looking for a bilingual person to begin with—so it was open to males and females—that had good comedic skills and charisma, that could sing. We were able to interact with the puppets…. You know, they were seeing who would surrender to that and just enjoy it, and live in it, and just be able to interact with these puppets as equals as well. That's the other thing: We embrace children as equals."
And nobody knows that more than filmmaker Shola Lynch ("Chisholm '72: Unbought and Unbossed," "Runner: The Mary Decker Story"), who appeared on "Sesame Street" between the ages of 2 and 6. "First of all, you're not acting, let's just be clear on that," Lynch said of her time on the show. "They select kids that interact and are good at 'make-believe' and will play along…. I think that show is a sweet reminder of what democracy can look like, and sometimes I think we lose sight of that. We've gotten to the point where I wonder what the national community is because we have trouble talking to each other. When we're kids, we're actually taught to act and behave in another way. Then we become adults, and we forget everything we've learned."
Speaking of the kids' role on the show, she continued: "I thought of it as playing. I knew I was playing with my friends, Ernie and Bert, and I knew that they were puppets…. It was a lot of fun just pretending with them. It wasn't a documentary because there was a script for the adults, but the kids were not scripted exactly and they would keep rolling until they got the interaction they were looking for."
Just be yourself: Sonia Manzano, who played Maria from 1971 to 2015 and worked as a writer on the show, first responded to a casting call for the show at 21 years old in order to "contribute to a society that didn't see me." She said: "Every other job that I went up for, I had to have an accent or act older than I was so I could be the maid. Or I would get sent up [to play] the sassy black girl.... But here was a show that said, 'We just want you to be yourself so that children in the inner-city neighborhoods who are watching you will have someone to relate to."
Know that they want you to do well: Casting wizard Pat McCorkle has helmed several casting calls for the show over the years, including the NYC auditions where Córdova was found. With a gifted eye for talent and who has 'it,' McCorkle said, "In casting, we're like personal shoppers for directors and producers. We listen to what they want and how they work and try to find the best fit to fill the need. If you're chosen to come in, that means we think you have a shot. I want you to be good. I'm absolutely rooting for you."
"In casting, we're like personal shoppers for directors and producers. We listen to what they want and how they work and try to find the best fit to fill the need."
Sometimes your personality will shape the character: "I got a call from my agent about the audition, and I went in with about 100 or so other actors, both women and men," recalled Alan Muraoka, who has been on the show since 1998. "At that point, they didn't know what they wanted, so they saw a variety of people. Most of the prior owners of Hooper's Store were older and more grandfather-ish, and I was hoping that they were looking to go in a new direction. I had a total of four auditions for the show, and each time there were fewer and fewer people. At my third callback, they had decided that they needed an Asian-American representation on the show, so there were 10 of us. And at my final callback for the producers, I got to improv with Telly Monster, who is one of the Muppet characters on the show. It was very nerve-wracking, but at the same time, I knew that I was a good fit for the show. I had done a lot of children's theatre in the past, and I love kids. So it seemed like a natural fit. They thought so too, and I got the part."
Make your interactions with the Muppets believable and convincing: Suki Lopez, who joined the show as Nina in 2016, said: "Originally, at my first audition, it was a reading with another person doing Elmo's line in their own voice, which was kind of weird...But it was a regular audition, I just went through it trying to keep it real and believable. It was a scene where Elmo and I had a heart-to-heart talk.
"The second time around, at my callback, I auditioned with Murray. We did a little scene and we sang together and did an improv. It was actually super-fun. It was one of the coolest and most fun auditions I have ever experienced. That day, I remember thinking that even if I didn't get the job, I was happy to go through the process. I just thought it was amazing, I mean, talking to a puppet?!"
"You weren't brought in as an actor, you didn't have to learn lines, you were essentially who you were."
Be a regular kid: When it comes to selecting kids to be on the show, authenticity is key. Lynch recalled, "I was a talkative little kid and I used to run ahead of my mom in our neighborhood and one neighbor said, 'Hey, there's this new show I work for at WNET called 'Sesame Street' and we're looking for kids.' My mom said, 'OK' and took me down to the studio and I was good at playing games, I liked playing games...I was two and a half, and they loved putting me next to Big Bird because I was so small. It wasn't professional, it was fun, it was games. You weren't brought in as an actor, you didn't have to learn lines, you were essentially who you were."
Currently, there's no information available regarding auditions for Season 51 or future seasons of "Sesame Street." Be sure to keep your eyes out for notices regarding casting calls/video submissions on the show's website and Backstage, and follow its official Instagram and Twitter pages. Those with singing and dancing backgrounds can stay connected here in regards to "Sesame Street Live!" audition updates.