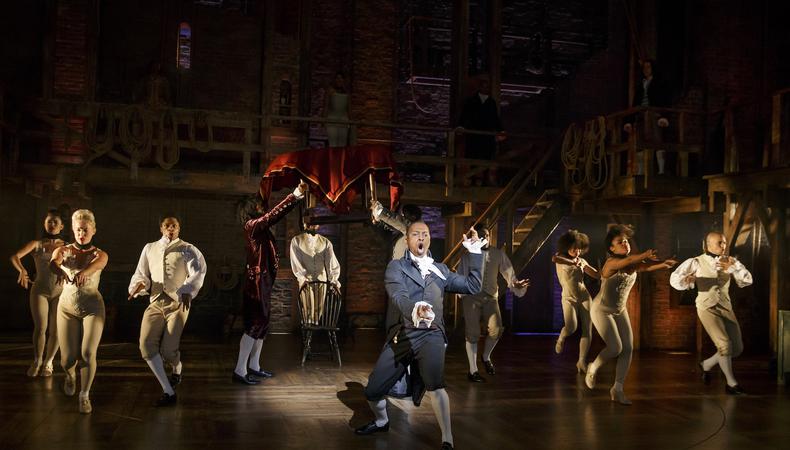 "Images almost always come first," says Andy Blankenbuehler. "Choreography, the steps themselves, come later."
His distinct approach to dance is apparent in the smash Broadway musical "Hamilton," in which Blankenbuehler infuses individual moments in the life of Alexander Hamilton with specificity. In the second act, when the title character sings a song about the hurricane that destroyed his childhood town, ensemble members swivel around him on a turntable, hoisting furniture overhead as in a storm. Some crawl backward across the stage in slow motion, which the choreographer refers to as the "cockroaches" section. "[The lyrics are] about how the ego eats you alive and makes you do things you probably shouldn't do, so the men are crawling backward like cockroaches, like you can't resist how it's going to get you."
One of Blankenbuehler's favorite choreographing techniques comes from an unlikely source: impressionistic paintings of the late 19th century. "In an impressionistic painting the surrounding is blurry, so for me it's about figuring out how to make the surround blurry in a way that informs focal points." Audiences, he explains, usually focus on vocalists in musicals. "The audience doesn't look at the surround but they can feel the framing device that informs what they're looking at. It tells you where to look but also how to feel about what you're looking at. The dance informs the vocal."
When, for example, Angelica Schuyler Church confronts Hamilton with understated anger in the second act, "all the dancers around her are moving in slow motion—but they're hitting a wall, and they kind of ooze out of it," describes Blankenbuehler. The moment contextualizes her coldness with a frenzied fury, felt by the audience on a more subconscious level. "That tension is an impressionistic painting around her."
The award-winning show marks a reunion between Blankenbuehler and creator-star Lin-Manuel Miranda following Miranda's first musical, "In the Heights." After both taking home Tony Awards in 2008, Blankenbuehler went on to direct and choreograph "Bring It On: The Musical," on which Miranda served as composer-lyricist. During rehearsals, Blankenbuehler remembers the first time he heard the opening number of "Hamilton"; while waiting impatiently for Miranda to finish a song for "Bring It On," the writer excitedly dragged him backstage. "He said, 'I gotta play you this new song from this thing about Alexander Hamilton.' I was, like, 'Really? You're writing raps about the Founding Fathers?' "
But it was clear they had an exciting project on their hands, and another opportunity to take advantage of the seamless collaboration between Blankenbuehler, Miranda, musical director Alex Lacamoire, and director Thomas Kail. "We finish each other's sentences so much," says Blankenbuehler of the team. "To the point that our sensibilities for what we want to accomplish onstage are the same. This is why the collaboration is so, so rare in the way that Lin writes: What comes out of him already works for me.
"It doesn't mean it's necessarily easy for me to choreograph!" he adds. Creating theater should be difficult; it's when a creator is stuck that the best work emerges. Blankenbuehler says "The Room Where It Happens," his favorite number, has the most precise visual storytelling in the show because it was the creators' biggest challenge. "There are times working on a show and you have to stage or create a moment where you have no idea what it would feel like." (Performers, Blankenbuehler points out, face that hurdle, too. "Actors all the time have to act out scenes they've never lived through.")
Check out the Backstage casting notice for the "Hamilton" Broadway and national tours!
The solution, it turns out, is to rely on the strength of the team's collaboration. In developing new work, Kail sets up an environment where everyone is "instinctively trying to accomplish the same thing," Blankenbuehler says. "There's this real feeling of embracing each other's work. It's always hard to get criticism but with these guys, it's not quite so brutal emotionally because you know it's very well thought out and supportive."
Thanks to Miranda's rhythmic style of composition, Blankenbuehler can use his choreography-friendly hip-hop beats to create theatrical images right away. Lacamoire, he says, also orchestrates as they go: "When the songs come to me they're already pretty produced: bass, drums, samples, vocals. So for me, as a choreographer, they get me halfway down the process already because I can imagine the songs. A lot of times you're working on a new show and all you'll have is a recording of a piano—when in the real show there's not even a piano in the orchestra. So thank God for GarageBand."
Now that "Hamilton" is entering this year's Tony Awards race with a record-breaking 16 nominations, Blankenbuehler can't help but reminisce. Artistic collaborations like the one he shares with Miranda, Kail, and Lacamoire come around once in a lifetime; when they launched "In the Heights," there was no telling how high they'd climb.
"That first time, that was a really romantic and exciting time for all of us, because we had nothing to lose. We put all the chips on the table, and had a passionate love for the American musical. So it was never a case of, let's reinvent anything. It was, let's scream out as loud as we could with our voice."
Like this interview? Check out more from creators and Meet the Maker!
Want pointers on dance? Watch here: