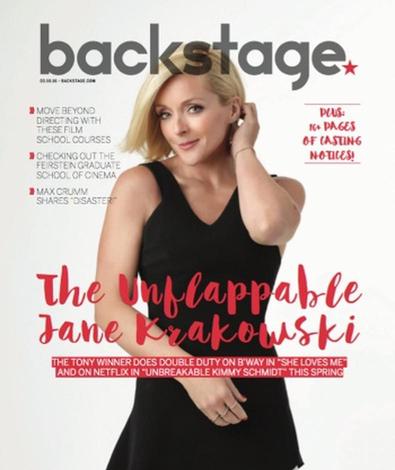 Jane Krakowski is not crazy.
Given her best-known roles, however, you'd be forgiven for believing otherwise. As Jacqueline Voorhees, the insecure trophy wife of Netflix's "Unbreakable Kimmy Schmidt," she clings to socialite status with alarming credibility. And on seven seasons of NBC's "30 Rock," she piled layer upon layer of self-delusion onto Jenna Maroney, turning a narcissistic D-lister into a borderline sociopath.
But the self-effacing Krakowski isn't anything like her creations. "There are moments when you want to stop and say, 'Thank you,' " she says of her career. While filming a scene for Season 2 of "Kimmy," the actor realized she was approaching 10 years of collaborating with creators Tina Fey, Robert Carlock, and much of the crew from their "30 Rock" days. "I just looked over at Robert Carlock and I got super emotional. There are these moments when it just stops me for a minute: How am I here? How am I performing this material that I love so much, working with people that I admire so much?"
Born in Parsippany, New Jersey, and practically raised at the local community theater—"My parents didn't get babysitters so they would just bring me there"—Krakowski has been honing her talent with equal parts gratitude and focus all her life. She's earned five Primetime Emmy nominations and a Tony Award, and is currently taking the Broadway stage for the eighth time in "She Loves Me," the beloved 1963 rom-com musical from Joe Masteroff, Sheldon Harnick, and Jerry Bock, opening March 17.
"I'm just now in that phase of, 'I've got to remember how to do this again,' " Krakowski says with a laugh, having last appeared on the Great White Way in the 2003 revival of "Nine" (also produced by the Roundabout Theatre, the company she calls her "theater family"). "What I love about doing live theater and the same material night after night is...you can live inside the same words." In sharpening the choices she makes onstage with those words, Krakowski distills each moment down to its purest comedic element. "There comes a great joy in that, in making it so clear because you've had the time to define it.
"That sounded really pretentious," she adds. "By the way, I don't know anything! I truly believe that. I feel like every time I start something new, I don't know anything. I'm starting all over again."
Krakowski got her start at age 9 from Graciela Daniele during an open call for the Milliken Breakfast Show, a clothing company industrial showcase she found by browsing casting notices in Backstage. "We used to go to the city, buy it, and circle the ones I was appropriate for with a marker," she says. From there it was a big-screen debut in "National Lampoon's Vacation" in 1983, followed by two Daytime Emmy nominations for the soap opera "Search for Tomorrow." All the while, Krakowski solidified her triple-threat status, stealing scene after scene in Broadway musicals.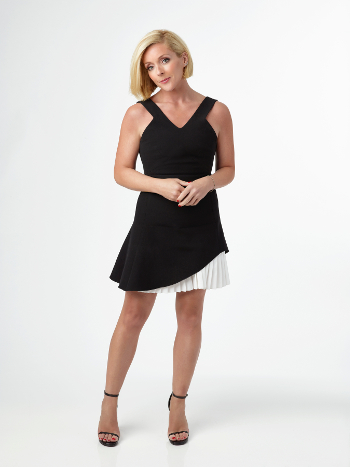 "She's constantly, constantly working," says Scott Ellis, who has directed Krakowski in the 1995 Broadway revival of "Company," several episodes of "30 Rock," and now "She Loves Me." "Every single thing she does up there, she's thought about." When the actor played April, the daffy flight attendant in "Company," Ellis remembers the moment he knew Krakowski was the real deal. "During one of her monologues as the stewardess, she pulled up her hand, as stewardesses do, to show exits and entrances. It's small, a simple thing. But it's genius."
Krakowski attributes her subsequent career phase to Meg Simon, the casting director on Fox's "Ally McBeal." But after five years on that show (and a Golden Globe nomination), she reached that all-too-familiar fork in the road: "Do I go back to New York? Or do I stay in L.A.?" Unsure how to choose between what was, in her mind, a television or theater career, Krakowski set her sights on the one project she craved.
"I wanted to do nothing else but 'Nine,' " she remembers. Directed by David Leveaux and starring Antonio Banderas, the production took months to cast its Carla, and Krakowski proved a relentless auditioner. "I met with them first, didn't get it. I learned the songs, auditioned with the songs, didn't get it. I just wanted to be a part of it in some way, shape, or form." Her performance, which involved a spectacular entrance from the ceiling on a bedsheet—without a harness—culminated in a Tony win and convinced the actor to stick to her roots. "I haven't left New York since."
How fortuitous, then, that her agent Bill Butler sent over the script for a TV pilot matching her sense of humor—and filming in NYC. "I met with Tina Fey and Robert Carlock in a little room and I actually remember the outfit that I wore," Krakowski says, laughing. "Now I'm, like, Why would I wear shorts? That was a bad choice." Whatever the creators of "30 Rock" thought of her wardrobe, they knew they'd found their Jenna.
"I look back and I'm not really sure how it all happened. But I'm so thankful for that day." That gratitude endured; every time the show was renewed for another season, she says, the whole team reacted with shock and delight. "I don't think there was a day in the process, a day where we were filming until 2 a.m. or a day when we had to get up at 5, where anyone didn't feel that. And that's a rare experience."
Even rarer is the opportunity to extend that collaboration into an entirely different project. Within half an hour of hearing that a pilot she had filmed was not picked up, Krakowski says fate intervened again. "I got an email from Tina saying, 'Would you like to come on "Unbreakable Kimmy Schmidt?" ' I literally just wrote, 'Y-E-S!' in capitals, exclamation point!" She agreed before learning about the character of Jacqueline, or even the show's premise. "My agent was, like, maybe call us?"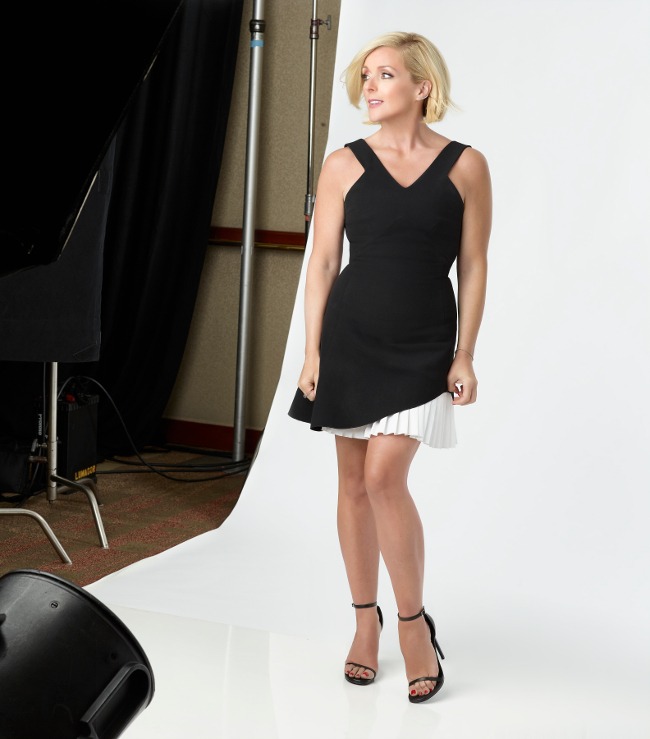 During the weeks that rehearsing "She Loves Me" and shooting Season 2 of "Kimmy" overlapped, Krakowski proved it is indeed possible to balance both stage and screen careers. For Ellis, who couldn't see anyone but her playing the coquettish Ilona Ritter, that was a relief. "There was nobody else on the list. It was just Jane. If she had said no, I don't know what I would've done.
"She has a mix of everything," the director adds. "She's a brilliant comic, unbelievably funny. But she's also very vulnerable and that's what you need for her. And she's beautiful and sexy. There aren't a lot of women who check all those boxes off."
Another little-known fact about Krakowski: She's also an Olivier Award–winning star of the West End. Starring as Adelaide opposite Ewan McGregor in a production of "Guys and Dolls," she remembers director Michael Grandage gave the best advice of her career. "He said, 'It's going to be your own Adelaide because you're doing it.' And it seems simple, but that goes for any part an actor is going to take. You're you. So believe in what you are.
"I think when I was younger I strived for perfection. And now I strive for my imperfections because I think they're more interesting."
---
A Grand Assembly
Before stepping in front of any live audience, Krakowski recalls something Tommy Tune once said while directing her in Broadway's "Grand Hotel" in 1989: "That group of people will never, ever be assembled together in the world at the same time."
Like Grandage's advice, it's a simple thought that nevertheless inspires gratitude and awe in the actor. "I always remember that right when I'm about to walk out there," Krakowski says, adding that Tune also told her "to look up at all the ceilings of theaters because there's so much beauty up there, and I do that, too!"
Want to read more? Check out our Backstage covers here!