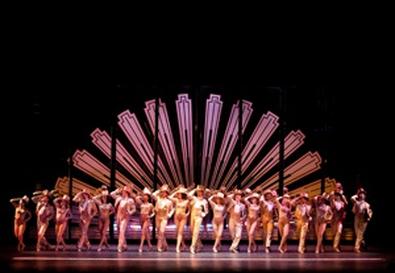 Almost devoid of conventional plot elements, musicals like "A Chorus Line" are rarities in the world of Broadway. But director-choreographer Michael Bennett wanted to get inside the heads of those who aspire to be part of the nameless choruses of large-scale Broadway musicals. Doing so meant that librettists James Kirkwood Jr. and Nicholas Dante would have to find ways to create intimate character studies that would hold audience interest. They did so, lyricist Edward Kleban and composer Marvin Hamlisch followed suit, and the result was the smash hit of 1975. The success of subsequent productions rests on several key elements: assured performances by the actors playing Zach (a prototype of Bennett) and his ex-girlfriend, the sensationally talented but now desperate dancer Cassie; choreography that re-creates that of the original production; dazzling costumes for "One," the show's rousing closing number; and, of course, a strong cast with top-notch song-and-dance skills who can also deliberately portray chorus members who may not be quite good enough to make the grade.
Director T.J. Dawson's staging embraces all of these elements while effecting an aptly grungy, off-the-cuff look that suits the behind-the-scenes grind of dance performance. Musical director and pit conductor Julie Lamoureux, working from Jonathan Tunick, Bill Byers, and Hershy Kay's orchestrations, and vocal arranger Don Pippin have forged an orchestral and vocal sound that amplifies the distinctive jazz, rock, and show-tune facets of Hamlisch's score, while Linda Love-Simmons' restaging of the original choreography is spot-on, often moving the dancers to rise to the level of showstopping.
Although the show has become a staple of musical theater companies of all sizes, "A Chorus Line" still has something to say with respect to how people of every stripe adjust to the curveballs life throws them, and how they keep their dreams alive despite the unpredictable income and almost constant rejection of their profession. Michael Paternostro captures Zach's driving perfectionism and laser-like curiosity about the people behind the faces of his would-be chorus line members. Alexis A. Carra's Cassie is a less defiant, more vulnerable take on the character than what is usually seen. She's heartbreakingly damaged, and Carra's notable work in the "Music and the Mirror" scene depicts the fire burning beneath Cassie's newfound humility.
Most of the other principals project a self-congratulatory hyper-cheerfulness. The exception is Kavin Panmeechao's Paul, the young Puerto Rican gay whose profoundly private nature, at odds with most of his peers, is revealed late in the evening in the play's most affecting portrayal. The standouts here are Tomasina Abate's elegant, charismatic, supremely confident Sheila, Cassie Silva's deliciously raunchy Val, and Robin De Lano's candid, quietly passionate Diana. While Anthony Chatmon III's athletic Richie, Kristen Lamoureux's gawky, joyful Maggie, Adrianna Rose Lyons' perky Judy, Theresa Murray's delightfully tone-deaf Kristine, Shane Orser's blasé Bobby, and Thomas Roy's darkly handsome, sexually forward Butch deserve kudos, all 17 of the would-be chorus members are superb.
The production's visuals complement the gifted cast, starting with Musical Theatre West's set of multiple vertical mirrors situated upstage. Jose M. Rivera has provided the original line costumes, which have been adapted to the cast, and the glittering gold ensembles for the spectacular finale are supplied by Baayork Lee and the National Asian Artist Project. Remaining components, including prop design–set decoration (Terry Hanrahan), lighting (Tharon Musser), and sound (John Feinstein), are reliably sturdy in their support of the show's more conspicuous design elements.
Presented by 3-D Theatricals at Plummer Auditorium, 201 E. Chapman Ave., Fullerton. May 11–27. Thu.–Sat., 8 p.m.; Sun., 2 p.m. (Additional performances Sun., May 20, 7 p.m.; Sat., May 26, 2 p.m.) (714) 589-2770 or www.3dtshows.com.