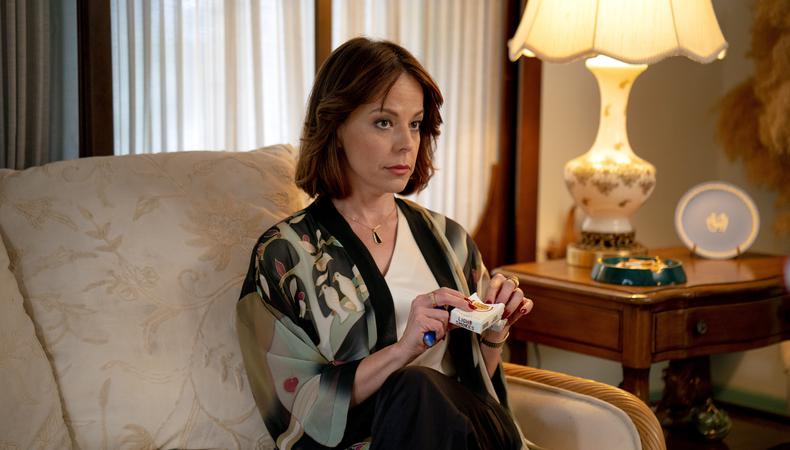 The following Career Dispatches essay was written by Leslie Kritzer, who stars on EPIX's "Bridge and Tunnel" opposite Ed Burns and who's beloved from her theater roles in shows like "Beetlejuice."
"Pauline isn't more talented than you, she just works harder." —My piano teacher, Carmela Cecere, in 1987.
Everyone will have an opinion about you in this business. People will tell you where you fit, where you don't fit, and in the next breath raise you up to the heavens. If I could have told myself one thing while I was just starting out? Don't believe any of it…too much.
It was 2011. I was up for the lead in a huge Broadway revival of my dream show. At this point I had been working for 12 years, paying my dues in the city. I had dreamed of playing this role. People had been saying that this role was mine. Producers of the show had talked to me about it for years. So, I put all my hopes and dreams into this one basket and I believed the hype. Then I got the call from my agent. "Yeah… So they said they just think it's past your time." I was in shock. This wasn't the plan. What does that mean? I'm done? I shouldn't try anymore?
Well, they were wrong. It wasn't PAST my time. Actually, it just wasn't my time YET.
A few years ago, I made a decision that I wanted to try and do more TV. Once again, everyone had their opinions. "But you're a theater girl, that's what you do!" True. For the better part of the last 22 years I've made my living in the theater; my first love and my home. But I don't believe putting Baby in a corner is for me—or for any of us. If you really want something and put your mind to it, get humble, get to work, and love the process with no expectations, the possibilities are endless.
So, I got to work. I started concentrating on my self-tapes, worked with coaches, took class, got better at auditioning, did my research. There is always someone who is better looking, more talented, more connected. The only thing I could control was how hard I worked.
During my audition for "Bridge and Tunnel," I was so nervous to meet Ed Burns. The audition was over Zoom, which, during quarantine, doesn't happen often. He put me at ease right away and at a certain point my instinct was to throw down the pages, be confident in the lines, and go for it. I trusted myself. I did my work and let it fly. Luckily the stars were aligned and it went my way.
The biggest lesson I've learned in 2021, which I hope I can impart to you, is this: Don't get in your own way. I recently auditioned for another TV show to play a character that I never would have thought I had a shot for. When my manager emailed me about it, I had five hours to put it on tape. I was initially angry because I thought I would make a fool of myself. My body type wasn't right for this part. I gained some pandemic weight and didn't want people to make fun of me. Then, that little voice said, "Kritzer, make the tape and use the anger." Well, I did. Then I forgot about it.
Now I'm sitting in a hotel room in Atlanta, Georgia a few days away from shooting that role. Life really will surprise you. Be open. Be humble. And do the work.
Looking for remote work? Backstage has got you covered! Click here for auditions you can do from home!