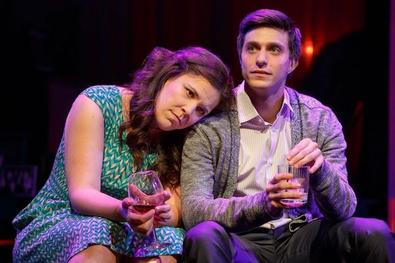 Lindsay Mendez took time out of her busy schedule to swing by the Backstage offices March 16, where we chatted about her early days as a working actor, the difference between starring in a play (catch her now in "Significant Other") and a musical (she previously starred as Elphaba in the 10th anniversary run of "Wicked"), and how Ryan Scott Oliver and she are paving the way for other actors with their intensive, Actor Therapy.
Whether play or musical, it's all about the story.
"The rehearsal process [for a play] is a little different because you get to really focus on the story and the scene work. You're not also trying to learn the music or choreography. ['Significant Other'] offered much more time for me to do the work on the play and not have to worry about how I'm singing it. But it's all just telling stories. We're all actors, it's just that some of us sing the words. Except [now], you know, I can have dairy in the morning."
READ: Lindsay Mendez and Derek Klena Originate Leads in 'Dogfight'
Speaking of dairy, how does she keep her voice sounding strong?
"[Your voice is] a muscle, and it needs to be warmed then worked out and cooled down and then rested. I know my voice super well, and if it feels tired, then I know I can't push it today, and if it feels really good, I also know [to not] live in how good it feels for too long. But I work every day on my voice. I sing when I'm doing the play, and I teach voice, too, so I'm constantly working and getting to know it better and better. It's about being super aware of it and knowing that it's another part of your body that you have to honor how it's feeling day to day."
Actor Therapy is a passion.
"It's been something that we really believed in and loved and nurtured and spent a lot of time on. We started with eight students [in 2012], and this session we have 100. We've had about 700 students come through the program so far. We've had students book Broadway shows, get their Equity card, get agents. It's been really cool and exciting and I'm loving every second of it."
Don't let the bustle get in the way.
"Sometimes people come [to NYC] and don't actually spend the time to audition or to take class because they get caught up in the rat race of making money in New York. Are you actually prepared to come here and do what it takes? To wake up at the crack of dawn and audition and be in class and keep practicing your art? I've seen some kids wait and save money for [a few] months and then come here and not have to be killing themselves doing the day jobs so they can really focus on putting the ax to the grindstone and auditioning daily and taking class and getting the most that New York has to offer—and it has to offer a lot."
'You are enough as you are.'
"I think rather than trying to be what [the casting director] wants you to be, you have to be the best version of you and know that that is what they're looking for. They don't want someone who can do anything; they want specific, unique people. I think that's what's so great about New York casting is they really are looking for people to create on, people who bring in their own ideas…. Be specific, and don't be afraid to be yourself and make your audition book the best version of you that it can be. I think you have to really go for it and know that you are enough as you are."
Want to follow in Mendez's footsteps? Check out our Broadway audition listings!