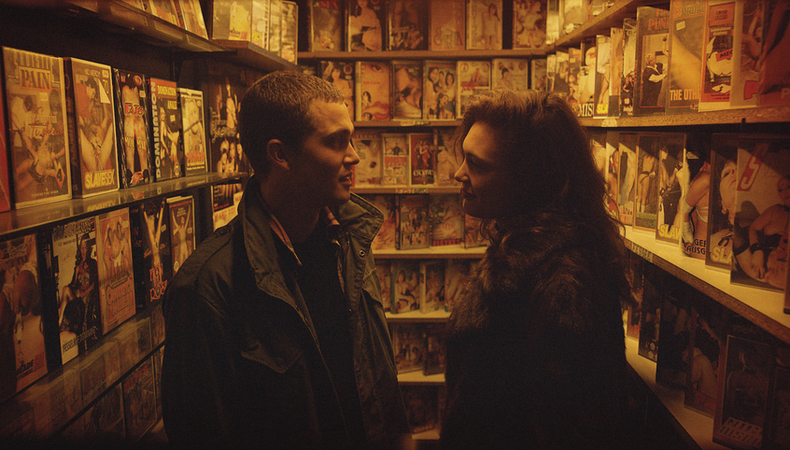 Few filmmakers working today strive to push cinematic boundaries quite like Gaspar Noé, and he's out to do it again with "Love," now in limited release. This X-Rated, 3D love story revolves around sex and its role in romantic relationships, going so far as to document unsimulated copulating between stars Aomi Muyock and Karl Glusman.
Glusman plays Murphy, a 20something American director living in Paris. It's there he meets and falls for the beautiful Electra (Muyock). The remainder of the film's 235-minute runtime—approximately 50 percent of which is graphic love-making—depicts their union's gradual crumbling and Murphy fathering a child with another woman. We spoke with its young male star (whom audiences may recognize from "Stonewall") about keeping it fast and loose on set, stripping down for the big screen, and working with enfant terrible Noé.
On getting cast in "Love."
"My friend dragged me out in Paris to a club I didn't want to go to, so as my friends were drunkenly professing their love for one another in the club, I went outside and I started talking to this girl who was running the door. She found out I was an actor and she asked me if I liked French cinema. I loved it. And she asked what movies I liked. I said 'Enter the Void,' and she stopped me: 'Ah! Gaspar, that's my friend.' Sure enough, six months later, she texted me: "Gaspar wants an American in his next film." And pretty soon, he calls me. He first said, 'So! How do you feel about your cock in my movie?' I took a moment and I said, 'Well, I don't think I'd invite my mother to the premiere.' "
On "challenging the norms of cinema."
"Gaspar wasn't trying to mask or hide anything. He was always very honest and I knew going into it what we were going to tackle. It was saying how love is misrepresented in film and it's false and it's nothing like the love stories that he knows to be true in his own experiences. He was setting out to do an honest portrayal of a real, young love story, which meant tackling love scenes in a different way. That was intimidating and it also felt exciting. I thought that maybe what I lack in experience I could maybe make up for in being daring.
On getting nude on camera.
"As Americans, I think we have our own trepidation about going there. We have this thing that we present to each other here in America where we act as if we're prudish on the exterior or uncomfortable. But I think for any actor out there, I would say do what's exciting, what's challenging, what might be scary. And try to do it honestly. Surprise us."
On filming improvisationally.
"Everything was filmed totally out of order. I always kept the outline in my back pocket. My acting teacher always told us the script should be crumpled up and covered in coffee stains and peanut butter smudges—you should have that bad boy on you at all times. So I kept pretty good track of what we were doing, and I would just cross out the sentence that would describe the scene once we finished shooting it. Sometimes even Gaspar would get a little confused. He wanted that. He would change it constantly. He would have an idea in the moment while watching something and then suggest it. Some things you see were totally on the spot. I couldn't believe the way in which he operates. It would make any other filmmaker go mad, but for some reason, he seems to flourish.
On cultivating intimacy with Aomi Muyock.
The first time we ever actually kissed was onscreen. Gaspar played matchmaker for weeks and weeks to see who had chemistry. Honestly, I think [Aomi] was nervous. I was nervous. We just hung out a little bit and walked and talked. She actually showed up once at my hotel and just took off down the street without saying anything, and I chased after her and ran around these cobblestoned streets in Paris, laughing hysterically.
Like this story? Read more of our Spotlight On interviews!