Nearly 30 years after making her debut in "Heavenly Creatures," Melanie Lynskey is finally getting the star treatment she deserves—whether she's ready for it or not.
"The other day, somebody came with me to a photo shoot, and he was like, 'Have you ever thought about [anxiety] medication?' " she says, laughing. "I was like, 'To be honest, I have!' I was just that awkward and terrified the entire time. I hate being the center of attention."
Though her career spans everything from Sundance-approved indies to cult comedies to Oscar-nominated ensemble pieces to a massively popular network sitcom, Lynskey is still adjusting to her newfound spotlight. A self-described character actor, her work is often understated and quietly moving; she plays the kind of roles someone on Twitter is bound to lament that "no one is talking about enough." In a recent interview on "Late Night With Seth Meyers" (which was somehow her first late-night talk show appearance), she joked, "I'm used to doing something and then having a couple people be like, 'I saw that!' And then it just kind of floats away."
That all changed with Showtime's exhilarating survival drama "Yellowjackets," which snowballed from pulpy critic's pick to frenzied fan favorite over the course of its first season. On social media, Lynskey watched support for the series—as well as wild theories about it—grow week after week. It was "absolutely crazy" to witness, she says. With the show's success came a revived appreciation for her work, as audiences discovered—or rediscovered—one of film and television's most arresting actors.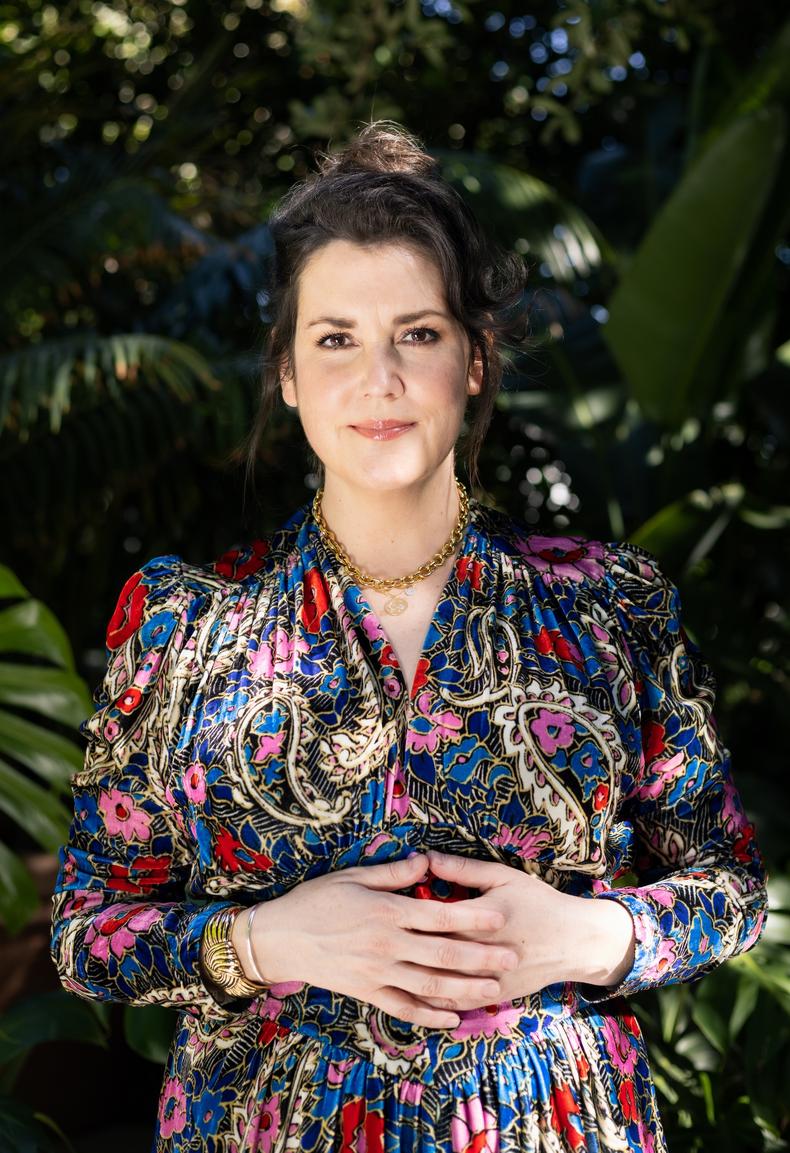 As this awards season heats up, the buzz for "Yellowjackets" is holding strong. She earned a surprise win for best actress in a drama series at the Critics' Choice Awards, delivering a charming, off-the-cuff acceptance speech. Now, experts are predicting that her role as plane crash survivor–turned–New Jersey housewife Shauna will earn Lynskey her first Emmy nomination.
She blushes at the suggestion. "I mean, honestly, my gratitude for being a working actor—being able to make a living as an actor for almost 30 years…it's crazy," she says. "That was my only goal in this career, that I wouldn't have to have another job. And I haven't had to. Anything else is just so far beyond my wildest dreams."
"It's good in New Zealand to be humble, it's good to be a quieter person. And then you get to [Los Angeles,] where everyone wants you to be brash and confident, and I just was like, 'I don't know how to do that!'"
Lynskey was born in the coastal town of New Plymouth, New Zealand. She recalls her family moving around before settling back where they started, which left her feeling "always new, always weird." She was painfully shy, but recognized early on that the plays at her school and church could be an escape—a way to not be herself for a little while.
"I was 6, and I can't even remember what I did in the play—I just remember the feeling," she says. "It was just a few lines I had, but walking out onstage, I didn't have any fear. I had something to say that someone had written for me. I was able to inhabit a different body…. It just felt like magic."
Even as she sits on the floor of a Calgary hotel room surrounded by suitcases, it's clear that Lynskey has managed to hold onto that feeling. She's all packed so that she can head straight to the airport in the morning after an all-night shoot for a yet-to-be-announced project; but she doesn't appear rushed or stressed about the work ahead. She's just grateful to be doing what she loves.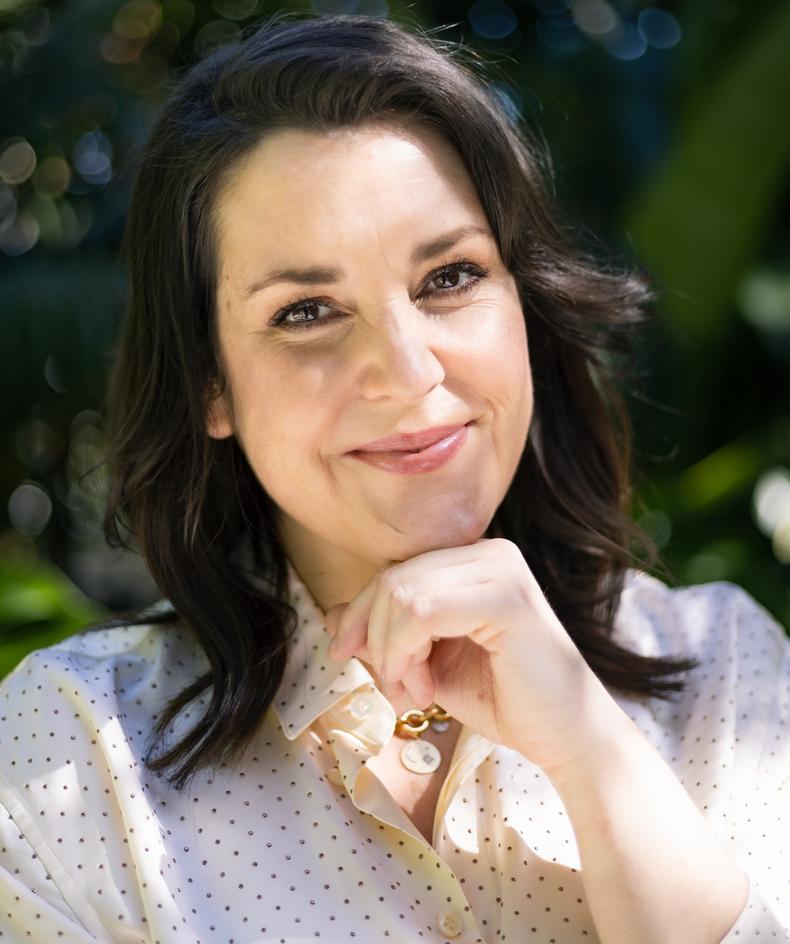 In her teens, Lynskey tried to convince anyone and everyone that she should go to drama school—either Australia's National Institute of Dramatic Art or New Zealand's own Toi Whakaari: NZ Drama School. "But everyone was like, 'That's a terrible idea, because acting is not a real career!' "
Still, when a casting team showed up at her high school looking to fill a lead role in an upcoming movie, she couldn't let the opportunity to audition slip by—even though she knew nothing about the project. "I was like, 'Oh, great, this will be a good thing I can put on my application to drama school.' That's all I thought at that time."
Before she knew it, she was headed south to Christchurch to audition for filmmaker Peter Jackson to act opposite a not-yet-famous Kate Winslet. It would become both actors' breakthrough film: 1994's "Heavenly Creatures."
Having had no formal training, Lynskey worked with acting coach Miranda Harcourt, who was there to make sure she could "do all the super emotional stuff and not fall apart." To be plucked out of high school and thrown into the center of a feature film was "super intense," but the actor remembers receiving an amazing crash course from Harcourt, whose teachings still guide her today.
"The character [Pauline Parker] is very different from me—I'm quite soft-spoken and girly," Lynskey says. Harcourt suggested she channel someone in her life "who has this kind of energy." The actor's mind went to her 5-year-old brother, Tom, who had a distinct way of telegraphing his emotions through movement.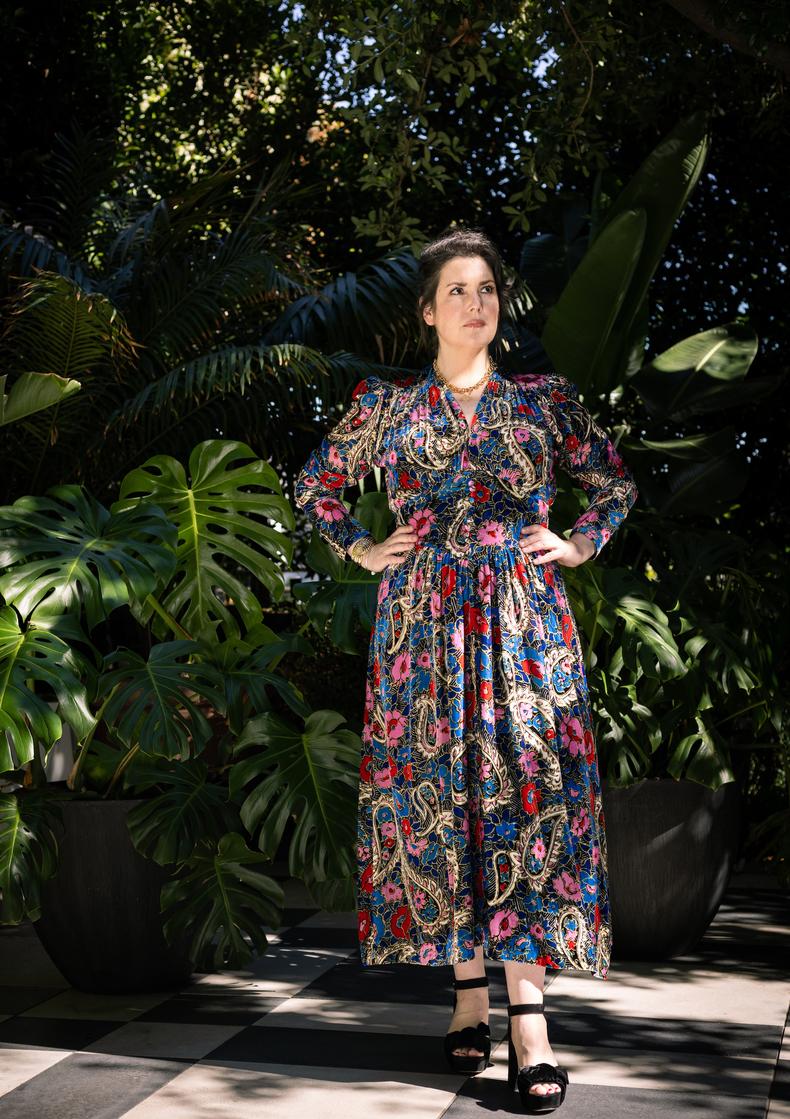 "That's kind of what I did for the whole movie," she says, laughing. "If I was having trouble getting into the mindset, I would think about his little body and how he scowled and carried himself, and it could put me there. That's been a helpful [technique] ever since."
After "Heavenly Creatures," Lynskey attended Victoria University of Wellington before flying out to Los Angeles to work as an actor, where culture shock quickly set in. "I felt like all the things that were working for me back home didn't work all of a sudden," she says. "Like, it's good in New Zealand to be humble; it's good to be a quieter person. And then you get to this place where everyone wants you to be brash and confident, and I just was like, 'I don't know how to do that!' "
Though roles would eventually come her way, this was a tough period of time for her, when Lynskey said she felt "bigger than everyone, weirder than everyone, and quieter."
RELATED: Melanie Lynskey on the Hollywood Cliché That Will Make Her Hate Working With You
She channeled that pain for her latest project, Hulu's five-part crime drama "Candy." The miniseries brings a fresh perspective to the infamous 1980 murder of Texas housewife Betty Gore (Lynskey) at the hands of her friend Candy Montgomery (played by Emmy nominee Jessica Biel, whom Lynskey says she's been a fan of since 2003's "The Texas Chainsaw Massacre").
Lynskey found a kindred spirit in Betty, "a complicated human being" who was "very kind and loving" but struggled to be seen. She gets choked up reminiscing about the role.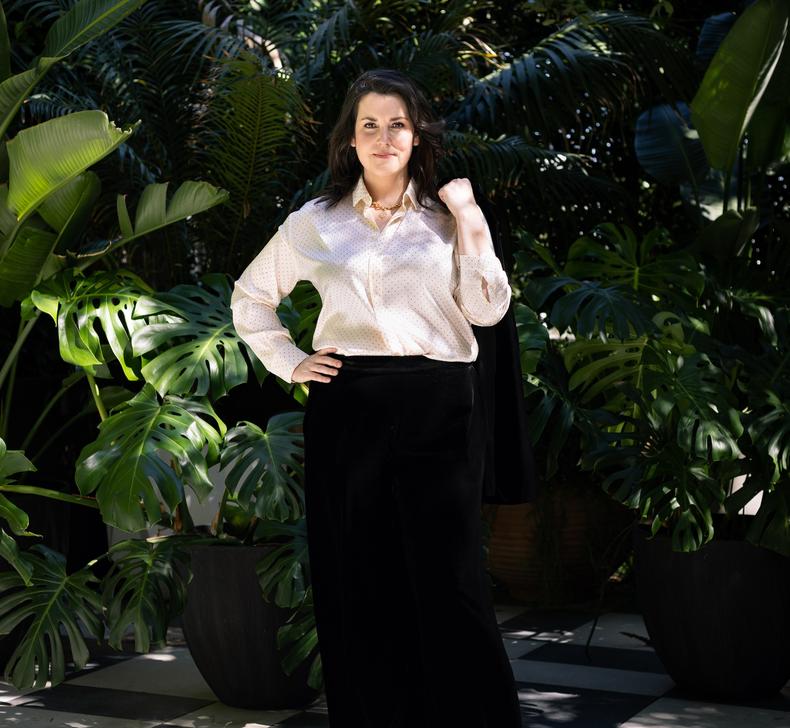 "I felt, like, a real responsibility to—as truthfully as I could within a fictionalized narrative about somebody's life—represent this woman," she explains. "Even in her death, she was put on the stand; she was judged for not being popular or easy to get along with. It's just awful; nobody deserves to die in that way. And I really, really related to that."
Lynskey's filmography is filled with stories of women who are misunderstood, unfulfilled, or forgotten. Take two of her most remarkable projects of the past decade, romantic dramedy "Hello I Must Be Going" and dark revenge thriller "I Don't Feel at Home in This World Anymore." Both center on beleaguered women looking for some semblance of control over their lives. Despite their disparate genres and tones, Lynskey was drawn to both films because they allowed these complex women to drive their own narratives.
"It's harder for me to find a way into a part when there's not a lot there, when it's just reacting. I have done that before, and I found it difficult," she admits. Reflecting on an early, unnamed role, Lynskey says, "I read the sides one day and I was like, 'All I do is ask questions!' I'm just here going, 'And then what happened? What did he say? Why?' I'm just getting the exposition out. You're literally just serving the story when you're doing that; it's not about your performance."
But she learned early on that questions aren't always a bad thing. She cites working with Drew Barrymore in 1998's "Ever After: A Cinderella Story" as a formative experience. While she was concerned with projecting confidence on set, acting as if she knew everything, she admired Barrymore's curiosity and genuine hunger for knowledge. This has stuck with Lynskey throughout her career, and she hopes to empower other actors to feel comfortable asking questions of their collaborators, too. You don't have to come to a project knowing everything.
The approach has served Lynskey well while working on "Yellowjackets," where uncertainty is the name of the game. The Ashley Lyle and Bart Nickerson–created series' dual timelines often intentionally muddy the history and motives of Lynskey's character Shauna, who's still haunted by the plane crash that stranded her high school soccer team in the wilderness for 19 months. During filming, she found it helpful to ask the showrunners what lay ahead for Shauna to better calibrate her emotional approach to the material; but she swears that doesn't mean she knows what's in store for Season 2.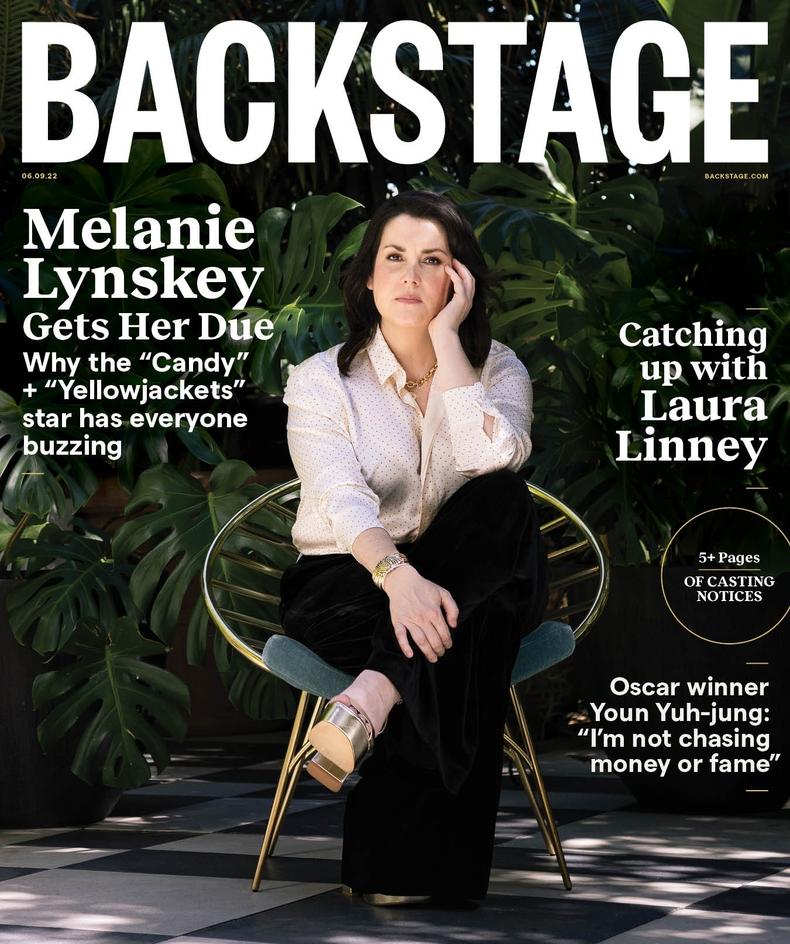 While Lynskey loves to theorize right alongside the fans, she says the most rewarding aspect of the success of "Yellowjackets" is the proof that there is a real audience for stories about "four middle-aged women." (Tawny Cypress, Juliette Lewis, and Christina Ricci co-star as her fellow survivors.) "Sure, a lot happens every episode," says Lynskey of the series' breakneck plotting, "but they're very patient with letting the story open up. You're sitting in the lives of women who are processing—or not processing—different levels of their trauma. And I think that's really unusual. It's amazing that people want to see that."
While she might be incredulous about all of the recent attention, Lynskey has played enough overlooked women—and, at times, been one herself—to not take it for granted. Sure, it's brought new eyes to three decades' worth of work she's fiercely proud of, but she's also realized what a gift it is to be recognized by her peers, audiences, and the industry at large after feeling like she wasn't enough for so many years.
These days, Lynskey knows the power of simply being seen.
This story originally appeared in the June 9 issue of Backstage Magazine.
Photographed by Alexis Hunley on 5/5 at the Pendry Hotel in West Hollywood. Makeup by Stephen Sollitto. Hair by Marcus Francis. Styling by Misha Rudolph. Cover design by Ian Robinson.