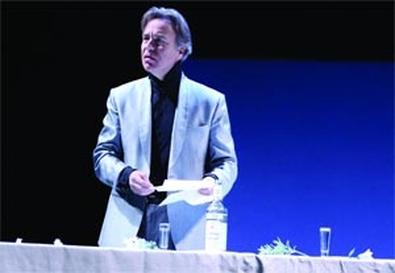 "I don't want to see or hear any of that Method crap!" How many times has an actor heard that from a director, producer, or teacher? Too many, I'll wager. And the sad result is that often it shuts the actor down, brings doubt and timidity to rehearsals, creates animosity, and cripples creativity. What do people really mean when they say such things?
Ask anybody involved with theatre what the Method is and you'll likely get a variety of responses, ranging from "Stanislavsky's compilation of techniques to help the actor believe in the imaginary reality that he or she is striving to bring to life" all the way to "that scratch-and-mumble Actors Studio Brando crap!" The myths, misconceptions, and misunderstandings are endless. For one, Marlon Brando studied with Stella Adler, not the Actors Studio's Lee Strasberg. Here's another myth, from a fellow actor, teacher, and producer: The Method "revolves around the acting and not the script—long pauses, internalizing, paraphrasing, and not being able to be heard or understood, all of which I've done myself in rehearsal on the way to realizing a character." But not in performance, I'm sure, or he'd have been fired.
The Method is most associated with Strasberg and the Actors Studio, but Adler, Sanford Meisner, Bobby Lewis, Uta Hagen, Elia Kazan, and other legendary teachers offered their versions of it and had pet peeves about their colleagues' interpretations. All were after the same goal, however: a performance so believable, personal, and inspired that the actor seems to be living the role, illuminating the material in such a way that anyone watching has a transporting experience. Their spirited discussions involved how best to achieve this.
So why does the phrase
the Method
still intimidate, repulse, and confound so many people in the creative community? Playwright Christopher Shinn, a teacher at the New School for Drama, says, "Fear of the Method is fear of feelings—fear of the truth—and almost every great play is about the truth and the feelings that accompany our confrontation with it."
Unfortunately, too many people think Method acting is all about wallowing in emotion: pain, self-pity, self-indulgence, being out of control, selfishness, and so on. And I've seen this behavior in actors. But is the Method to blame for it? I asked some professionals to weigh in.
"The Method helps actors connect in a way that is deeper and more real," says Howard Deutch, director of the film
Pretty in Pink
. "So they use themselves instead of playing an idea of the character. It's more emotionally true when it comes from them."
What's wrong with that? Or is it the process of achieving it that bothers some? Says Oscar winner Ellen Burstyn, artistic director of the Actors Studio, "I think Elia Kazan said it best: 'There's no such thing as Method acting, only Method rehearsals.' You bring yourself and plumb the depths."
But did Kazan really believe there was no such thing as Method acting? Not according to director Sandra Seacat, also a well-known acting coach and teacher: "I think what Kazan is saying is that the Method isn't a thing. It's an action, a process, a skillful or effective way of achieving a specific artistic task. It's not a pair of shoes. It's discovering how to walk." She illustrates with a story: "I did an affective memory at the Actors Studio years ago, after which Lee Strasberg said, 'Now
that's
an affective memory. Darling, tell them how you did it.' When I explained my process, Strasberg replied, 'That's not how you do an affective memory! But that's what the Method is all about. It's a way of work!' You find your own way of carrying out your own and your character's internal truth—within your body, mind, and soul."
When Should
You Use It?
We're talking about a process comprising tools and techniques an actor can employ when working on a role. But does it work for any role? I recently heard about an accomplished actor-teacher who believes the Method can't be used with Beckett—whose work, he insists, requires the actor to approach everything from the outside. But Emmy Award–winning actor and New School teacher Ron Leibman thinks the Method is vital for bringing Beckett to life: "He writes love stories! His plays are about human needs and pain and loneliness and longing and hopes and dreams and nightmares and all the eternal questions that have plagued mankind for centuries. You need all the techniques you have in your arsenal to make his work come alive."
Director-teacher John Strasberg just shakes his head: "Can you imagine telling a musician to play without feeling anything? He'd laugh or think you were crazy."
But can you use the Method in highly stylized work like Shakespeare, Restoration comedy, Noël Coward, Oscar Wilde? Yes to all. If you know the techniques, they can help you create a character, bring freedom and truth to the work, and inspire a less conventional performance. Director Casey Biggs, also a New School teacher and currently playing Claudius Off-Broadway in Theatre for a New Audience's
Hamlet
, says, "The Method is anything that's specific and personal. If someone in Shakespeare is making a speech and what he's talking about is not coming from in here"—he taps the left side of his chest—"why should I care?"
And what about musicals? Carlin Glynn, a Tony winner for
The Best Little Whorehouse in Texas
, says the Method "can be applied to anything we do as actors, including musicals. We developed
Whorehouse
at the Actors Studio, first as a play; the songs came later."
Think about some of the seminal performances of the last 30 years. In
Tootsie
, Dustin Hoffman's Dorothy isn't just an actor in drag; she's so dimensional that his character, Michael, allows her to inform his own behavior. Hoffman based Dorothy on his mother. Robert De Niro's Travis Bickle in
Taxi Driver
and Jake LaMotta in
Raging Bull
are not mere impersonations; they're human beings, revealed so nakedly they're often hard to watch. But you're so engaged you can't turn away. De Niro used animal images and exercises to create those characters and learned physical skills to re-create LaMotta's boxing style exactly. Such transformations—Sean Penn's portrayal of Harvey Milk, Meryl Streep as Sophie in
Sophie's Choice
, Al Pacino in
Dog Day Afternoon
, Johnny Depp's daring imagination over the years, the extraordinary versatility of Robert Downey Jr.—leave no doubt the Method is alive and well and being passed from generation to generation.
The Method today is a set of techniques—catalogued, interpreted, enhanced, and taught by a variety of remarkable teachers—that stem from, and reach for, the same heights and depths of personal truth achieved by all who came before. Whether used for stage, film, or television, the Method is there to serve craftsmen and artists in their pursuit of excellence.
Shinn eloquently sums it up: "The experience I have when I'm deeply moved is that the actor has shared something about themselves through the specific reality of the character they're playing. This ability to access one's inner experience and apply it to a totally different situation is what makes acting an art and not just a skill. The marriage of the specific and the universal is the power of all great art, whether it be a novel, a painting, or a performance."
As Strasberg said, "If it works, use it." My two cents? Do whatever helps. Just don't talk about it. So nobody gets scared.
Robert Walden is an
Emmy Award–nominated actor-director and a member of the Actors Studio. He teaches acting at the New School for Drama. www.newschool.edu/drama.