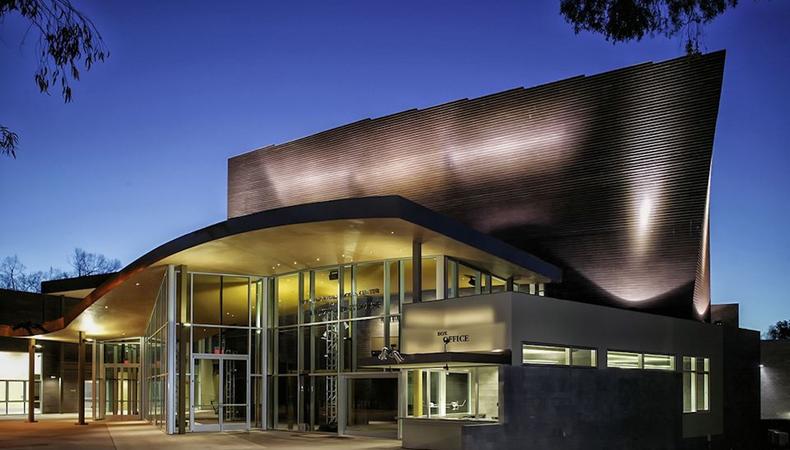 For any level-headed actor, the question persists if getting an MFA is worth the time or expense. When looking at the majority of schools—including many highly-rated programs—this is a justifiable concern. Student debt can cripple an artist, and many schools eliciting that debt aren't able to offer quality networking opportunities or even substantial onstage experience. Time away might jeopardize professional contacts and having an MFA on your résumé doesn't mean much in an audition room. On the other hand, intensive study of craft for an extended period of time can be transformative and deeply rewarding. Do the pros outweigh the cons?
In the mix among the hundreds of programs to consider, there are a handful of universities that remove the cons in the equation, offering tuition-free training and even paid residencies at LORT theaters where actors continue to advance their career by working with professional directors, designers, and other artists from around the world.
These schools are often overlooked because they're not in New York City or Los Angeles. And while there's no denying the advantages of these cities, the cost of living in New York or L.A. adds substantially to the financial dilemma. Another reason these programs are overlooked is that they accept much smaller class sizes, meaning fewer alumni making their mark in the profession. However, smaller classes offer more individual attention and performance opportunities.
Let's get real. Our dreaming, bleeding hearts got us into this business and there are hundreds of programs prepared to take advantage of that. Programs with high tuitions, large class sizes, and little professional support when returning to the industry. The following five schools are gaining prominence because they're breaking that mold, offering full tuition waivers and additional stipends for living expenses, ample experience at a professional theater, as well as your Equity Card. Most importantly, they provide the opportunity to develop your craft without creating a daunting financial burden on your future.
PlayMakers Repertory Company at the University of North Carolina, Chapel Hill
PlayMakers Rep is well respected for its artistic excellence and commitment to diversity, with one-half of all productions written by women and artists of color. The graduate program accepts six students for two consecutive years and then skips a year for a steady overall ensemble of twelve students. Graduate students receive full tuition waivers, a competitive stipend, AEA membership, and a showcase in New York and L.A.
The Clarence Brown Theatre at the University of Tennessee, Knoxville
The Clarence Brown is home to three theater spaces with a well-attended eight-show season. The graduate program accepts eight students every other year, offering each specialized attention and plenty of production opportunities with graduates often performing leading roles in LORT productions. This program not only offers each student an Equity Card, but unlike any other program, they cover the hefty AEA initiation fee as well. Students receive tuition waivers, healthcare, and a generous stipend to live in Knoxville, a charming, progressive, and inexpensive "Little-Nashville" nuzzled alongside the beautiful Smoky Mountains.
Asolo Repertory Theatre at Florida State University
Asolo Rep found its home in Sarasota, celebrated as Florida's arts and culture capital. Florida State University offers full tuition waivers as well as living expenses for a class of 12 students every year. Asolo Rep hosts a season of eight or nine shows a year that feature graduate students. The Asolo Rep sends their graduates to London for six weeks to work with such talents as Patsy Rodenberg and features a state-wide touring company of Shakespeare adaptations for colleges and high schools. Every student at the Asolo earns enough EMC points to join Actor's Equity Association upon graduation.
Cleveland Play House MFA Acting Program at Case Western Reserve University
Cleveland is a remarkable Midwestern city on the shores of Lake Erie that truly has it all, including the Rock & Roll Hall of Fame, world-class art and natural history museums, and a popular downtown theater district, home of the Cleveland Play House. This MFA program accepts eight students every other year, guaranteeing their Equity card, full tuition waivers, a competitive stipend, healthcare, and a residency with the Cleveland Play House.
La Jolla Playhouse at The University of California, San Diego
Consistently ranked in the top five for graduate programs, UCSD gives graduate students the opportunity to perform at La Jolla Playhouse, the birthplace of numerous shows that move on to Broadway. La Jolla attracts world-class directors, designers, guest artists, and noteworthy artistic directors. This three-year MFA program accepts eight students every year who move into residency positions with the Playhouse during their second and third years, earning their Equity Card and outstanding experiences in world-class productions. Students are offered a full tuition waiver along with ample opportunities for additional grants and paid work as TAs.
The views expressed in this article are solely that of the individual(s) providing them,
and do not necessarily reflect the opinions of Backstage or its staff.