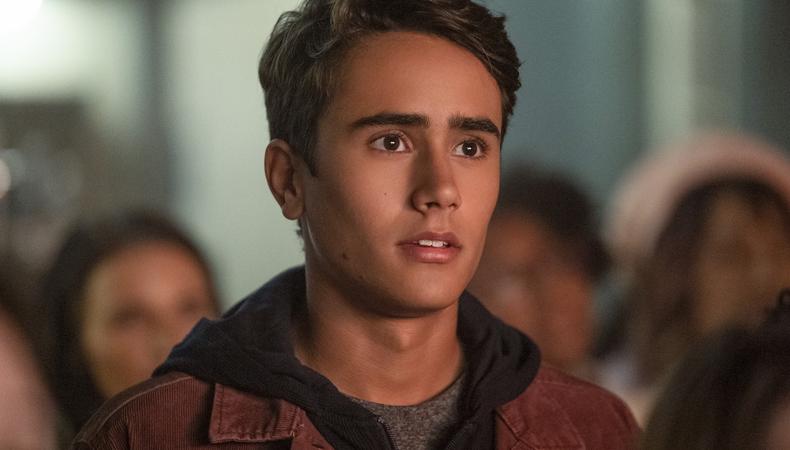 The following Backstage Live was compiled by Backstage readers just like you! Follow us on Twitter (@Backstage) and Instagram (@backstagecast) to stay in the loop on upcoming interviews and to submit questions live on camera.
Two years ago, we fell in love with Simon in "Love, Simon"—and now that we've met Victor on Hulu's new "Love, Victor," we're falling all over again! The TV series takes place in the same town and high school two years after film, and this time focuses on a band of new characters including Victor, who's new to town and struggling with personal matters, including his own sexuality. Playing the title role is the charming Michael Cimino, who after landing featured roles in "Annabelle Comes Home" and "Shangri-La Suite," is making his leading-man debut. We were thrilled to invite the young actor to take over Backstage's Instagram as part of our ongoing series, The Slate, where he answered audience questions, offered advice for aspiring actors, and even put in a request for two of Hollywood's biggest directors. Check out the edited conversation below.
How did you break into the industry?
I moved out [to Los Angeles] here when I was 18, lived in a two-bedroom with a whole bunch of people, and then I booked "Annabelle," like, a year later. And now we're here! That was the really short version.
What advice do you have for actors starting out?
Take classes and train. It took me a really long time to actually be semi-decent at acting, and it's a learning curve and you're always continuing to learn and grow. So start learning now. Work harder than anyone else, and that's how you become successful in this industry. By sleeping less, working more and unfortunately hanging out with your friends less and focusing more on your career.
Did you get to spend time with Nick Robinson?
Yes I have, and he's a delight. Love you, Nick.
Are acting classes expensive?
To be honest it depends on who you train with. There's places that offer unlimited amounts of classes for X amount of dollars a month; there's places where you pay per class. It just depends on what you find and what works for you.
Do you have any experience writing and is it something you'd pursue?
It definitely is. It's actually something that I'm working on right now! It's a completely different skill set and I respect writers so much because it's a whole different kind of muscle, but I'm working on it.
What do you normally do in your free time?
Watch car videos on YouTube or play with my pups.
Why didn't you keep your natural hair for Victor?
Victor is more of a clean cut guy and has short hair. Michael Cimino has long hair.
Do you need to live in New York City or L.A. to get big auditions?
No you don't, as long as you have an agent that understands what's going on. I used to live in Las Vegas; I used to drive to L.A. and back whenever I had an audition. So no you don't, but it helps a lot when you live in those big cities.
Do you recommend going straight into the industry or going to college or university?
For me personally, I didn't go to college. I graduated high school early so I could get out of school. I felt like for me, school wasn't the way to go. But for some people, it is. I take classes privately, and that helps me a lot.
Did you have any non-acting jobs?
I used to work for a photobooth company; I used to work as an electrician; and I used to work for this company called Saddle Ranch. Other than that, I used to do random handyman stuff, just random things.
If you weren't an actor, what would you be?
Probably either an electrician or a mechanic because I love cars and my dad's an electrician. Or a real estate agent! So a real estate agent, electrician, or mechanic.
What are some future projects you'd love to do?
I would love to be in a car movie because I love cars and my uncles used to drag race. I'd love to be a superhero. And I'd love to be a straight musician in a movie. That'd be really cool.
What's your favorite movie?
Anything that has to do with Christopher Nolan or Steven Spielberg. Hands down. I want to work with them. Christopher Nolan or Steven Spielberg, have your people talk to my people because I want to be in your movies.
Looking for remote work? Backstage has got you covered! Click here for auditions you can do from home!