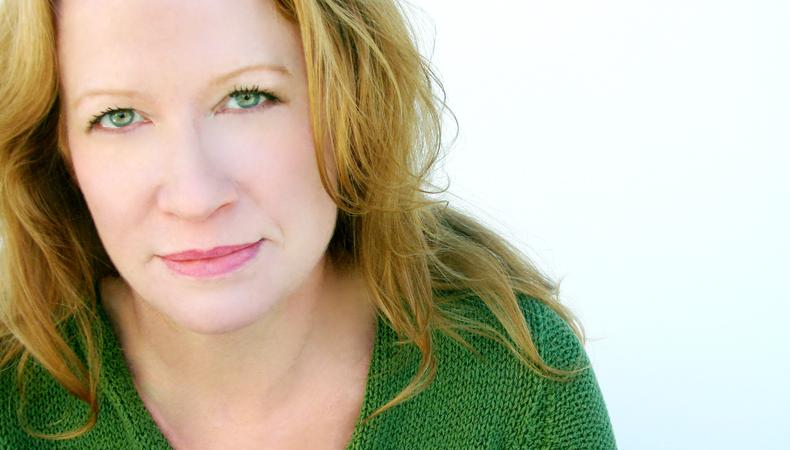 The New York theater veteran dishes about her beginnings, hear fear of lobsters, and her large family of cast mates in Broadway's "You Can't Take It With You."
Tell us about "You Can't Take It With You."
It is one of the most joyous plays I've ever been involved in. Not only because of the play, which is beautiful, but to have 19 people involved that completely get along and have such a good time. You know, the rigors of doing a play over and over again, everyone's trying to discover new things, and we laugh and support each other so much. People can tell from watching the play we're having a great time doing it. And James Earl Jones is my new hero—not that he wasn't always.
Who do you have an acting crush on?
Oh God, I don't know. There are so many. I have acting crushes on some women who have the career I wish I'd had. Patty Clarkson's wonderful, and Allison Janney. I have acting crushes on everyone in my cast, basically. That's kind of a hard question because there are so many wonderful people out there.
When did you know you wanted to be an actor?
When I was very little, a toddler, I used to say, "I'm going to be an actor." I grew up in the back, back, back woods of the Virginia and there was no acting going on there. I think we did one play a year, and it was always during track season so I couldn't involve myself too much. And then I had this application that was sent to me for the American Academy of Dramatic Arts, and I woke up one day and went, "Mom, I'd like to apply to this school in New York City." And she said, "OK," and I auditioned and got in and moved there at 19. I didn't have a drive of being a famous person or anything; it was just an innate thing that I wanted to be an actor. I never really thought about what would happen after, how poor I would be for so long, and how many waiting tables jobs I would have. But it was meant to be.
Speaking of which, what was your worst survival job?
Oh good God, I had so many. I think one of my first jobs was this old restaurant on 34th street called Paddy's Clam House. They served a lot of lobsters. And the people would pick their lobsters, and you had to pull them out of the tank and go by their table and show it to them before bringing it to the kitchen. And I was so terrified of the lobsters, I would just run full-speed by the table and be like, "Here it is!!"
What's one thing you wish you knew before you started acting?
Another skill! So I could survive. Seriously. I wish I knew more about the business end of it but I didn't go at it that way. Young people today have a much more savvy way of approaching things. You mingle and promote yourself, meet the right people, ask the right questions. That would've been helpful, but there was something kind of pure about the way I approached it. Not meaning to be pure. I was just an idiot. I was just like, I like acting and I want to create.
How did you get your Equity card?
I think it was my first Off-Broadway play, Craig Lucas' "Three Postcards" musical. I was involved in Circle Rep Theater Lab. We did it as a workshop there and then they put it on the mainstage. (It was one of those times where you didn't need a TV star to be Off-Broadway.) I think my next professional job was "How I Learned to Drive."
How do you typically prepare for a role?
I don't have a set technique, I find it evolving all the time. It really depends on what you already know. For some you can be like, this is a human being I can relate to so let's investigate the script and the circumstance. Some, you want to go, OK, I'm a meteorologist so I better know what that's about. It just depends on the role.
Which of your performances has left a lasting mark on you?
I've been so lucky with such amazing plays. I did "Appropriate" at the Signature Theatre and I won an Obie award so that was awesome! I signed up very early on and really liked it and knew a lot of people wouldn't like it, would find it offensive or something. Branden [Jacobs-Jenkins] rewrites a lot so we all struggled. He had written so many versions of the play that during this process he was bringing back things that would change who your character is. And it's not what you initially had in your head. We all fought and struggled and ended up figuring it out. We all beat each other up. For everybody involved, it was such a work of love, that we were all trying to get on the same page and make it the best play it could possibly be. There were lots of tears and conflict and that's just what happens sometimes. Because it was a labor of love and we managed to work it out. It was really challenging and really great.
What's been your most challenging role?
When I replaced Amy Morton in "August: Osage County," I was only given two weeks of rehearsal. I chose to rehearse every day and rehearse every night. I think I saw the play one time. They had said I had three weeks of rehearsal; I was doing "A Midsummer Night's Dream" at Hartford, and they called me and said, "Not only do you not have three weeks of rehearsal, you have two weeks, and you have to leave your play at Hartford a week early." So it was a stressful, challenging time. Just crazy.
What is your best or worst audition horror story?
Well, the best are the ones you get. One that stands out in my mind was a million years ago and it was Dr. Scholl's, those things that keep your feet from stinking. And it was the worst, fakest, literally like, "My husband takes off his shoes and that really smells!" I don't know. You can have auditions where you think you were terrible and then you get the job. It makes no sense, none of it.
Inspired by this post? Check out our theater audition listings!