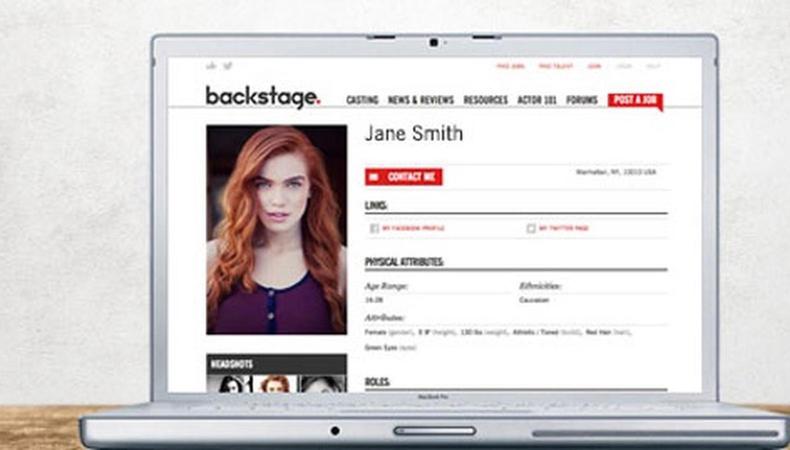 For more than 50 years, Backstage has provided the entertainment industry with trusted news articles, advice columns, resources, and casting calls that connect content creators with actors, models, and performers. Here are five reasons why it pays to be a Backstage subscriber.
Thousands of Casting Calls
Over 30,000 productions post casting notices, audition announcements, and job listings on Backstage.com every year. From major studio and network productions and Broadway shows to indie and student films, commercials, Web series, regional theater, and more, Backstage provides the greatest scope of opportunities in the industry. And Backstage's casting department monitors all listings, ensuring a high level of quality and the quick elimination of scams.
Custom Results, Easy Applications
With hundreds of new roles appearing on Backstage.com at all hours of the day, it can be overwhelming to keep up. But Backstage simplifies the process by providing search-and-alert tools that let you narrow down the listings based on your age, gender, location, union status, interests, and other key details. Then you can save your favorite criteria so you can quickly run customized searches with a single click.
You can also choose to be automatically notified via email when new casting notices are posted that match your interests. Then easily apply to the productions with Backstage's convenient submission system.
Media-Enhanced Profiles in the Industry's Most Advanced Talent Database
You can create a Backstage profile showcasing your photos, videos, audio clips, credits, and skills. Then share your profile link with others, using your Backstage profile as your personal website for presenting your materials to professionals. Plus, your Backstage profile is automatically sent to the casting directors of the projects you apply to. And you can include your profile in the Backstage Talent Database, which is used to discover and contact hundreds of actors, models, and performers every day.
Private Messaging
Backstage's messaging system provides actors and casting directors with fast, efficient communication options without the use of personal email addresses.
Industry Resources and New Tools
At Backstage.com/resources, you can access the Auditions Calendar for a streamlined, searchable overview of upcoming auditions in your area. Search the Production Listings for high-profile film, TV, and theater projects. Use the Call Sheet database to locate details about top casting directors, agents, managers, production companies, film festivals, and schools. Check out the Monologuer database to find monologues for your auditions.
Plus, Backstage is committed to continuing to improve and innovate the tools and resources it provides its users, from the recent launch of a new, state-of-the-art casting system for casting directors, producers, and directors to the soon-to-be-released Media Locker that will make it easier for actors to manage and edit their media materials. Backstage members can be sure that they'll continue to receive an amazing array of articles, casting calls, industry resources, and groundbreaking technology for another 50 years!
Become a subscriber here!