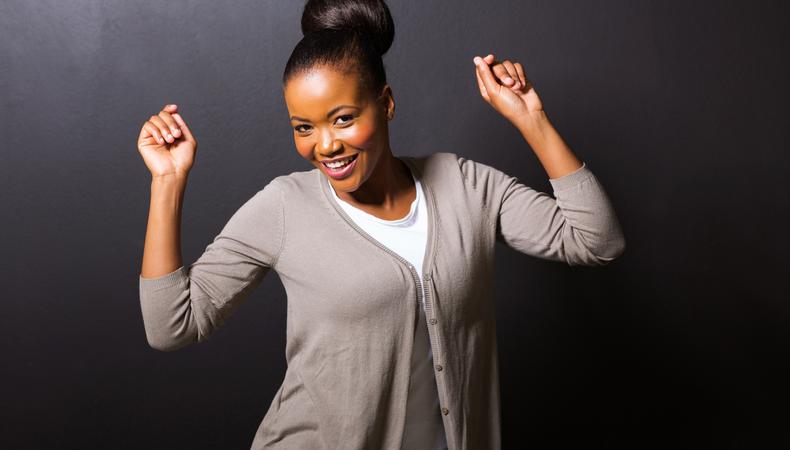 Fact: Every actor wants more auditions. But for far too many actors the enthusiasm and excitement ends the moment after they find out they have an appointment. What follows—what I'll loosely call "preparation"—ranges from a nightmarish guessing game of what the CD is looking for and how to deliver it, to an unfocused process of reading the piece over and over looking for magic that isn't there. Then there's the ever popular tactic of making bizarre, disconnected choices in an effort to be different from everyone else. Their "preparation" is actually shutting them down and divorcing them from their strength and creativity. The result is an edgy, uncertain, and disconnected actor.
And don't kid yourself—all of that walks into the audition with you. The rooms are too small and the people in those small rooms are paid to stare into your soul. The frenzied quality of joyless, heady, neurotic preparation sticks to you like glue.
Enough! Take a look at these three joyful experiences that auditioning has to offer and use them to help you find your passion in the process.
Auditioning allows you to explore. What a great time to be auditioning! Far from the days when cold-reads were king, you have time to prepare. A day, a night—amazing! You get to be an actor, you get to explore. Actors tend to skate a bit too much on the surface in their auditions, saving the more intense "acting" work for the role. Why? If you don't dig deep for the audition, you'll never get the role. You're an actor who is auditioning, so ask questions! "What are the most interesting and compelling qualities I have to offer this role?" "Which parts of me will bring the words to life in the most unique way?" "Which intent is the most honest, the most fun and will give the piece my strongest, truest heartbeat?" What are all of the levels of the relationships in the scene and what emotions do those people, on every level elicit from me?" And more and more and more. Self-exploration is exhilarating and necessary work for the actor and the basis of the art of auditioning. Greatness can be achieved by the knowledge gained through these journeys of self-exploration. As you continue to patiently, persistently, and joyfully peel back the layers of the onion, you'll discover the dynamic intersection of yourself and the words on the page.
You get to be yourself. If you're an actor, you probably have a strong belief that you have a singular voice—a point of view that's informed by the experiences of your life that is different from anyone else's and needs to be shared. OK, here's an audition…put up or shut up! Because, believe it or not, a film/TV audition is your absolute best chance to satisfy that need. Casting has ideas of what they want for the role, but the very fact that there's a session taking place means that they still have questions—questions that you can answer by showing them who you are and what you have to add to the role. And what do you have to add that no one else does? Yourself. You are the game-changing difference that you've been searching for all this time.
If you get the role you'll be told what they want, as well as how you feel, where to look, how to react, etc. In an audition, you have to bring all of that in with you. The artist in you should rise up and rejoice at the prospect! By exploring, as noted above, you will uncover not just the qualities that make you up, but the beautiful subtleties of those qualities that are entirely unique to you. And by incorporating those fully dimensional qualities into the piece, you'll be creating a human being with your heart beating in its chest and your blood running through its veins.
And then you get to be in the room, as yourself. Instead of feeling that you have to put on an act and be someone better than you already are, you'll stand tall, hiding nothing. You'll be neither a people pleaser, nor an imposter. You won't try to be perfect. You'll simply be you. All of you— undefended, strong, and connected. An entire person like no other. Yourself.
You get to be generous. Preparing an audition is, by its nature, a self-centered process; you're alone with your thoughts and feelings, working diligently on something that will ultimately need to be vibrantly alive in the audition. The problem is that many actors are still in mental an emotional solitary confinement when they walk into the room. They have forgotten that the work now has to be released and given away in a true spirit of artistic generosity. After all, you're not in there to do the work for yourself.
Actors who are still in their heads or are unsure of their work appear stingy. They hold back and remain separate from the people in the room.
The actor who has prepared in a way that allows him to let go extends himself out into the room and connects in a generous and open-hearted way that gives us the feeling that we're in the scene with him. And what could be more powerful in an audition than an actor sharing his voice, his talent, and his passion with the energetic joy of a true artist.
We're all at our best when we're about something bigger than ourselves. The job-getting actors know that this is true, and when they're in the room, it's all about connection, not protection.
In the end, this is all about process—auditioning, acting, and life. Results are never guaranteed. So, it's time to fall in love with your process and be as excited about the work as you are about the opportunity, and ultimately to be as joyful in the audition as in the job.
Enjoy your next audition after browsing our film audition listings! And for the casting director's side of things, watch the video below!