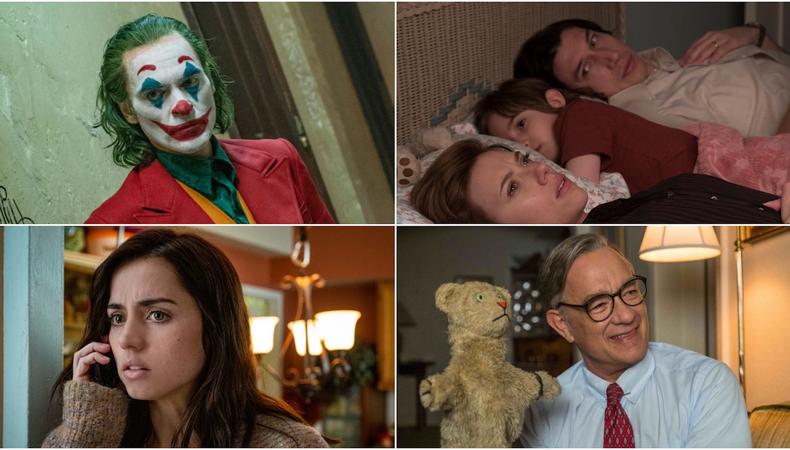 Want the inside scoop on all things awards? Welcome to Letter From the Awards Editor, our weekly series where Backstage's Jack Smart takes a look at the latest film and television news, industry trends, and awards projections that matter to today's working actor.
Dear Backstage reader,
'Twas a big week in our neck of the woods at Backstage! To catch you up: the Hollywood Foreign Press Association, known for throwing one of awards season's swankiest parties, announced the nominees for the 77th annual Golden Globe Awards. And then the Screen Actors Guild Awards, celebrating their 26th year, named the year's best individual and ensemble performances. Congrats to all the newly minted contenders!
Both nominations lists offer intel on industry trends and which studios and networks are using the best strategies in the ongoing film and television awards races. Let's talk highlights, shall we? As your awards editor, I won't be reading the tea leaves to guess exact results for next year's Oscars and Emmys, but we can at least peer into the teacup together and see what we find.
The biggest takeaway from this moment in the awards season—and, let's face it, in the industry overall—is the dominance of Netflix. What used to be a DVD mailing service my grandparents would use to watch weird foreign flicks is now topping nominations lists for both TV and film. The SAG nominating committees went gaga for the streamer, with seven film and 13 TV nods. That's 20 out of 75 possible SAG slots, or over a quarter! (Compare that to just last year, when Netflix scored one film and 15 TV SAG nods, and you have to wonder: Is the prevalence of one distributor predominating film as well as TV unique to this season, or the beginning of a long-lasting trend?)
'Marriage Story' + the Debate Over What Makes a Best Picture Contender
The Golden Globes, no surprise, also crowned Netflix as their top earner this week: 34 total nominations, exactly 17 for film and 17 for TV. Those selections are made each year by an even smaller group than the SAG nominating committees; voting HFPA members constitute around 90 journalists from around the world. Their film choices have a decent overlap with (or, perhaps, effect on) the subsequent Academy Awards, while their TV selections tend to be more unpredictable, skewing toward buzzy or freshman series.
Case in point: Apple TV+ burst onto the scene only a month ago, and is already looking at Globe contention for best drama and leading ladies Jennifer Aniston and Reese Witherspoon for Jay Carson's #MeToo-inspired "The Morning Show." (Will the producer-stars split that vote? The drama actress category also includes 2019 Emmy winner Jodie Comer for "Killing Eve," Nicole Kidman in her award-sweeping "Big Little Lies" role, and reigning Oscar winner Olivia Colman for "The Crown." That 2020 Emmys category is going to be a bloodbath and I, for one, cannot wait!)
If there's one notable takeaway from this year's TV Globe nominations, it's the confirmation that streaming has kicked traditional networks off of awards shortlists. Only six of the 15 Globe nominees for best series come from cable networks; all nine others hail from Netflix, Amazon Prime Video, Hulu, and Apple TV+. Broadcast TV did not make the cut—not just in the series categories, but anywhere on the Globes nominations list.
The same fate almost befell the SAG nominations, but one performer is holding down the broadcast fort: awards heavyweight Sterling K. Brown for NBC's "This Is Us." But that drama, while an undeniable ratings hit, won last year's SAG drama ensemble prize and did not make the cut this year. Similarly, Sandra Oh of "Killing Eve," 2019 SAG and Globes champion, wasn't recognized for either this year, with Comer nominated instead. On the comedy side, though, love for Amy Sherman-Palladino's "The Marvelous Mrs. Maisel" again came out in force; a year ago they swept the SAG comedy categories with Rachel Brosnahan, Tony Shalhoub, and the ensemble, and could very well do so again now thanks to their recent Season 3 premiere. Of course, they're up against Emmy-sweeper Phoebe Waller-Bridge's "Fleabag."
LISTEN: Tony Shalhoub Is Reluctant to Give Acting Advice—Here's an Hour Of It
Missing from both TV nominations lists, and therefore considered "snubs" by some, were Julia Louis-Dreyfus and her once award-dominating comedy "Veep," Aaron Paul's "El Camino: A Breaking Bad Movie," and such promising new series as HBO's "Euphoria" and Comedy Central's "The Other Two." The HFPA often rewards a hit show's final season, but the year's only "Game of Thrones" Globe nominee ended up being Kit Harington. They also failed to recognize the 16-time Emmy-nominated "When They See Us," which did score one SAG nod for star Jharrel Jerome.
The 2020 Globes also came under fire for again nominating all-male film director and screenplay slates. Just as the Oscars have only ever awarded one woman their director prize (Kathryn Bigelow for "The Hurt Locker"), the Globes have in their 76 years only honored one as well (Barbra Streistand for "Yentl"), a trend clearly continuing into their 77th that has industry insiders outraged.
The SAG Awards, honoring only those in front of the camera, don't have a similar problem, although we could note that only one of this year's five film ensemble award contenders features leading female roles. That's "Bombshell," which earned four SAG nods including for Charlize Theron, Nicole Kidman, and Margot Robbie, tying with "The Irishman" and "Once Upon a Time in Hollywood," which each got two individual and a stunt ensemble nod. The other ensemble nominees are surprising for their novelty: "Jojo Rabbit" is Taika Waititi's comedy featuring Adolf Hitler, while "Parasite" is the hit from Korean filmmaker Bong Joon-ho, making this the first foreign-language ensemble to achieve SAG recognition since 1998's "Life Is Beautiful."
Why a Trailer Can Make or Break a Film's Awards Prospects
For clues on who looks promising in the supporting film races, look to the Golden Globes; the HFPA separates movies and leading actors into either dramas or comedies and musicals, making the undivided supporting categories technically tougher to penetrate. Overlapping on both Globe and SAG lists were Tom Hanks for "A Beautiful Day in the Neighborhood," Al Pacino and Joe Pesci for "The Irishman," Brad Pitt for "Once Upon a Time in Hollywood," Laura Dern for "Marriage Story," Robbie for "Bombshell," and Jennifer Lopez for "Hustlers." (An innocent, totally unbiased observation: of those, only Lopez also scored a Spirit Award nomination.)
About those genre distinctions: In the history of the Globes and Academy Awards, it's the nominees from Globe drama categories who tend to crossover to the Oscar shortlist more often. From Jim Carrey in "Man on the Moon" to Amy Adams in "Big Eyes," plenty of actors even win the comedy or musical acting prize only to miss the cut with the Academy. If you're looking to make Oscar predictions, look at the overlap between SAG's leading categories and the Globe drama races; this year that's Theron, Scarlett Johansson and Adam Driver for "Marriage Story," Cynthia Erivo for "Harriet," Renée Zellweger for "Judy," Christian Bale for "Ford v Ferrari," and Joaquin Phoenix for "Joker." But Academy nominators are also known to go their own way—on Jan. 13 we'll see if they indulge us with some out-of-nowhere choices.
Overall, I was delighted by many of the names read aloud this week! Jamie Foxx for "Just Mercy," Ana de Armas and Daniel Craig for "Knives Out," and of course "Parasite" were some of my favorites. Remember, it's a sign of how strong this year in cinema is if movie buffs and awards pundits are listing other possibilities or lamenting snubs.
Having said that, what favorites are you missing from this year's SAG and Globe nominations? And who are you hoping will win?
Sincerely,
Jack