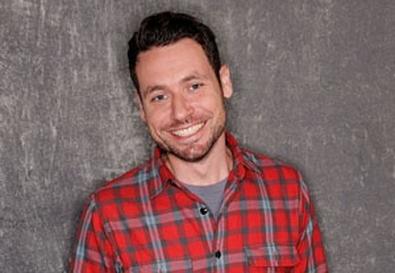 Sam Rosen, actor and writer, admits frankly it would have been a tough call if a producer had made an offer on his screenplay stipulating he did not want Rosen as the lead. While Rosen might be open to writing for someone else down the road, at this point he writes with himself in mind. That was certainly the case with his film, "Stuck Between Stations," which he co-wrote with writing partner Nat Bennett. Luckily, Rosen did not have to make the choice between himself as the lead or a paycheck without him. Further, the melancholic, romantic two-hander, starring Rosen and Zoe Lister-Jones, has just played at the Tribeca Film Festival and distributors have nibbled. Rosen is hopeful the film can be taken to the next level. But even if it isn't, he got to star in the kind of movie he might want to see. "They are quiet and character-driven," he says. It goes without saying the role was written to display his talents.
Though Rosen has been in the business 15 years and has a number of Off-Broadway and regional credits under his belt, he doesn't feel he has had much chance to show what he can do. More disturbing, the jobs are few and far between. He says he has waited lots of tables. He's also familiar with taking the usual screenwriter-without-representation route: write a script, shop it around, see it optioned (if you're very lucky), and three years down the line, the film is no closer to production than it was on the first day of submission. That's precisely what happened with Rosen and Bennett's earlier screenplay. With their second film, Rosen was determined to maintain some control over the whole process and bring it to fruition.
As Rosen tells it, the first order of business was keeping the piece small and manageable from a budgetary point of view. The second step was working out of his hometown of Minneapolis, where he was well-versed in the indie scene's players. Almost from the outset, he had director Brady Kiernan on board—"He and I are kindred spirits," says Rosen—and the two men raised the necessary funds to finance the film. In the beginning, however, he was simply asking Kiernan for advice on the script. He never expected Kiernan to express interest in directing it, let alone involving himself financially. The script was finished in 2009 and it went into production that October. At every level, the making of the film was a classic example of how knowing people who knew others paved the way for launching a film.
The biggest challenges were on the set, Rosen says. "They were physical. We worked 20 nights straight in the cold, rainy Minnesota weather. The challenge was to control my shivers. What Zoe and I most remember was how cold we were and how people would rush up to us with blankets after shooting each scene. Of course, because I was working with Zoe, the performance bar was set high. Each scene was an acting challenge." Interestingly, Michael Imperioli, who stars on ABC's police drama "Detroit 1-8-7" and is perhaps best known for his stint on "The Sopranos," also has a bit role in this film.
Lots of High-Fives
Theater was always very much part of Rosen's life. His uncle Robert Rosen co-founded and was a company member of the now defunct Theatre de La Jeune Lune, (Theater of the New Moon), an American-French troupe in Minneapolis that won the 2005 regional Tony Award. After high school, Rosen went out to Las Angeles to test the waters, returned to Minneapolis, and finally made his way to New York, where he joined forces with Bennett. They co-authored a one-man play, "Ham Lake," which starred Rosen and was produced at Soho Playhouse. Rosen acknowledges he likes the collaborative process and has no desire to write on his own. "It wouldn't be fun," he says. "I'm only interested in writing with a partner."
Wearing his acting hat, Rosen has a significant role he says in an upcoming indie, "The Oranges," helmed by Julian Farino. It stars such actors as Hugh Laurie, Allison Janney, Oliver Platt, and Catherine Keener. Rosen is hopeful the film has a life, though he says matter-of-factly much of his part could end up on the cutting room floor. "It all depends on what happens in editing."
At the moment, however, his thoughts are most focused on "Stuck Between Stations" and the long journey it has taken—from conception to production to submissions on the festival circuit to its acceptance and presentation at Tribeca, where following each showing, "I've been getting lots of high-fives," he says.
You can't argue with that.