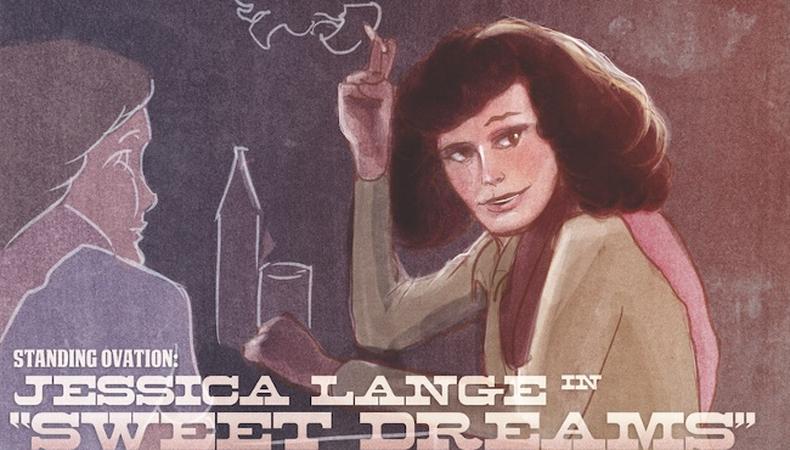 Describing Jessica Lange's portrait of late music legend Patsy Cline in 1985's "Sweet Dreams" as underappreciated seems an odd task, or perhaps an unnecessary one. After all, reviewers at the time raved about the actor's vivid transformation into the forceful country singer; she came in second place for female acting honors with the National Board of Review and the National Society of Film Critics; and Lange received an Academy Award nomination as best actress (sentimental favorite Geraldine Page took home the trophy for "The Trip to Bountiful").
Yet Lange's lusty performance—and the entire film itself—seems to exist in the mountainous shadow cast by 1980's "Coal Miner's Daughter," the entertaining biopic of another country singer (and pal of Cline's), Loretta Lynn. It's a shame; despite the Nashville setting, the films are markedly different than viewers might remember. For all its charms—most notably Sissy Spacek's indelible performance—"Coal Miner's Daughter" is ultimately a rather conventional rags-to-riches show business saga that details the pitfalls that accompany fame. Cline's short but extraordinary career, however, isn't the central theme of "Sweet Dreams." Director Karel Reisz ("The French Lieutenant's Woman") and screenwriter Robert Getchell ("Alice Doesn't Live Here Anymore") have something else in mind. Their film is foremost a torrid love story, an incisive examination of a union between two temperamentally well-matched protagonists—Cline and her swaggering second husband, Charlie Dick (Ed Harris, equally sensational)—who are never happier than when raging war with one another.
We're first introduced to Cline when Lange, earthy and resplendent in a curly dark wig and a homemade cowgirl costume, sashays onto the stage of a saloon to croon one of the singer's signature tunes. Although Lange doesn't do her own singing, she proves adept at not only lip-synching but transforming her usually soft speaking voice to match Cline's distinctive growl. There's no disconnect between actor and character; we never doubt that Lange's Cline is a woman capable of belting out those hard-luck songs.
By 1985, Lange had overcome some hard luck of her own after being unfairly confused with her dim blond character in the 1976 "King Kong." At the time she made "Sweet Dreams," she was in the midst of one of the most impressive career resurgences in cinema history, having stunned moviegoers and critics alike with a series of films in which she seemed to instinctively inhabit a range of vastly different characters, from a reckless movie star in the harrowing "Frances" to an ethereal soap opera ingénue in "Tootsie" to a stalwart farm wife in the ripped-from-the-headlines drama "Country."
"Sweet Dreams," however, gave Lange the opportunity to play more quiet and subtle moments. There's a particularly telling scene near the beginning of the film in which Lange effortlessly conveys the complexity of Patsy with a simple sideways glance. After Patsy rebuffs a pass from Charlie, he kicks her table and leaves with a vulgar insult. Without uttering a word, Lange lets us know that she's finally met an opponent who can keep up with her, and that Cline can more than hold her own with any man who crosses her path.
Later in the film, a record producer thinks he understands Cline. "You want to be Kitty Wells, don't you?" he asks. "Hell no," Lange shoots back. "I want to be Hank Williams!"
Pauline Kael famously championed the film and pushed for Lange to receive best actress honors at the New York Film Critics Circle Awards. If that's not validation enough, Meryl Streep (who received her first best actress Oscar nomination for "The French Lieutenant's Woman") has revealed in interviews that she considers Cline to be the role she most coveted. But, she added, "I couldn't imagine doing it as well or even coming close to what Jessica did, because she was so amazing in it."
Jeremy Kinser is the managing editor of Queerty.com and a writer for the Sundance Film Festival website. His writing has appeared in The Advocate, Out, and Paper magazine.