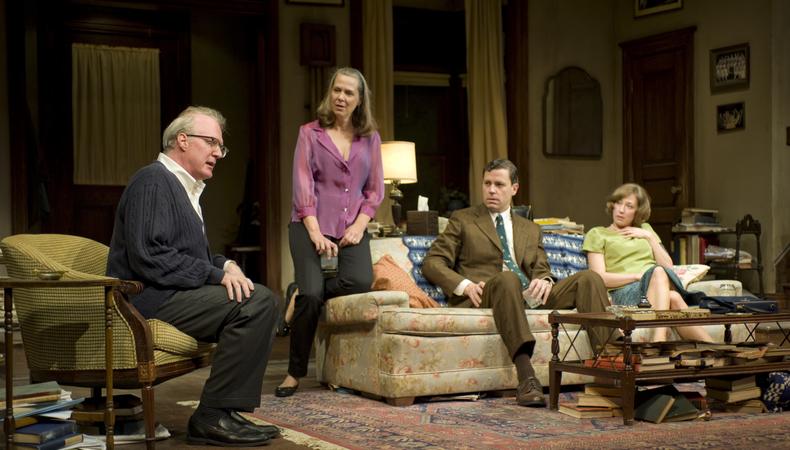 Edward Albee's "Who's Afraid of Virginia Woolf?" may be 50 years old, but you'd never guess it from Steppenwolf Theatre Company's jolting revival at Broadway's Booth Theatre. Under Pam MacKinnon's ruthlessly incisive direction, Tracy Letts and Amy Morton—playwright and star of the celebrated "August: Osage County"—reunite as a particularly well-matched George and Martha, whose epic battles are as dangerous as their need for each other is palpable. Albee's ferocious and funny masterpiece couldn't be better served.
Martha, a ball buster if ever there was one and a self-described "earth mother," is on the surface the showier role, and she can dominate the play. Not this time around. Letts is an impressively visceral George, full of cunning and stealth even when suffering humiliation at his wife's hands. A well-respected Chicago actor long before he tried his luck at playwriting, Letts is especially successful at keeping George's improvised navigation of this drunken evening of nasty game playing active. Letts is utterly plausible as an intellectual academic, but his George isn't ineffectual; that's just his protective coloring. Upon delivering the killer blow, the actor makes George's concern for Martha as genuine as his satisfaction in his hard-won superiority.
Morton's Martha is a matter-of-fact gorgon, less self-consciously outsize than is customary. This Martha rises to the heights of cruelty required more out of need than relish, and Morton isn't afraid to highlight the character's vulnerabilities. When in Act 3 Martha explains to an uncomprehending Nick her husband's love for her and the self-disgust that prevents its acceptance, Morton makes the unsparing assessment heartbreaking in its helplessness.
As Nick and Honey, the unfortunate young couple who blunder into this "Walpurgisnacht" (as Albee labels one of the acts), Madison Dirks and Carrie Coon match Letts and Morton toe-to-toe. Dirks is at first all carefully contained masculinity as Nick, playing the good boy to curry favor, but it's not long before the actor gets to let out Nick's smug self-satisfaction, randy sexuality, and festering marital disappointment in well-calibrated, increasingly inebriated flashes. Coon is a more extreme Honey than usual, drunker faster, more out of control, and less little girl lost. There's a rancid edge of resentment in her coexisting with the remains of innocence. In combination Dirks and Coon are all-too-persuasive portraying Nick and Honey as an embryonic George and Martha.
Scenic designer Todd Rosenthal's somewhat worse-for-wear wood-paneled living room dominated by piles of books and overstuffed beaten-up furniture encapsulates its owners' emotional lives. Nan Cibula-Jenkins' costumes briskly complement character, and Allen Lee Hughes' surprisingly bright lighting trains a laser beam on the proceedings, which at play's end renders emotionally resonant the growing interior darkness contrasted against the nascent glow of day as seen through a window.
It's only been seven years since Broadway last saw this play, in a superb production starring Kathleen Turner and Bill Irwin. Steppenwolf's account doesn't erase those memories; it creates its own. The chance to see a great play in a great production doesn't come along all that often. Here's your chance.
Presented by Jeffrey Richards, Jerry Frankel, Susan Quint Gallin, Mary Lu Roffe, Kit Seidel, Amy Danis and Mark Johannes, Patty Baker, Mark S. Golub and David S. Golub, Richard Gross, Jam Theatricals, Cheryl Lachowicz, Michael Palitz, Dramatic Forces/Angelina Fiordellisi, Luigi and Rose Caiola, Ken Greiner, Kathleen K. Johnson, Kirmser Ponturo Fund, Will Trice, and GFour Productions at the Booth Theatre, 222 W. 45th St., NYC. Oct. 13–Feb. 24. (212) 239-6200, (800) 432-7250, or www.telecharge.com. Casting by Erica Daniels.
Critic's Score: A+