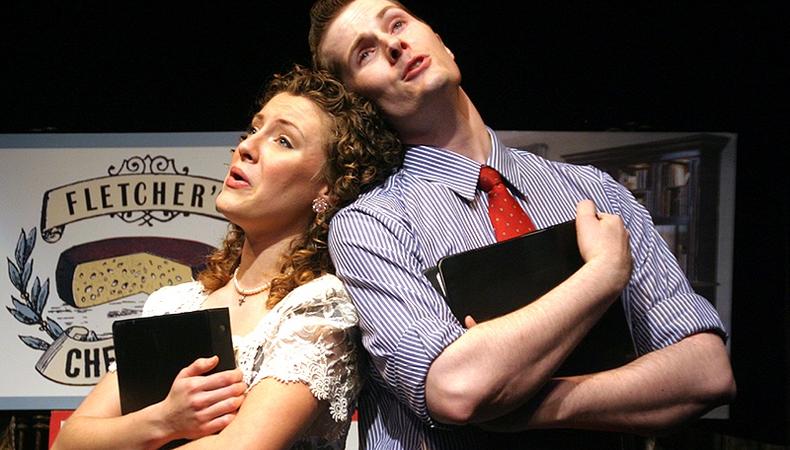 In case you missed the Encores! concert version in 1998 or the 1995 Goodspeed Opera House mounting in Connecticut, Musicals Tonight!'s bare-bones concert presentation delivers a respectable hint of what "Strike Up the Band" must have seemed like some 85 years ago when it debuted in Philadelphia. With music by George Gershwin, lyrics by Ira Gershwin, and script by George S. Kaufman, it offered songs ranging from playful Gilbert and Sullivan pastiches to heart-clutching ballads (most notably "The Man I Love") woven into a goofy plot loaded with blatant anti-war, big-business satire: The U.S., prompted and funded by a big-time cheese manufacturer, goes to war with Switzerland over cheese tariffs and postage due on diplomatic exchanges.
The critics raved, but audiences of the time, not looking to musical comedies for messages even when laced with wit, stayed away, and this 1927 show closed in Philly without braving New York. A revised version, with a script by Kaufman's occasional collaborator Morrie Ryskind that modulated the anti-war stuff, hit Broadway in 1930. The Gershwin score was also altered, some songs gone (notably again "The Man I Love") and others added. It had an okay but not monumental run but is considered a landmark as an early effort to put serious content into musical comedy.
In the current staging, which uses the 1927 version augmented with some 1930 songs, Kaufman's anti-war gags, while still resonant, seem clunky, as do the three romances that clutter the plot-heavy book. The 17-person cast, under Thomas Sabella-Mills direction, hasn't found the uninhibited, wicked silliness that might make it work (think "Spamalot"). But what can you expect when the format has performers carrying scripts in black binders after two weeks of rehearsal? They carry on gamely, even as the humor, particularly early in the show, falls flat. At least William Thomas Evans brings credible bombast to cheese maker Fletcher, and M.X. (Mario) Soto has his burlesque-comic moments as Spelvin, a mysterious character who keeps appearing in various guises.
The Gershwin score fares better than the Kaufman book. How stirring, though, can the title number—led valiantly by Michael Padgett as a gung-ho cheese-factory foreman—be without a band? (There's only an offstage piano for accompaniment.) But Padgett and Chelsea Barker, as the foreman's love interest, deliver a sweetly sincere "Seventeen and Twenty-One," marking their characters' respective ages and wondering why it took so long to fall in love. As another pair of conflicted love birds, Natalie Newman and Josh Canfield combine for piquant renditions of three ballads, including the aforementioned "The Man I Love." (Yes, it's a duet, with Canfield singing "the girl I love.")
Evans also scores in a duet of "I've Got a Crush on You" with Joan Barber, who plays an impoverished society matron eyeing Fletcher as a husband. There's also gorgeous harmony as a quartet of soldiers, led by Robert Farruggia, sing about being "Homeward Bound." Noteworthy too is the ever-perky work of the ensemble.
Presented by Musicals Tonight! at the Lion Theatre, 410 W. 42nd St., NYC. March 12–24. (212) 239-6200, (800) 447-7400, or www.telecharge.com. Casting by Holly Buczek.
Critic's Score: B-