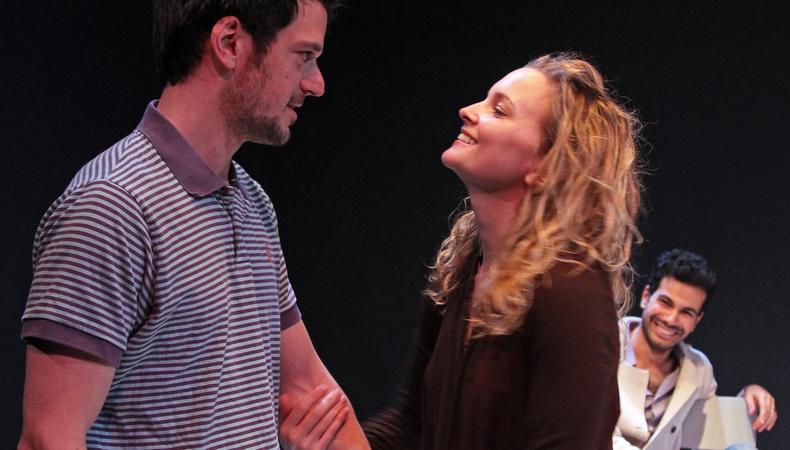 Paul David Young's compassionate drama "In the Summer Pavilion" was a highlight of the 2011 New York International Fringe Festival. An imaginative exploration of the various possible futures for three close friends just one year out of college, it has moved on to an Off-Broadway run at 59E59 Theaters with a tweaked script (it runs 75 minutes now as opposed to an hour) and one cast replacement (Rachel Mewbron, in for the excellent Julia Taylor Ross). Though a bit hemmed in by the venue's unforgiving black-box space, the show remains a quiet winner.
Handsome and wealthy Nabile, with Middle Eastern roots and masculinity issues, and the lovely Clarissa, a blond stunner who's an artist, have been invited by insecure, unfocused, but rich Ben to visit him at his family's deluxe summer home, which he has to himself. Though Ben is throwing a party, he's hiding from it in the titular building, restless, out of sorts, and not sure that he made the right choice in bringing his friends to be with him. As first Clarissa and then Nabile come looking for him, the tensions and erotic connections among the three, who haven't been together in nearly a year, become immediately apparent. Fueled by some LSD-laced vodka, they are soon hallucinating a variety of scenarios that their just-beginning adult lives might take. In each, two of the friends are romantically coupled, leaving the third one out in the cold. Relationship dynamics, professions, and accomplishments alter from vision to vision. In not one case are all three simultaneously happy.
What makes Young's play so unusual is how each character comes into focus through the multiplicity of his or her possibilities. Kathy Gail MacGowan once again contributes empathic, perceptive direction that is at pains never to confuse. The performances are a joy. Meena Dimian is a cheerfully amoral, elegantly seductive Nabile who can turn hard on a dime. Mewbron excels at small but important adjustments that keep all of her Clarissas on the same page; she's particularly good with the iteration in which Clarissa has given up painting to become a tightly wound art dealer. Ryan Barry is still a seriously sexy Ben, with Barry excelling at the character's boyish vulnerability. The actor makes the scene in which Ben, newly out of rehab, decides to go off the grid and join a group of environmental revolutionaries deeply affecting.
Returning lighting designer Kia Rogers partners with new sound person Julian Evans to create the simple but immeasurably enhancing atmosphere, though the smaller space cramps their style just a bit. In particular, Young's poetic and playful prologue, in which Ben breaks the fourth wall to toy directly with the audience, loses some of its sparkle.
But that's a small quibble. Young's play still movingly depicts, as I wrote before, "the shifting, halting, yet unlimited hopes of youth and the realities of circumscription that experience brings." He has just finished directing its film adaptation, which will be released next year. I look forward to encountering this lovely work yet again on the screen.
Presented by Go in Her Room Productions, in association with WorkShop Theater Company, at 59E59 Theaters, 59 E. 59th St., NYC. Oct. 18–Nov. 3. (212) 279-4200, www.ticketcentral.com, or www.59e59.org.
Critic's Score: A-