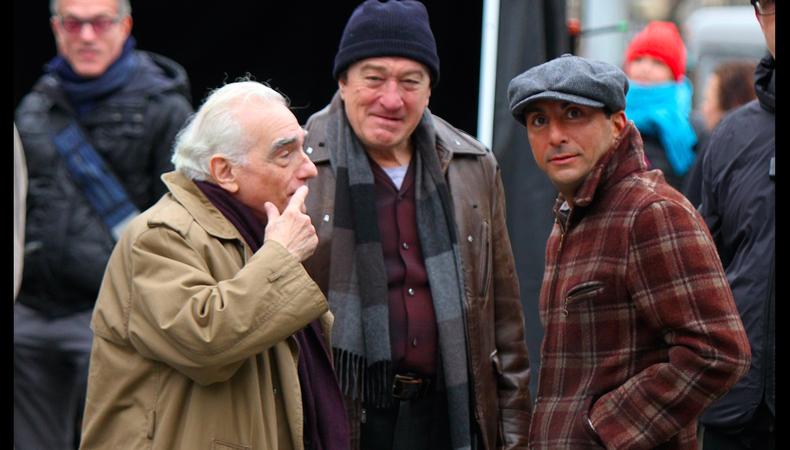 The following Career Dispatch essay was written by actor and filmmaker Danny A. Abeckaser, who can next be seen acting alongside Robert De Niro in Martin Scorsese's "The Irishman."
Okay, let's chat "The Irishman"! In "The Irishman," which I am so grateful and fortunate to have a part in, I play Louie (otherwise known as Deadbeat). It is a small but memorable role, and all my scenes were with Robert De Niro and under the eye of director Martin Scorsese. Both are legends, of course, and I am humbled to be a part of this project. When I got the call that I received the part, I was so excited; it was a huge moment for me. I knew I was doing what I am meant to be doing and my hard work and efforts are paying off. I continue to be grateful, and know I gave my all to this character. No matter how small or large a part is, you must be committed as an actor, humble, and dedicated to delivering a great performance.
My character in The Irishman is quirky yet comedic, but also entertaining. I got chills watching the trailer for "The Irishman"—especially when I saw myself get punched by De Niro. I mean, that was a huge pinch-me moment! I cannot wait until everyone gets to watch it later this year and after its New York Film Festival premiere this weekend.
Working opposite actors of such high caliber was an honor and a learning experience. I have met and known many of these incredible gentleman that appear in this movie at different points in my career for one reason or another, but to shoot with them in the grind of it in my home city of New York was an experience I could have never imagined. At one point, when I was filming with De Niro on an NYC sidewalk, he punched me in the stomach, unexpectedly, to get my true reaction, all improvised. It was a genius, spur-of-the-moment addition in the heat of the scene, and I stayed in character even when I reacted. After the scene, I looked at Scorsese; he loved it, and I did, too. It all worked! And now I can say I was punched in a movie by Robert De Niro, right? No complaints there.
To any actor reading this, all I can say is, do NOT give up. I paved my own way, produced my own films, directed my own films, and I continue to do things to open the door for the right acting opportunities, which was my first true passion. I have my own film I directed, "Mob Town," hitting theaters Dec. 13. I acted in a lead role as Joe the Barber in the film, while also producing and directing it with many amazing people along for the ride. It stars David Arquette, PJ Byrne, Jamie-Lynn Sigler, Jennifer Esposito, and Robert Davi. Both this film and my 2018 project, "First We Take Brooklyn," are mobster stories. It is definitely an area of interest that I have a passion for, so getting the role in "The Irishman" feels like it was meant to be. So follow your passion, and pave your own way.
What advice would you tell YOUR younger self? Get more Career Dispatches right here!