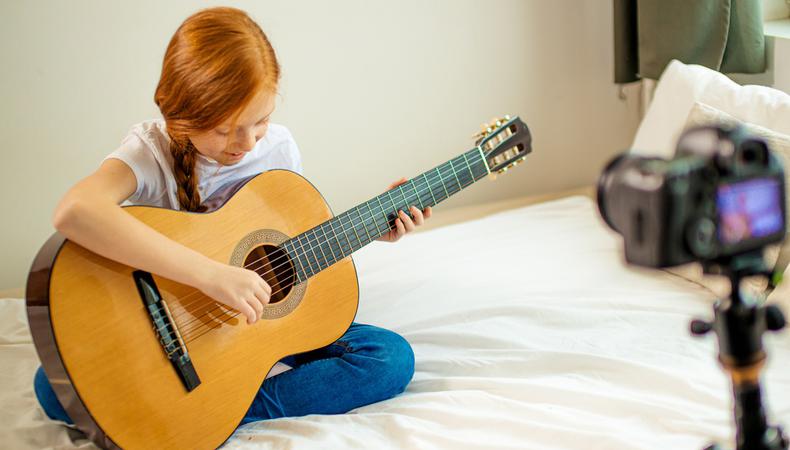 With productions shut down and theaters only now starting to open up, many of my students have been asking how they can stay sharp in their acting. The great thing about living in the digital age is that students don't need to wait for opportunities to come knocking at their door. YouTube, Instagram, and TikTok are all great platforms for young actors to create their own content, garner some attention, and have fun doing it. Here are some pro tips for students who want to start creating their own content.
1. Know your strengths.
Knowing the skills you want to showcase is the first step to creating engaging content that speaks to your individuality. If you're a singer, tell your story through a one-person musical. If you're a comedian, do some impressions. The best thing about creating content is that you can tailor your videos to highlight your greatest strengths. When you're beginning to grow your channel and find your niche, individualized content can be a great place to try new things and test out what works for you.
2. Tell a story.
In acting, it's important to ground your performance in truth, so both you and the audience can have a deeper connection with the material. Creating content is no different. The most engaging material is always the most genuine. When you tell a personal story, your sincerity and interest shine through to viewers. You can tell your story in whatever way is most comfortable to you: singing, poetry, dancing, or comedy, to name a few. What's important is that your videos have structure which helps you connect with viewers in a sincere way.
3. Know your platform.
In the age of digital media, there are many ways such as YouTube, Instagram Live, TikTok, and Snapchat to distribute your content. It's important to understand the platform you're using so you know the best ways to convey your stories and messages. If you're using TikTok, for example, you only have one minute to draw the viewer in and leave a satisfying conclusion. Alternatively, on YouTube you have the option to make videos of whatever length you like, so you have more freedom to decide how long you need to keep viewers engaged. Understanding these differences can push your content to the next level, and get your videos more attention.
4. Quality over quantity.
One mistake I see many young students make is thinking that they need to make 10 videos per day for their content to be successful. It's always better to make one movie you're proud of than to bombard viewers with enough content to monopolize all of YouTube. If you have some time on your hands and you want to make three good videos, go for it. But don't feel obligated to produce a lot of content if it means the quality of your videos will suffer.
5. Work with a pro.
It's always a good idea to get help from a seasoned pro when you're just starting out. If you want to make a singing channel, consult with your voice coach to make sure your voice is on pitch. If you want a cooking channel, ask a chef. Editors can also help you stitch together your clips in a thoughtful way. While there's no reason you can't just jump in and get creative on your own, getting some help from a pro can always make your videos stand out and catch some attention.
6. Use the right equipment.
If you're a young actor submitting video auditions, chances are you already know the importance of having a good camera and microphone. The equipment you use can help viewers connect with you and become more engaged. That doesn't mean you have to go out and buy the most expensive camera. Most smartphones these days have great cameras. What is most important is that your audience sees and hears you well.
7. Have fun.
People enjoy watching an actor, dancer, or aspiring magician who loves what they do. If you're not having fun making your own content, maybe it's time to switch it up. Try a new format or a new skill. When you're enjoying yourself it makes the whole experience worthwhile allowing you to have more creative freedom with your work
If Lin-Manuel Miranda has proven anything, it's that actors don't need to wait for a casting call to find success. By creating content, young actors can get creative with the ways they view their work and get some behind the scenes experience too.
Looking for remote work? Backstage has got you covered! Click here for auditions you can do from home!
The views expressed in this article are solely that of the individual(s) providing them,
and do not necessarily reflect the opinions of Backstage or its staff.