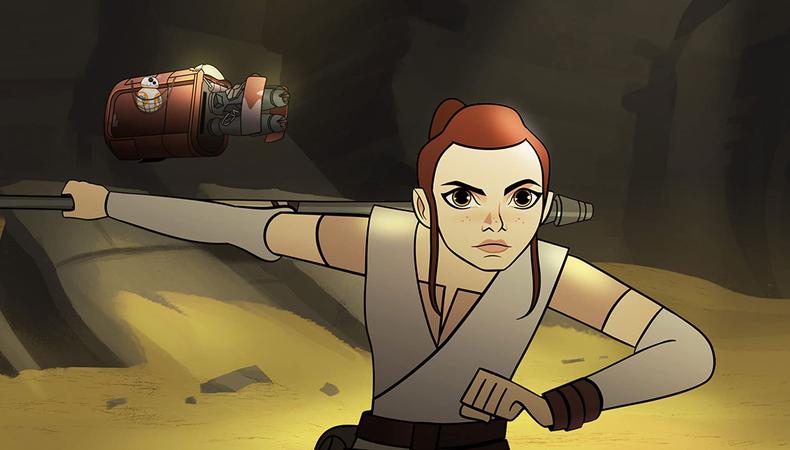 Looking for a new perspective? Here we talk to more of the top professionals in the field to bring you the latest career advice!
The world of animated television has brought us unforgettable shows. From wacky childhood cartoons to emotional dramas geared toward adults and everything in between, animation allows creators to explore beyond what's possible in live-action. But what do you need to know if you want to write an animated adventure of your own one day? Well, you'll want to read up on writer Jennifer Muro's experiences in the animation industry.
Muro's experience ranges from writing for animated series inspired by established franchises to those with brand new settings and characters. Her work can be seen on shows like "Justice League Action," "Star Wars: Forces of Destiny," "The Last Kids on Earth," and "Legend Quest." Her upcoming projects include WarnerMedia Entertainment's Crunchyroll "Onyx Equinox" and the record-breaking Kickstarter-funded "The Legend of Vox Machina" for Amazon Studios.
Muro spoke to Backstage about how she started in the industry, what writing for an animated series is like, and what aspiring writers need to know about the industry.
How did you get started as a TV writer and why did you want to pursue it?
I went to USC for film production. My first gig was at Nickelodeon on Sunset in live-action on "The Nick Cannon Show." I think a month in it got canceled. So I lost that gig as a production assistant and the Nickelodeon office in Burbank needed help in development. I got a job in the Burbank office which is why I fell into animation. I was in development for about a year or so and then did pretty much every job in the business from pre to post [production].
By 2005 I was already starting to freelance write for TV. I was already doing bibles in show creation and helping people do that so it was kind of a natural progression into episodic writing. I was an editor during that time, I sold a show to Nickelodeon, and I did postproduction. I did a lot at once and then by 2015, I couldn't do it all. I had to stop everything and just become a writer full-time.
Was animation always an area you wanted to focus on?
I was already in that environment and back in college I had created an animated series and written a bible. I loved "Batman: The Animated Series" back in the '90s and "Animaniacs" and all the Warner Bros. stuff was fantastic in the '90s. I loved that stuff but I didn't particularly know how separate live-action and animation was. They are even in different unions, which is odd. It's not like I chose one over the other; I kind of was in that world already.
What is the writers' room like on an animated show? What's your process when you're working on an animated series?
It's been the same for the last 10 years, 90% of the time. There are writers' rooms but 90% of the time we get smaller rooms and smaller rooms and smaller rooms. I mostly freelanced from home where you just have either a story editor or the showrunner doling out different episodes to random people.
So sometimes there wasn't a room at all and you'd get the bible and information, and you'd work on the outline and hand in the outline. The rooms have gone down in animation to where there are usually three people: the showrunner, the writer, and an assistant and that's it. I think live-action is going a little more that direction because of streaming. But network television, for example, is still mostly larger rooms and people are on staff for quite a while compared to some things. In animation, you can be staffed for years on something like "SpongeBob," for example, and sometimes it's really short.
How do you work with everyone else on the show?
When in the freelancer world, it really is emails and conversations. When you finally get into rooms, it's a team effort. It's amazing. You get to create a story with other people, and you're like, "Oh my gosh, I don't have to do this alone? This is amazing, I don't have to figure this all out solo!" It's very cool and if you have a good room, the energy's fantastic. You're laughing half the time and the other half you're exhausted. It's really great when there's a room. I prefer it.
What should someone who wants to become a TV writer for animation know about the industry?
If you want to go into animation, you better make sure you really want to be there because it's very difficult to jump from animation into live-action. Live-action writers can really go into animation quite easily because the networks love that, because there's prestige in that. It's just something that hasn't changed yet. Live-action writers make at least three times more. We don't get residuals. It's a different world. If it's your love and your passion, go for it but know where you start matters. Hopefully, it will change soon and by the way, some animation is WGA like "The Simpsons" and "Family Guy," but 90% of the time it's mostly I.A.T.S.E. or nonunion, unfortunately. So that's something to know. It's a bit of a struggle and I hope that changes someday.
Are there any specific skills or training someone needs to be a TV writer for an animated series?
In school, obviously, film production and cinema studies are great. Thinking visually, I think is a huge thing in animation. It's so funny, writing live-action samples and stuff like that now, I think very visually when it comes to how I write my lines because you could do so much more sometimes that you couldn't possibly do before in live-action, because it would be so expensive. Learn dialogue, emotions, and people's personalities, and think visually as well. I think that combo is great.
Your work includes a lot of recognizable characters from properties like "Star Wars," Marvel, and DC Comics. What is it like writing characters that people have seen in other iterations and do you approach them differently than writing for an original series?
It's pretty neat. My nephews can know exactly what I do for a living because they know who Batman is, who Wonder Woman is, and all that stuff. I don't know if the approach is different but depending on the iteration of the character, you know the personality is always going to be pretty similar. You know who Batman or Superman is, for example. I just approach it as a fan and how I'd want this to work. And by the way, you're working with artists, directors, and it's a team effort as well. It's nice to know what I'm getting into automatically because I've lived with a lot of these characters for so many years.