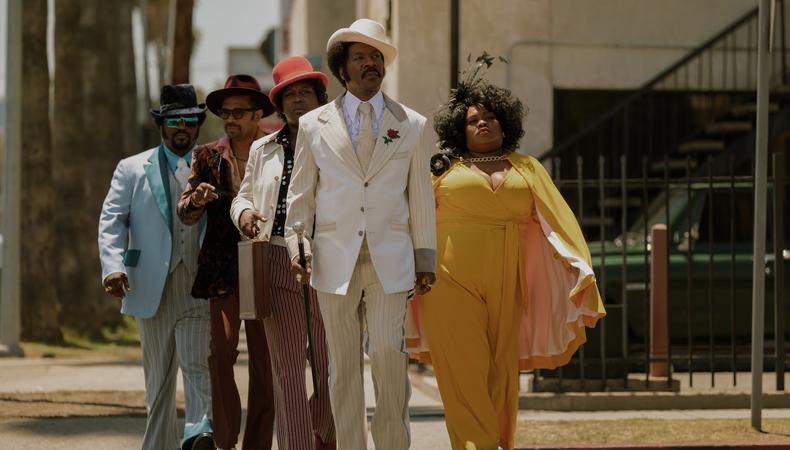 For your Screen Actors Guild Award consideration: the late-arriving (or potentially forgotten) film ensemble casts below! These eight contenders are about as varied as a collection of actors can get, ranging from poignant comedy to brutal wartime action to a vividly imaginative musical. But what they all have in common—some of the best actorly chemistry seen in 2019—is what makes them worthy of an ensemble prize.
OUTSTANDING PERFORMANCE BY A CAST IN A MOTION PICTURE
"1917"
In the grueling third year of World War I, Allied forces in northern France made significant inroads against the Germans. While retreating, the Germans planned a counterattack to ambush British forces, hoping to take back momentum. The clock is ticking from the jump in "1917," Sam Mendes' pulse-pounding, beautifully shot and acted war epic.
Two baby-faced British soldiers, Schofield (George MacKay of "Captain Fantastic") and Blake (Dean-Charles Chapman of "Game of Thrones") are given the unenviable task of alerting Allied forces of the incoming attack and must trek across the war-torn landscape to deliver the news. To make matters more urgent, Blake's brother is one of the soldiers at risk in the ambush.
Deepening the wonderful British ensemble are Andrew Scott ("Fleabag") and Richard Madden ("Bodyguard"), who both play lieutenants along Schofield and Blake's odyssey. The superb talent is boosted by appearances from Colin Firth and Benedict Cumberbatch as commanding officers. Firth and Cumberbatch in particular add an intriguing layer to the drama. Typically leading men, their brief appearances underscore the gravity of the situation. It's rarely the generals or figureheads who bear the most daunting burdens of war, and the ensemble casting of "1917" pays homage to that sad fact by keeping the camera's unflinching eye on MacKay and Chapman rather than the more well-known members of the cast.
"Bombshell"
After "The Big Short," Oscar-winning screenwriter Charles Randolph is continuing to carve a niche for himself with unconventional takes on real-life social and political dramas—the kind that really let actors sink their teeth in and play.
Enter "Bombshell," the hotly anticipated dramatization of former Fox News CEO Roger Ailes' 2016 sexual harassment scandal, with central figures Megyn Kelly, Gretchen Carlson, and Ailes played by industry heavyweights Charlize Theron, Nicole Kidman, and John Lithgow, respectively. Add to the mix Oscar nominee Margot Robbie as Kayla Pospisil, who acts as a fictional amalgam of so many young Fox News employees under Ailes' reign, and we've got one of the best-acted and timeliest dramas of the year.
Kelly will become one of the defining turns of Theron's career; so complete is her embodiment of the former news anchor that there are moments re-created onscreen that one would be forgiven for mistaking as the real thing. And Kidman as Carlson is stoic and determined while bringing the hammer down on the network's rampant, closed-door sexual misconduct.
The rest of the ensemble is a who's who of cameo and character work (Richard Kind as Rudy Giuliani is, in a word, inspired!). And Kate McKinnon gives a startlingly touching performance as a closeted Fox employee stuck in the daily grind. But the looming presence throughout, even when he's offscreen, is Lithgow; his gargantuan, bone-deep transformation into Ailes will shake you.
"Dolemite Is My Name"
"Dolemite Is My Name" is a movie that can be enjoyed on its own: a hilarious and heartfelt take on the unlikeliest of success stories, with eye-popping 1970s costumes and exaggerated yet authentic performances. But knowing the actors behind those performances and mapping their Hollywood success stories onto these aspiring Hollywood stars elevates an already great film to instant-classic status.
A comedian who has ridden ups and downs in the biz for four decades and hasn't played a character showing off his considerable dramatic range since his Oscar-nominated "Dreamgirls" turn in 2006, Eddie Murphy found the perfect comeback vehicle as a man making a comeback himself: Rudy Ray Moore, creator of the blaxploitation sleeper hit "Dolemite" and godfather of rap.
Moore, as portrayed by Murphy, director Craig Brewer, and writers Scott Alexander and Larry Karaszewski, is a visionary with madcap persistence. And by relying on the talents of his friends, including Ben Taylor (Craig Robinson), Theodore Toney (Tituss Burgess), and Jimmy Lynch (Mike Epps), he carves out his own—often overlooked—place in pop culture history.
Along the way, he discovers and harnesses the star power of comedian-singer Lady Reed. Bringing the heart to "Dolemite Is My Name," Da'Vine Joy Randolph gives a charismatic breakout performance that again echoes what's happening onscreen. The same can be said for Wesley Snipes as haughty director-star D'Urville Martin, with both actor and real-life character returning to entertain us.
"The Farewell"
"The Farewell" should come with two precursory warnings: Don't arrive hungry, and bring copious tissues. Set for the most part in the bustle of Changchun, China, Lulu Wang's familial dramedy features as many shots of salivatory meals as it does misty-eyed scenes of intimacy, familiar to anyone who's ever confronted the death of a loved one.
The enormous heart of the feature beats between Billi, played by rising supernova Awkwafina, and her grandma Nai Nai, played with acerbic affection by Zhao Shuzhen. When the latter receives a terminal cancer prognosis, the entire family gathers across the world for a fake wedding. The catch is that Nai Nai is the only family member unaware of her condition.
Convoluted though it may seem, there is nothing screwball about this deeply touching story of intergenerational love. In fact, the film's poignancy can be distilled by one of its most stark scenes: Awkwafina and Zhao, sitting beside each other on a plain bed in an unadorned room of a nondescript apartment, demonstrating in so few words their special connection.
It's that very simplicity that makes the film—which features almost exclusively dialogue in Mandarin—such a remarkable feat; it never overextends itself beyond what it is. And buoyed by a wonderfully functional cast who serve that exact intent (including Tzi Ma and Diana Lin), Wang's is a film that can be watched and rewatched, and which will never lessen its blows, however tender they may be.
"Little Women"
One of the biggest question marks coming into the latter half of the 2019–20 film awards season was Greta Gerwig's follow-up to "Lady Bird." Was her "Little Women" remake going to live up to the bar set by her first collaboration with Saoirse Ronan, which earned both of them Oscar nominations? Consider the question answered: "Little Women" is one of the year's very best.
Ronan strikes gold again as the central Jo March. No actor working today has a track record like hers, and she makes it easy to see why. Her take on Jo in both teen and adult form is heart-on-her-sleeve perfection—with a dash of headstrong feminism besides.
Each of the March sisters, played by Florence Pugh, Emma Watson, and Eliza Scanlen are also given time to shine, but "Midsommar" breakout Pugh is the standout alongside Ronan. Her performance as Amy is more than just feisty. She's a woman who longs for something more, and to watch Pugh play to those desires will make you want to stand and cheer.
And while this may be the sisters' show, industry vets Laura Dern as their mother, Marmee March; Meryl Streep as the curmudgeonly Aunt March; and Chris Cooper as their wealthy neighbor Mr. Laurence are all in top form here. Plus, Timothée Chalamet's supporting turn as Theodore "Laurie" Laurence is a showcase of why the heartthrob and Oscar nominee is one of the most bankable actors of his generation.
"Motherless Brooklyn"
From "Primal Fear" to "Fight Club" to "The Score" to "Birdman," three-time Oscar nominee Edward Norton has built a career on eccentricity-driven character work—and "Motherless Brooklyn" is one of his best yet. He stars in the adaptation of Jonathan Lethem's 1999 novel as Lionel Essrog, a Tourette-suffering private detective in search of answers behind his boss' murder. As writer, director, and producer, Norton could have easily skewed toward over-the-top caricature with no one to reel him in, and while the role is naturally peculiar—erratically yelling nonsense and intrusively tapping those around him midconversation—Norton taps into Lionel's lost soul, his grief, and, eventually, his first love beautifully.
Adding to the film's many layers is an ensemble of Norton's foremost collaborators and longtime New York actors: Bruce Willis, Alec Baldwin, Willem Dafoe, Bobby Cannavale, Cherry Jones, Josh Pais, Fisher Stevens, Michael Kenneth Williams, and the list goes on. You can tell how much fun the group of them are having in this unsuspecting genre film, and they elevate one another's work frame to frame.
Joining the NYC-heavy roster is British actor Gugu Mbatha-Raw. She was the only actor for whom Norton broke ranks on his New York theater actor criteria, and it's clear why he did. Mysterious and captivating as the suspect-turned-love interest Laura Rose, she and Norton may well make you wish there were more movies made today like "Motherless Brooklyn."
"Rocketman"
Taron Egerton sees Rami Malek's "Bohemian Rhapsody" Oscar win and ups the ante: He's got live vocals! Few performances this year were as effortlessly entertaining, full-bodied, and moving as Egerton's take on Elton John. Acting, singing, and strutting his stuff as the iconic but troubled musical legend, the "Kingsman" breakout has enough flamboyance and theatrics to fill a baseball stadium—literally. And it makes his more subdued moments all more palpably poignant through rehab, familial trauma, and more.
Egerton isn't the only one singing, either. Director Dexter Fletcher and screenwriter Lee Hall's approach to the musical biopic is interesting in that it employs John's No. 1 hits by way of the old musical theater adage: The characters feel so much they can't help but sing. Jamie Bell as songwriting partner Bernie Taupin, Richard Madden as manager and lover John Reid, and Bryce Dallas Howard as John's mother, Sheila, are all given room to belt it out with the rest of the ensemble. But "Rocketman" is at its best when Egerton is front and center as a rock star of the world.
It all makes for one of the best pictures of the year and, particularly in a well-worn nonfiction genre that's risked becoming staid in recent years, a reinvigorating reinvention of the musical biopic. Don't let the sun go down on Egerton before he gets his due.
"Uncut Gems"
There are cohesive ensembles, and then there's the cast of "Uncut Gems," a mashup of misfits so wildly unnatural that each part comes together to, somehow, fit like a designer glove. That is to say, no other film—or television project or bar mitzvah, for that matter—is going to put Adam Sandler in the same room with former NBA star Kevin Garnett, Idina Menzel, Lakeith Stanfield, and singer the Weeknd.
But leave it to the Safdie brothers to assemble this particular motley crew. The still-upcoming filmmakers make their biggest splash to date with this A24 joint; part genre, part heist thriller, and part raucous romp, the film is set within the entrenched world of New York City's diamond industry, with Sandler giving an arguably career-best performance as a jewelry peddler. Smarmy and skeevy but in more ways than one forlorn, it should surprise no one that the icon is able to mine both comedy and empathy from his portrayal—nor should it surprise anyone that he's generating awards buzz from every angle.
But Sandler's supporting cast keeps up; his sparring scenes in particular with Garnett, Menzel, and newcomer Julia Fox are as fun to watch as they are aggravating and will certainly be recognizable to anyone who's sat through a Passover seder with their family—or at any table with their family. Unlike those functions, you don't need alcohol to make it through "Uncut Gems." But, like most experiences that will raise your blood pressure a notch or two, it probably couldn't hurt.
This story originally appeared in the Dec. 3 issue of Backstage Magazine. Subscribe here.
Want more? Stay in the loop with everything you need to know this awards season right here!