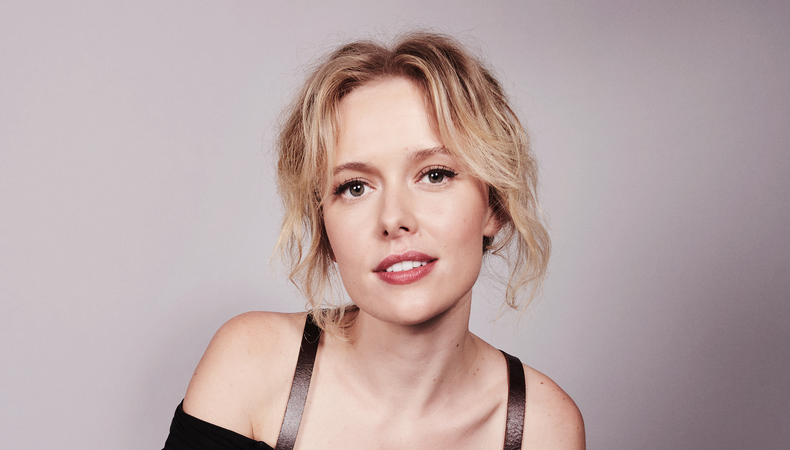 Things are about to get hectic for rising star Amelia Eve, appearing this month as lead role Jamie in Netflix's The Haunting of Bly Manor – the next chapter in the hugely successful Haunting series. Here, Eve speaks about the journey to booking the role, what it means to her, and shares advice that – if universally followed – would make this industry a far better place.
Like any road, my journey has been full of ups and downs: moments of hope and determination running parallel with moments of despair and self-doubt. What I have learned from this particular experience is that when you give out the positive frequencies of joy, encouragement, and hard work, the universe is more willing to return the favour.
Pursuing plan A vs doing plan B
The reality of being an actor is that we all have to balance pursuing our dreams with being able to afford to live. I remember reading an interview with Chris Pratt once where he said that if you have a plan B you will never achieve plan A.
This resonated with me. I spent many years trying to create some kind of safety net while I pursued the only job I ever felt I could enjoy. And although I tried to convince myself these side hustles weren't affecting my goals, they inevitably did; because I was unhappy in the jobs that consumed so many hours of my day. One day, I was pushed to my limit at one of these plan B jobs, and I resolved to be broke and happy rather than stable and miserable. Having worked in hospitality, in an office, and entertaining children, I was done with people and with giving so much of myself away that I had nothing left for my self-tapes. I decided that I wanted to work with dogs and to be an actor, and I wouldn't rest until this became a reality. Without going into too much detail, I set up my dog walking business with my sister three years ago and I am incredibly proud of what we have built in that short space of time.
A watched kettle never boils
The reason I reference this moment in my life is because it was only once I found something other than acting that truly made me happy, that I was able to stop putting so much pressure on myself to succeed – a watched kettle never boils. Once you find happiness in life and in yourself, the universe will offer up more happiness in its many forms.
Looking for your next role? Check out our UK castings
Booking the role of Jamie in The Haunting of Bly Manor has been life-changing in many ways. It is an experience I am still learning from and one that I will be eternally grateful for. I remember getting the casting through with only a couple of days before it was due. Jamie was pitched as "Sarcastic, blunt and prefers plants to people" – I thought, this girl gets me. So, I reshuffled my life and started working on the character. I then got another great casting through, due for the same day, and the stress of wanting to do these tapes justice kicked in. While my best friend stepped in to help me tape, another friend agreed to take my pups out with my sister. That day, it poured, relentlessly. I felt so guilty! It felt like I had to book the role, for them as much as for me – like there was power in the fact these women that I love dearly, and who love and believe in me, had all clubbed together that day to make this thing happen.
Don't lose sight of what we're striving for
A few weeks later, a close friend of mine booked a lead role in a Netflix series that is to be released in 2021. Though I hadn't heard back from my tapes yet, the joy I felt in her success was so full it was as though I had booked the role myself. My cheeks ached from smiling and I was beaming with pride. I genuinely believe there was something in this feeling that brought my role to me a few weeks later. The acting world can be so competitive, but if we allow that aspect of things to penetrate the love and the art then we lose sight of what we're striving for.
Two months after I sent off my tapes, I was driving home with a car full of pups and my agent called. She started the conversation pretty casual and then dropped in: "Oh so you remember that tape you sent in for The Haunting? Well, they've offered you the job and you are going to relocate to Vancouver for six months." You can imagine the squeals and howls that went down in that car journey home!
A week later, I had paused my life in London and moved to the other side of the world. I didn't know what to expect, but I knew that whatever it was, I would be ready. The best way I can describe that initial feeling was as though I shut my eyes and held my arms out, and this unfamiliar city hugged me back. It was magical.
Whether you're a spiritual person or not, I think there is a beauty in knowing that the world we live in works in such mysterious ways, that the only logical way to get through it is to find enjoyment in your everyday life. My advice, for whatever it's worth: Do five things a day that make you smile. Whether that's eating your favourite snack, complimenting a stranger, or taking five minutes to enjoy the breeze on your face. Find your happiness and your happiness will find you.
The Haunting of Bly Manor is on Netflix from Friday 9 October 2020