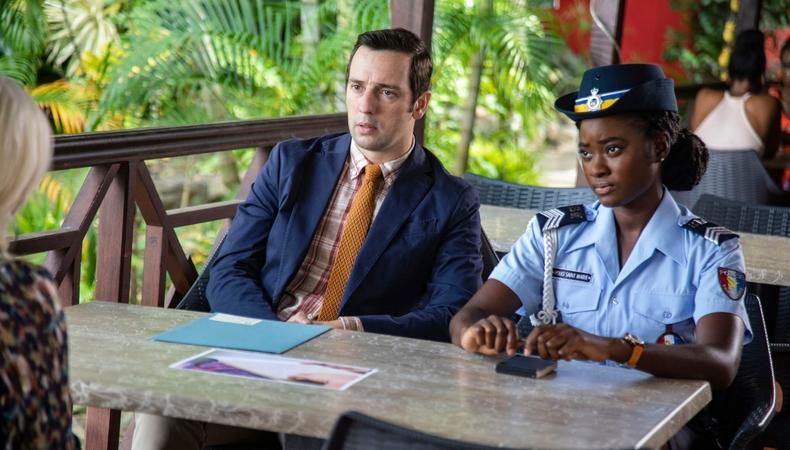 Fancy spending six months filming on a Caribbean island? Like the idea of following in the footsteps of acting stalwarts like Adrian Dunbar and Gemma Chan? Want to be part of a TV ratings juggernaut that's beloved around the world? If the answer is yes, then getting cast on the BBC series Death in Paradise seems like a no-brainer.
About to shoot its 12th season, Death in Paradise is the fish-out-of-water story of a British detective solving murders on the fictional Caribbean island of Saint Marie. Each episode can be viewed as a stand-alone plot and usually features a murder that needs to be solved ASAP.
Currently led by Ralf Little as DI Neville Parker, the show has regularly recast its lead. It also features an ensemble of regular co-stars (Don Warrington, Joséphine Jobert, Elizabeth Bourgine), plus guest stars who appear on single episodes.
Viewers, especially us Brits, are drawn to Death in Paradise's classic murder mystery plots and sunny, tropical location—particularly attractive during the show's usual January–February time slot. People also seem to like the show's tone, which is never overtly violent nor dark, despite the subject matter. Although the series might not be a huge critical hit and it'll definitely never be fashionable, it is popular with audiences and is regularly one of the BBC's most-watched dramas.
Writer and creator Robert Thorogood was thinking about giving up on TV when he finally got his big break with this family-friendly murder mystery. He told the Guardian, "I tried so hard for so many years and failed for so long. And then, lo and behold, it happened. I still pinch myself. I can't believe I get to write a TV show."
When it launched in 2011, his 'policeman in St Lucia' concept seemed like a hard (aka expensive) sell. But Death in Paradise has gone on to be a huge commercial hit. The BBC now sells the show to over 200 countries around the world, and it has become one of its biggest global money-spinners.
Death in Paradise is produced for the BBC by Red Planet Pictures, the company founded by writer Tony Jordan (Life on Mars, Hustle). Season 11 recently wrapped up airing on the BBC, while Season 12 and a 2022 Christmas special will start shooting in the spring.
Filmed on the French Caribbean island of Guadeloupe, the show usually demands that its main cast members spend months working on location. If you're a guest star for just one episode, however, it usually means a very doable fortnight's filming.
Red Planet boss Tim Key told Drama Quarterly that the cast and crew have to think hard about saying yes to the show: "It's the show you get no sympathy for doing, but it is a tough gig. You're away from home for a long time; and for our main cast in particular, to ask them to give up five or six months of the year to film abroad, it asks an enormous amount. We've been very lucky that with all of our leads, we've had a very collaborative discussion about how and when [they leave], so these things aren't forced on us."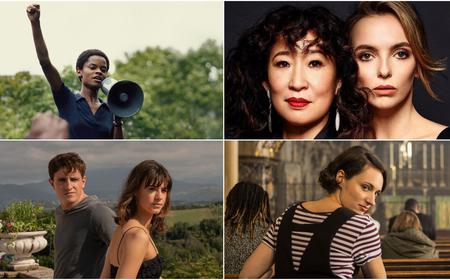 How to Audition for the BBC
Actor Tobi Bakare, who plays Officer J.P. Hooper, agrees it's not all cocktails and sun-tan lotion. He told the Radio Times, "When you're filming, it's very hard, it's very long, it's five months away from family and friends. But the thing is, we have so many beautiful beaches, and the place is amazing, and the crew is like a small family you get to see year after year. So it's long [and] it's difficult, but it's very enjoyable."
So that's something to bear in mind: Can you cope with potentially being away for six months on a sun-kissed Caribbean island? Yeah, we probably know the answer to that one. You can find out more about the show's locations here.
Death in Paradise's casting director since 2017 has been Sacha Green. Her Backstage profile can be accessed here, but she also has her own website, and all her contact details are on her CDG page.
She's responsible for all of the show's casting, including the impressive range of guest stars. Just a brief look at who has jetted off to Guadeloupe in the show's history reads like a who's-who of British television. Nina Wadia, Steve Pemberton, Martin Compston, Niamh Cusack, Adjoa Andoh, and Lashana Lynch, to name a few, have all done their time on the island.
Death in Paradise loves a guest star, but they're also not afraid of showcasing relatively new talent. In the show's most recent season, Jamaican actress Shantol Jackson joined the cast as new cop Naomi Thomas. She told the BBC, "I used to watch Death in Paradise with my dad in Jamaica years ago when it just started. And to now be in the show, knowing that he'll be watching me—it's truly a surreal moment. Looking forward to adding to the magic!"
The show's lead role has been recast four times. Thorogood told Drama Quarterly, "At a strategic level, when we create the characters, we absolutely have that international outlook. When we replaced Ben Miller, who was playing an uptight Brit in a suit, we wanted another archetypal Englishman, a Hugh Grant in Four Weddings and a Funeral figure—someone a bit posh, lanky, and middle class, because that plays around the world."
Miller led the series for two seasons before he was replaced by Kris Marshall as the show's new sweaty copper in a suit, DI Humphrey Goodman. He left midway through Season 6, and Ardal O'Hanlon's DI Jack Mooney took the lead. Since Season 9, Ralf Little has led the show, and he's confirmed to continue into the next series.
Little told the Guardian, "I've arrived in a juggernaut of a primetime drama, and it's the first time I've played a legit leading man. I could pretend I was worried about taking on the responsibility, but that would be a lie. I was delighted."
If you're thinking of auditioning for Death in Paradise, first things first: Talk to your agent. They should be able to get you the lowdown on what roles are casting and when. If you haven't got an agent, don't worry—you can still prepare yourself for when the phone rings.
That means doing some research. If you don't already, watch the show to get a feel for the piece. All the episodes are on BBC iPlayer. Ask yourself: Is it for you? Is it the type of show you want to work on? Can you see yourself filming away from the UK for six months? Ask actor friends if they know anyone who has been on the show, and then tap them up for audition tips.
Then it's time to make sure you're as ready as you can be, so get your show reel prepped, make sure that your headshots are how you want them, and do that final spell check on your CV. Plus, take a look at all our advice regarding auditions and self-taping.
So you're good to go for that crucial Death in Paradise audition; what more advice do you need? Well, why don't you get some top tips from those in the know: the cast members.
Newbie Shantol Jackson told Pride Magazine, "Always be humble, whatever the production, and give your everything. There may be someone sitting in the audience thinking, Oh, this person has potential; I want to give them an opportunity. To be honest, whatever opportunity you get to grow and develop, as long as it is legal and in your moral values, do it. Never think anything is too small or not worthy enough, because it all contributes."
"It's a hard job, but it can be just the most beautiful job"
Joséphine Jobert, who plays Florence, told Hello! magazine that actors must have a passion for the job. "You can do a very good audition, but they see so many people, and you may not quite fit the story of the character or the vision someone has. You're always doubting: Am I good enough? It's very difficult, but you have to be passionate and take lessons. Because sometimes people think it's easy. It's very technical. You know, you have to follow marks on the floor, and the cameras, and you have to learn the lines. And then on set, the director will tell you, 'OK, can you change everything?' So you have to be able to adapt very quickly. It's a hard job, but it can be just the most beautiful job.
"And you don't have to take yourself very seriously," she continued. "Because I've met a lot of people who think actors are so important. Well, we are, [in a way,] because…art and culture help people in life, yes. But we don't save lives. People in hospitals, firemen, they save lives. We're playing, and we're having fun. So just chill and relax."
It is wise advice, backed up by veteran Death in Paradise actor Don Warrington. On the subject of auditions, he told the Stage, "Try and enjoy them." So there you go: Kick back, enjoy, and have fun thinking about your six-month job on a tropical island.