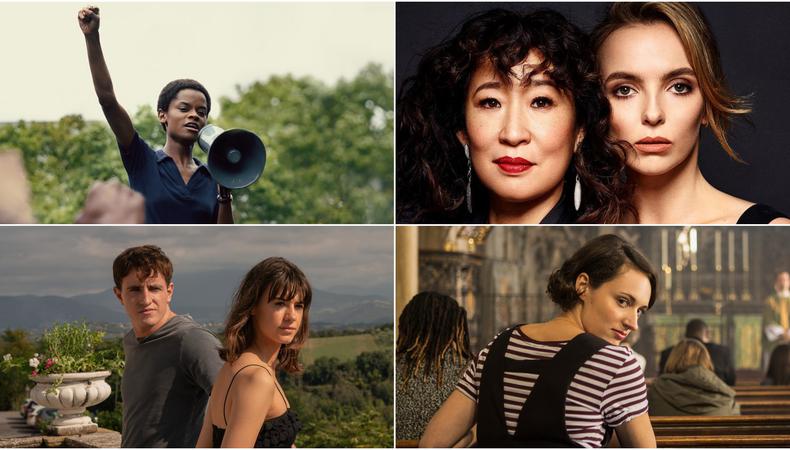 If you want to audition for the BBC, you need to find out if a specific show is being made by the BBC itself or by an external production company. Either way, if you're an actor in the English-speaking world, it's likely you will encounter the television behemoth at some point in your career: the BBC is the world's largest and oldest national broadcaster, formed in 1922, and has created some of the biggest global television hits, from Killing Eve and Normal People to Sherlock and Doctor Who, as well as critically acclaimed dramas like Small Axe, Fleabag, and I May Destroy You. BBC shows get syndicated around the world, and many – like Bodyguard – migrate to Netflix in the US, while others – such as House of Cards – are remakes of BBC originals.
We'll look at how to find out when a BBC show is greenlit and heading for production, and how to identify the production company and casting director (CD) in order to get on their radar. We'll also hear from actors on major BBC shows to understand how they got cast, alongside ensuring you've got your basics in order: your headshots, CV, and showreel.
Looking for your next TV role? Check out our UK castings
Traditionally, the BBC made everything it broadcast, and long-running soaps like EastEnders and Holby City, along with rebooted franchises like Doctor Who are still made by the broadcaster itself. However, much of its drama is now commissioned from third parties. Killing Eve was made for the BBC by Sid Gentle Films. Line of Duty was created by the ITV-owned World Productions, as was Bodyguard, while Fleabag was made by Two Brothers Pictures and Normal People by Element Pictures. But this isn't to suggest that all high-end drama is external – the BBC is an extremely active producer, with Peaky Blinders, Luther, and the Small Axe films among its in-house roster. And we're focusing on drama here: the BBC creates a vast amount of other types of programming, from globally distributed 24-hour news services to game shows, to nature, to education and more.
How 'Line of Duty' Got Made
The first way to find out who is casting BBC shows is to see who is making existing, recurring shows, like Killing Eve and McMafia. The second way is to monitor the industry in order to hear which shows are going into production over the coming months, and who is casting these. Both of these scenarios may be covered by an agent if you have one, but let's for the moment assume that you don't.
It's relatively straightforward to find out who casts existing shows. Backstage carries a lot of interviews with casting directors from major shows, including this one with the casting director behind Fleabag and Humans, or this one with the team behind Small Axe – and we'll pass on some of their key insights further down. Online research and googling should also reveal who is casting any existing show.
For upcoming BBC productions, bookmark our Greenlit UK series, where each week we announce major upcoming productions and who is doing the casting. At time of writing, the most recent Greenlit UK reports casting details for upcoming BBC drama Better, from the creators of BBC's Humans.
Another way to keep tabs on BBC shows looking for talent is to follow the BBC Casting Twitter account – which also includes call-outs for contestants and contributors for everything from game shows to reality shows.
If you've identified a greenlit show and found out who is casting it, the next step is to contact them. We've spoken to casting directors of many top-rating BBC shows, and here is some of their advice:
Lauren Evans, casting director for BBC's Taboo and Gavin & Stacey, tells us: "You don't need to write a covering letter with an email. Just be brief, clear, concise. Something like: 'This is my name, this is where I'm from, and this is what I'd like to show you, please do keep me in mind...' I think when your email starts to become a life story, then it's all a bit much."
And timing can be everything: "If by chance your face fits a brief we have at the moment, then bingo! I keep all my tapes from every actor I've ever met because if a name comes up, I look up to see what my note is on them and watch the tape to see if I want to bring them back in."
Fleabag's casting director Kelly Valentine Hendry also advised clarity and brevity: "Write a very clear message on the subject line of what you're applying for and just be as simple as possible. You don't need to think about it too much."
She also emphasises the importance of self-tapes, as this is likely to be the first a CD will see of an actor: "People who don't have agents should be very keen on self-taping. If you get in touch in the correct manner – I just mean politely, at the right time – and you can get your self-tape to a casting director then you're off!"
She tells us: "I'm getting thousands of tapes, so sometimes, when it's really badly done, I just think: 'You know what? It's not worth it.' I don't want that going up because, even though [the client] knows it's self-taped, it's still me that's presenting it."
And she shares the following tips: "Personally, I don't like white backgrounds. They don't make you look as good. You want a blue or a grey, and you want to light yourself. You want to make sure that your sound is really good, and have your readers stand a little bit away from the camera because you want to just hear them. Sometimes, readers are terrible, and it genuinely does distract. Quite often, directors will watch with headphones on and they'll have really good headphones that pick up all the extra noise. It doesn't take much for things to annoy people."
Before contacting casting directors, it's a good idea to have up-to-date headshots ready for sending. As per Valentine Hendry's advice, get clued up on self-tape techniques, and look at updating your CV and showreel, if you have one.
The best advice for how to nail your BBC show audition comes from the casting directors of the shows themselves.
Killing Eve casting director Suzanne Crowley advises actors: "Don't try and second-guess what's wanted. You need to be prepared, but you have to bring something into the room that makes you special for a role." Her co-Killing Eve casting director Gilly Poole expands on this: "Treat the audition as if you are playing that role, not thinking, Are they looking for this or that? Often, things aren't so defined on the page and everybody has a sense of what they're looking for, and then somebody will do something completely different and we'll think, Isn't that much more exciting than we thought it could be? You've got to own your audition."
Kate Rhodes James, casting director on BBC hits Sherlock and Bodyguard, echoes this theme. She tells Backstage: "I love actors that know who they are. They have an inner voice and they're not trying to please me. They bring what they want to bring in the room. Those are the sort of people I can bring in time and time again and then they start to get the gigs and it all snowballs from there."
She underlines the importance of decisiveness when approaching a character: "I always say to actors, make a decision about the character. It doesn't matter if it's wrong. Make a decision, because when you come in the room, you bring that into the room, and then the director will step forward and go, 'Okay, great. I love that. Let's do it again,' and then they very politely direct them in a completely different way. But make a decision. Whatever that story is that you can't get from the script, make a decision. Don't go into a room expecting the director to answer your question because they haven't got time. So, to get our attention, make a decision."
Backstage has asked many leading actors on BBC shows to share advice on how they got cast, how they handled their auditions, and how they started off.
Normal People star Paul Mescal tells Backstage how he prepares for auditions: "I'll obviously read the sides, memorise the lines, and I'll try and do that as quickly as possible so the closer I get to an audition I'm not thinking about lines."
Phoebe Waller-Bridge tells Backstage that "there's no such thing as getting acting 'right' " – and that actors should embrace their own idiosyncrasies: "Learn your technique, if you've got one, and then try and forget it, because just being your own, awkward, weird version of that character is the best you can do."
Fleabag actor Sian Clifford recalls another actor's advice, and echoes the points made by CD Suzanne Crowley above: "Don't try to guess what a casting director wants. Bryan Cranston's advice to actors, it's my favourite thing, and it changed my life. He said: Don't go into an audition to get the job, go to share your work. That was so liberating. You read it, interpret it, embody it the way you want to play that person and embody them with your whole heart and soul for those 20 minutes. Make a bold choice. If you get the job, that's a bonus."
And if you don't book the role, you're in good company. BBC smash hit Line of Duty's Martin Compston tells us: "You get an offer through, spend four days trying to learn a Kentucky accent and be off-book for 12 pages. Then you go in and do it, people stare at you as if you're nothing, and then you don't hear about it again. It really is tough to take. There's been a couple of times when I've thought, I can't do this anymore. There's been jobs I thought I had to get, and missing out really knocked my confidence. Even now, I'm terrified of auditioning."