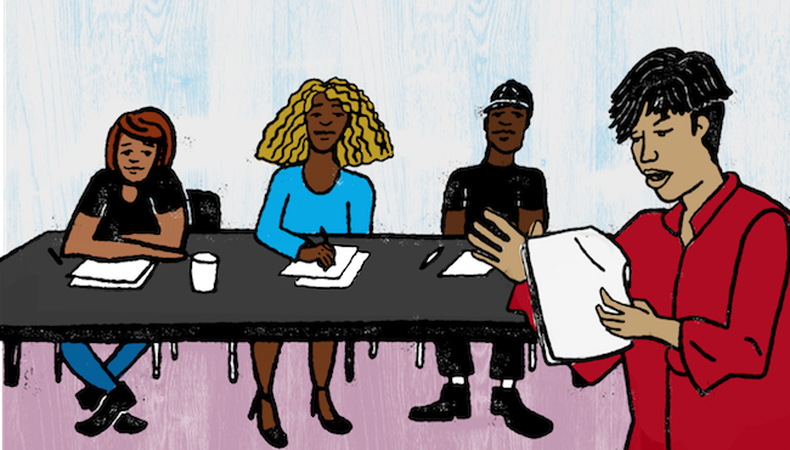 Step One: Find out who is casting the projects that are right for you.
Visit Backstage.com/Casting to find projects that are actively casting, and then follow the instructions in the breakdown to apply for the roles that you're right for. Then, visit Backstage.com/Resources to find the most up-to-date theater, film, and television production listings in your area. Backstage's production listings cover major film, TV, and theater projects — including productions that might not be currently running casting notices.
Highlight any current or upcoming productions you're interested in. Then, search for the production titles at Backstage.com/Casting; if the project is currently running a casting notice, then that will be the best way to apply. For the rest of the production listings you're interested in, make a list of the casting directors associated with each project. Make special note of any casting directors that are linked to more than one project that you find interesting. Are there any casting directors that seem to be doing a lot of casting for a specific network or director that you like? Take note of any patterns or correlations that you see. Now search for the casting directors in the Call Sheet database.
Step Two: Check out the casting office's credits and personnel.
In addition to the list you made from Step One, go through the Call Sheet list of casting directors, and look at each listing's credits. Are there any projects listed here that you are particularly interested in? If no credits are listed, look at the types of performers they cast. Do you fit into this category? If you are interested in both film and commercial work, it may be good to make note of the listings that cast both, as you may discover more than one opportunity if you are able to audition for the casting director. Note that many of the listings have more than one casting director on staff. Make sure you know which casting director casts the projects you are interested in. Also, it's worth paying attention to who the casting associates and assistants at the office are, as they may be the people who initially bring you in for an audition.
Step Three: Follow the submission policy.
Take note of each listing's submission policy. It is very important to follow this policy exactly when submitting for any project. If you found a casting director through an online casting call, always follow the policy listed for the specific project rather than the more general policy listed in our directory. If you have an agent or manager, make sure they are aware of your interest in this specific casting director, and that he or she knows how they would like to be approached as well. Submit a professional headshot and résumé, along with a cover letter explaining why you are interested in working with them. You can highlight why their work is of particular interest to you, and how your background lends itself to similar projects. Make sure to invite them to any performances you have coming up, as you never know when they might be available to attend.
Bonus: Advice for producers and directors.
Call Sheet is also a great resource for finding casting directors to hire to cast your productions. Search Call Sheet online to find casting directors that specialize in casting the types of projects you're producing, check out their credits, and contact the casting offices that fit your interests. With Call Sheet, you'll be able to find the best casting directors for everything from films, TV shows, web series, and commercials to theater productions and more.