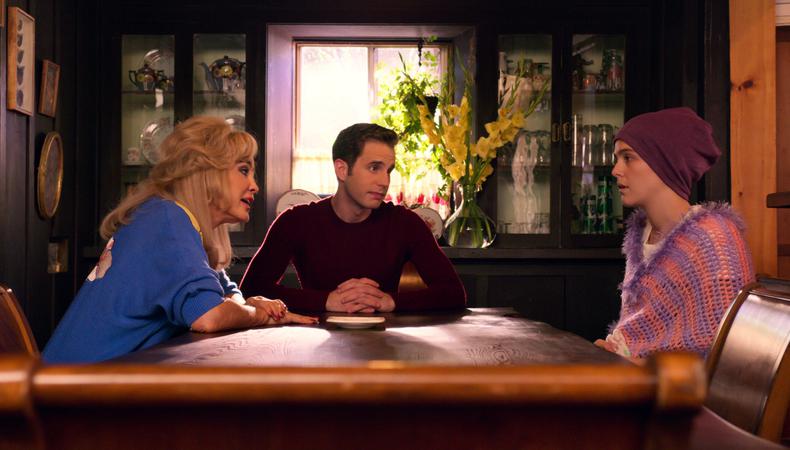 If you're an actor taking on a role and looking for inspiration, there's an off-the-wall acting technique that could help: animal work. From classic movie stars like Marlon Brando to comedy geniuses like Jim Carrey, many compelling actors have proven that the animal kingdom can provide the key to constructing and inhabiting a character.
What is animal acting work? Largely pioneered by acting teacher Maria Ouspenskaya, this training technique involves studying and emulating the physicality and characteristics of wildlife, from the way they walk or remain still to their vocalizations. Any non-human attributes can be infused into human characters, and to any degree—even if it's so subtle that no one but the actor knows which animal is informing their performance, it's as useful a character-building tool as any other. Read on for examples, and click here for more on acting techniques!
Zoey Deutch
"I love, love, love animal work," Deutch told Backstage in her "In the Envelope" podcast interview. "It allows me to base my characters not just off of people and experiences that I've had, which are limited... it opens your world up." Working with Alexander Technique expert Jean-Louis Rodrigue, Deutch selects a different animal or symbol for each of her different roles; the two then rehearse her scenes as varying degrees of that inspiration. "I'll do the scene 100% percent dolphin," she explains. "It's very freeing. You've almost released the shame and the fear and the [feeling of] 'Oh, what if I fall and embarrass myself?' Nothing will be as embarrassing as you with one other person in a big theater, looking absolutely insane playing a dolphin."
As Harper in "Set It Up," Deutch infused a bird into her performance ("which is why I was eating small, little snacks and putting things in my mouth and jumping and fluttering about"); as Erica in "Flower," she channeled pigs ("pigs have bad eyesight, so I took her having bad eyesight and squinting a lot"); and as the seemingly naive Infinity on "The Politician," the inspiration was an octopus with broken tentacles. "Infinity is very much a chameleon; she's a trickster, an animal needed to be able to change colors and shape and camouflage, disappear. She's a predator and she can also appear as prey, like an octopus."
Marlon Brando
One of the most iconic screen performances of all time was inspired by a beast—and once you hear which animal informed Brando's Oscar-nominated performance in "A Streetcar Named Desire," you won't be able to unsee the inspiration. The acting legend chose a gorilla as the basis for his Stanley Kowalski, allegedly observing and then imitating the movements of large apes. From their posture to the way they roar, Brando harnessed his uncanny ability to emulate those not like him and turned it into an animalistic tour de force onscreen.
Chris Pratt
Pratt is in the habit of researching and trying out unconventional acting techniques—even if it means combing the internet for ideas. Such was the case for "Jurassic World," in which the actor infused his leading role of dinosaur handler Owen with the physicality of a dolphin. "They lead with their foreheads," he has said, revealing the process by which he built his character's movements. It's an example of one of the many ways animal work can be narrowed down: If just one physical aspect of a zoological specimen helps decide your character's physicality, walking in their shoes becomes that much more natural.
Samira Wiley
"It's the weirdest thing, but it always helps me," says Wiley of animal work. "If you're in a certain scene or you're playing a certain character, what kind of animal comes up for you? How do they move? How do they react to certain things? That's always something that I think of." Speaking to Backstage about her experience training at the Juilliard School, the Emmy winner points out there are no acting techniques too bizarre in the quest to flesh out a character. Actors might as well give animal exercises a try, even if it doesn't end up becoming a favorite tool.
And rather than approaching a role with the thought that "this person is an animal," adds Wiley, paying attention to the animal kingdom's smallest details can provide inspiration in the creative process. "From the very beginning of getting to know a character, thinking of that tiny, little thing—does this person move like a chicken?—it's helpful."
Jake Gyllenhaal
Gyllenhaal was able to stretch his acting muscles in the film "Nightcrawler" as Lou, a journalist recording late-night acts of violence to sell to local news stations. Creating the character with writer-director Dan Gilroy, "We decided, 'Oh, he's a coyote,' " reveals the actor. "That was sort of how the whole look and feel and behavior of Lou came about." Beyond the physicality, coyotes served as a symbolic inspiration for this particular story; in addition to channeling their movements, Gyllenhaal channeled their essence, creatures that descend on the streets of Los Angeles after dark—just like his character.
Bill Skarsgård
A Backstage cover star for his work as the terrifying clown Pennywise in 2017's "It" and 2019's "It Chapter Two," Skarsgård needed an array of inspirations to get into the mindset—and large shoes—of the titular monster. Among them, he told Backstage, were hyenas, baboons, and monkeys, all creatures whose qualities can be glimpsed in his impressively vivid performance. "There is no right or wrong way to do it. It's just whatever you want to do to get to that place."
Wondering where to find the means to observe such fauna? If local zoos are not a viable option, take a page out of Skarsgård and many other working actors' books and try YouTube. Those nearly endless videos are not to be underestimated as a resource for the curious mind.
Jim Carrey (and Anthony Hopkins)
The star of "Ace Ventura: Pet Detective" not only used animal work to inform that classic comedic performance, he used it as an opportunity to bond with a fellow acting veteran. Discussing how Ace was inspired by birds, specifically "a parakeet or a cockatiel—a fancy, cocky, male bird," Carrey remembers that Academy Award winner Sir Anthony Hopkins validated his animalistic approach. "Sir Anthony said, 'Oh, my God, that's what I did with Hannibal Lecter. I was a tarantula and a crocodile.' " If a comedy titan and drama legend both use animal exercises in their character constructions, you should probably give it a try, too.
Looking for remote work? Backstage has got you covered! Click here for auditions you can do from home!