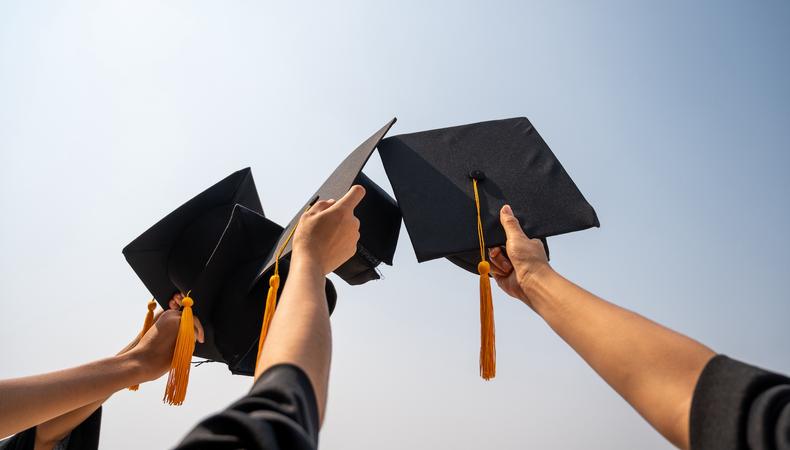 You don't necessarily need to earn a degree in acting—or even earn a degree at all—to become an actor. Still, higher education in a related field can better prepare you for auditions and jobs, as well as expand your network of contacts in the industry, which may give you a leg up over other aspiring actors in your geographic area or specialty. Here are some of the best majors for acting.
1. Drama
While every major on this list will benefit your acting career in some shape or form, majoring in drama is the most relevant path to take.
Certain degree programs require you to audition as part of your admissions application, while others let you declare the major once you've already matriculated. Either way, an acting program can give you the practice and confidence to kick-start your career.
Most acting degree programs require that you take classes in performance, voice, movement, screenwriting or playwriting, and theater tech—but the majority of the curriculum is focused on building performance skills. With a drama degree, you'll receive specific technique training as well as foundational knowledge in other areas of the performing arts.
Depending on the school you attend, you might also get access to networking and career opportunities. No matter what, a drama degree path offers the chance to meet like-minded creatives with similar goals in mind, which can make landing your first gigs easier after graduation.
2. Musical theater
Musical theater may be its own major or a subset of the drama major. Either way, if your goal is to be on Broadway, a degree or concentration in musical theater is a strong choice.
Studying musical theater will not only help you hone your acting skills, but it will also strengthen your vocal performance abilities. By the time you graduate from a musical theater program, you will have been training in both voice and acting for a few years. You'll have a repertoire and portfolio when you start auditioning, which is a key advantage over those who did not major in the field.
3. Communications
A communications degree is a versatile one, and it's a great option if you're already enrolled in a college or university that doesn't have a strong theater program.
Communications majors study how to effectively communicate to a target audience through different mediums, such as speaking, essay writing, and social media—and the ability to connect with an audience is vital to encouraging engagement and developing a strong performer-audience relationship.
You can also use a degree in communications to earn additional income. This degree can lead to a job in public relations or marketing for a movie studio, local theater, or other performing arts organization.
4. Screenwriting
Screenwriting programs give you the experience of writing and workshopping scripts for all different types of media, including television episodes, web shows, and feature-length films. Learning the ins and outs of screenwriting can help actors analyze a script—a necessary skill for creating compelling characters.
Additionally, certain screenwriting programs let you showcase your scripts to talent agents, managers, and investors, which can be a great way to launch your career in entertainment and build your network.
If you're already enrolled in a college or university that doesn't offer a screenwriting degree, consider majoring in creative writing or English as an alternative, with a focus on playwriting or screenwriting.
5. Film
If you're aiming to act in movies, specifically, studying film can strengthen your understanding and appreciation of the medium. A film or media studies degree gives you a good mix of what you'd learn from majoring in screenwriting and communications. In addition to writing scripts and learning about the production process from beginning to end, you'll also learn about film history.
A film degree offers a multidisciplinary view into what goes into making a movie, which is transferable knowledge when you book film jobs.
6. Stage management
A stage management degree can help develop your leadership, teamwork, organization, and communication skills—all of which are highly valuable for becoming an actor.
A behind-the-scenes study of the stage will show you the inner workings of a production. Classes in set design, lighting, production tech, and costume design all fall under a comprehensive stage management degree program.
Which is better, a B.A. or BFA?
Earning a B.A. instead of a BFA, or vice versa, isn't going to make or break your acting career. There are pros and cons to each type of degree, so it's best to choose the one that you're more interested in. The path to earning a BFA is more specialized and intensive, whereas a B.A. tends to offer a more flexible, well-rounded liberal arts education.
What are the best acting degree programs?
The best acting degree programs stand out for their reputations, curriculums, staff, and alumni networks. However, if you are unable to attend these schools, that doesn't mean you can't make it in the industry. There are many different degrees you can earn or classes you can take, meaning that there is no one path to success as an actor.