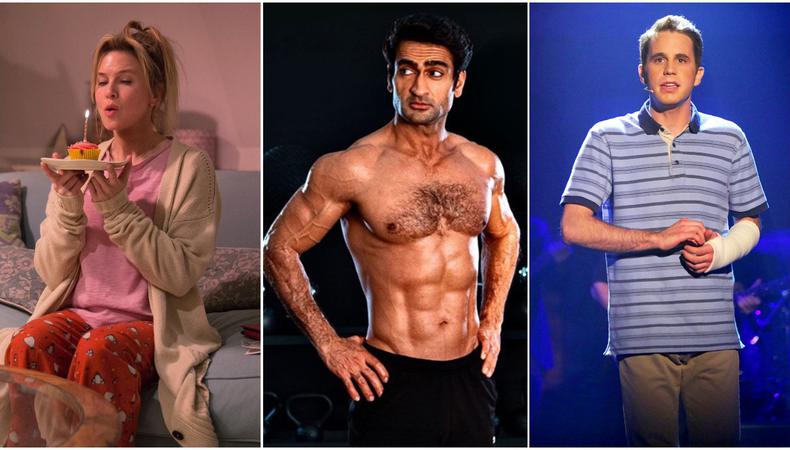 From attaining a bodybuilder's physique to undergoing transformations that render them unrecognizable, actors will go to lofty heights for physically-demanding role—some in healthier ways than others. From indie film stars to superheroes to Tony winners, here are 19 stars who dramatically transformed their appearance for a role.
Renée Zellweger
From 12 courses of fatty foods a day to an exercise ban, Zellweger is known for throwing herself into her "Bridget Jones Diary" diet. However, the actress has said the fixation on her character's weight—and her weight gain to play the role—has been too scrutinized, and that "no male actor" would ever receive the same attention.
Kumail Nanjiani
"The Big Sick" actor shocked fans in December when he revealed his transformation to play the leading role in Marvel's upcoming "The Eternals." In addition to workouts, the most challenging part was the extreme diet. Nanjiani cut out pizza, donuts, refined sugar, and carbs for a whole year. In an interview, he said he felt a responsibility to get in shape because he will be the first Pakistani superhero in a mainstream Hollywood movie.
Chris Hemsworth
Known for his extreme workouts to achieve the muscular body of Norse God and Marvel superhero Thor, Hemsworth shocked fans with a photo of his body transformation for the 2015 film "In the Heart of the Sea." He had to drop over 30 pounds to play the lead, Owen Chase, a sailor who becomes stranded at sea, right after wrapping "Blackhat" and juggling the "Thor: The Dark World" press tour.
Charlize Theron
Theron gained 30 pounds to play the role of convicted serial killer Aileen Wuornos in 2003's "Monster," which landed her an Academy Award. More recently, she gained almost 50 pounds for her starring role in the 2018 film "Tully." She said the transformation hit her with depression, as she had to consume processed foods and sugary drinks for three-and-a-half months. Compared to her weight gain for "Monster," she said this time it took longer to shed the pounds.
Will Smith
For the 2001 feature "Ali," Smith spent a whole year with a trainer to embody legendary boxer Muhammad Ali. He said he was "willing to sacrifice everything" to live up to Ali's legacy in the film, gaining 35 pounds and doing all the film's fight scenes without a stunt double.
Christian Bale
With more roles requiring physical transformations than you can count on one hand, Bale most recently gained weight for his role as former Vice President Dick Cheney in the 2019 film "Vice" by "eating a lot of pies." In 2005, he completely drained his body of muscle and dropped down to 110 pounds for his role in "The Machinist," then spent six months binge-eating and weight lifting to bulk up for the titular role in "Batman Begins."
READ: Christian Bale Became a Detective for "Vice" Role
Emma Stone
Stone worked with celebrity trainer Jason Walsh to bulk up for the 2017 film "Battle of the Sexes"; she drank protein shakes consistently to put on the pounds and muscle, transforming her body to make her built like tennis legend Billie Jean King.
Beyoncé
For her role in the 2006 movie musical "Dreamgirls," Beyoncé allegedly drank nothing but a lemon juice mixture for 10 days called "The Master Cleanse," which helped her lose 20 pounds. The now-popularized juice cleanse is mainly used for quick weight loss, but is not a sustainable diet. Beyoncé admitted she quickly gained the weight back once she went off the diet.
Alex Brightman
The Tony-nominated actor's leading role in "School of Rock" was so physically demanding that he lost a pound or two every week while performing. However, the role itself required him to put on extra weight—a tough balance to strike! For his more recent theater role as the titular "Beetlejuice," he gave up alcohol and went to the gym daily, as the role requires a strong core.
Mark Ruffalo
For HBO's miniseries "I Know This Much Is True," Ruffalo played twin brothers, one of whom was written to be heavier than the other. As such, he shot all his scenes for the first character (the svelter of the two), before spending five weeks working to gain 30 pounds to then play the other. That is dual devotion!
Ben Platt
Ben Platt has come a long way from his breakout role as magic-loving geek Benji Applebaum in "Pitch Perfect." He lost 30 pounds to play the lead in Broadway's "Dear Evan Hansen" by cutting out dairy and gluten and frequenting Soul Cycle, wanting to convincingly embody the anxious 17-year-old and stay healthy for the demanding eight-show-a-week schedule. His efforts paid off; he won a 2017 leading actor in a musical Tony Award.
Ramin Karimloo
For his Tony-nominated Broadway debut as Jean Valjean in the 2014 revival of "Les Misérables," Karimloo started the INSANITY program six months prior to the show's opening. After reading the novel and learning about how keeping in shape was an integral part of his character, he ate 5,000 calories a day, was bodybuilding between shows, and cycled 16 miles. By the time he reached Broadway, he was deadlifting almost 500 pounds and benching 300.
Zoe Kravitz
Kravitz's "cleanse" to play the anorexic and bulimic lead Marie in the 2014 film "The Road Within" involved some questionable methods, including drinking clay and eating a Mason jar of pureed vegetables daily. Though the diet helped her lose 20 pounds for the role, she went on to say it was awful and wouldn't encourage others to attempt it.
Joaquin Phoenix
To quote Melissa Villaseñor in an installment of Weekend Update on "Saturday Night Live": "Joaquin Phoenix, skinny skinny." The actor lost over 50 pounds in just a few months to play his titular, Oscar-winning role in "Joker," and reported symptoms of eating disorders after giving himself an emaciated look for the character. With a long reputation for method acting, he was honest that his weight loss also hugely impacted his mental health.
Neil Patrick Harris
After wrapping up his role as Barney Stinson on "How I Met Your Mother," Harris went through a strict weight loss plan to take on the starring role in the 2014 Broadway production of "Hedwig and the Angry Inch." The Tony Award winner did "nothing but cardio" for months to lose the weight. Combined with the demanding energy involved in the 90-minute performance, Harris's role as Hedwig helped maintain the weight loss.
Jason Momoa
Famous for his role as Khal Drogo in the first season of "Game of Thrones," Momoa never lifted a weight until he had to get into shape for 2011's "Conan the Barbarian." The breakout role led to his addition into the DC universe as "Aquaman," which again had him build and sculpt his body to attain the superhero's classic physique.
Margot Robbie
To nail the look of figure skater Tonya Harding in the 2017 biopic "I, Tonya," the Australian actress trained on the ice four hours a day, five days a week, for five months straight. Robbie ended up with a herniated disk in her neck from throwing herself into the training with a choreographer for entire sequences of Harding's routines.
Halle Berry
53-year-old Berry went viral after sharing a photo of the six-pack she got through training for her upcoming MMA film and directorial debut "Bruised." From training four hours a day to intermittent fasting to a keto diet, Berry has been consistently posting inspirational workout videos and photos every Friday on her Instagram.
Brie Larson
The "Captain Marvel" actress trained for nine months to get into shape even before the movie started shooting. Throughout the process, she shared videos of herself on Instagram highlighting her strength, including one in which she pushed a nearly 5,000-pound Jeep for a workout.
Looking for remote work? Backstage has got you covered! Click here for auditions you can do from home!