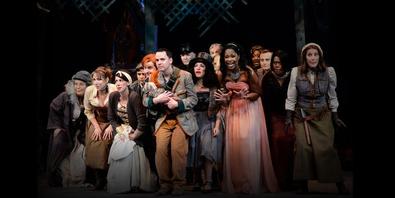 Atlanta, Ga., is widely known for its blockbuster film and TV productions—but it's also home to an exceptional number of theaters that allow beginning actors to spread their wings, and professional actors to flourish. Here is a list of several theaters and how they go about casting for each season. (First and foremost, it's in your best interest to try out for the ACPA Unified Auditions, held annually each spring and attended by theatrical casting directors in Atlanta and the greater Southeast.)
The Alliance Theatre
The Alliance Theatre holds general auditions, where actors prepare two contrasting monologues, and invitation-only auditions—in Atlanta and New York City—which take place twice a year. Open calls are posted on the casting page of their site. The theater also finds new talent from their many acting classes for children and adults.
Actor's Express
Actor's Express' irreverent take on new plays and contemporary musicals have both Equity and non-Equity actors. Auditions are invite-only. Artistic Director Freddie Ashley and Casting Director Sheila Oliver find talent through the Unified Auditions, by attending numerous productions around Atlanta, and through Kennesaw State University, where Ashley teaches. They suggest being responsive to audition invitations and making casting inquiries by email only. Says Ashley, "Actors should show up to auditions prepared and ready to make clear choices, presenting themselves with confidence, friendliness, and professionalism."
Aurora Theatre
The high-caliber Aurora Theatre is the only professional theater in Gwinnett, Ga. Their casting team attends the Unified Auditions and holds Equity Principal Auditions (EPAs) for each mainstage production, and both Equity and non-Equity actors are invited to audition on a show-by-show basis. Hiring both locally and outside of the area, the Aurora also draws from their apprentice program. Actor submissions can be received throughout the year at casting@auroratheatre.com.
Horizon Theatre Company
The Horizon Theatre Company is a nationally regarded hotbed for new plays and adventurous musicals in a cozy atmosphere. Many Equity actors are hired through the Unified Auditions, and the Horizon also invites non-Equity actors to audition, who are often found through their actor database. They also have an apprentice company for early-career artists interested in specific areas of directing, playwriting, acting, stage management, and design.
7 Stages Theatre
If you have multiple talents in circus arts and acrobatics, then this is the place for you! 7 Stages has been revolutionizing the Atlanta theater scene with its edgy multi-disciplinary productions since 1979. After attending the Unified Auditions in the spring, 7 Stages subsequently holds open call and invitation-only auditions. (They are a non-Equity theater.) Throughout the season there are also the occasional show-specific auditions, or talent-specific auditions, e.g. for puppeteers. 7 Stages' co-artistic director Michael Haverty also finds local talent through teaching at Kennesaw State University and Emory University. Contact 7 Stages for more information.
Theatrical Outfit
Theatrical Outfit's season includes both intelligent plays and rip-roaring musicals. To find his actors, casting director Clifton Guterman attends the Unified Auditions, and holds annual EPAs soon after. Based on who he's seen throughout these auditions, as well as recommendations from directors and choreographers ("and people we love"), Guterman will then send show-specific, invitation-only auditions. There are also internships available in all areas of the theater; Guterman has had casting interns who have gone on to become actors themselves. For more information, visit Theatrical Outfit's auditions page.
Inspired by this post? Check out our Atlanta audition listings!