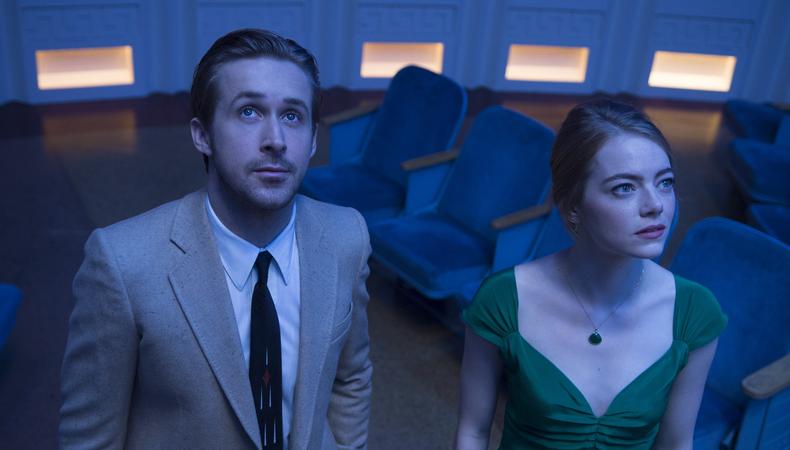 Writer-director Damien Chazelle has channeled the unfulfilled dreams of aspiring actors and artists everywhere into "La La Land," the new movie musical from Summit Entertainment soon twirling into theaters. Since its world premiere on the opening night of the Venice Film Festival, where its star Emma Stone won the Volpi Cup for Best Actress, the flick has been ready to take Oscar season by storm.
Centered on Mia (Stone), a struggling actor in modern-day Los Angeles, and Sebastian (Ryan Gosling), a frustrated jazz musician, "La La Land" depicts the struggles of starstruck artists today by way of Hollywood's classic movie musical styles. Led by Academy Award nominees Gosling and Stone, doing some of their best work ever on the big screen, the film is full of irresistibly charming performances, including turns from John Legend, Rosemarie DeWitt, Finn Wittrock, and Academy Award winner J. K. Simmons.
In the exclusive featurette below, Chazelle and his cast provide a behind-the-scenes glimpse of the casting process, their rigorous pre-production goals (three months of intensive piano study for Gosling!), and just how they staged the film's epic musical numbers. "They seemed excited about the amount of work it would take to do this movie," says Chazelle of his actors. "That was astonishing and exciting to me."
Check out the clip below, and don't miss the astonishing and exciting "La La Land" when it opens in select theaters Dec. 9!
Ready to star in an award-winning movie musical? Check out our film audition listings!