One of the first things Barry Keoghan tells me, with unabashed, impish glee, is that "last night was a fecking ball." I believe it; the Irish actor is barely 12 hours removed from his first Golden Globes ceremony, in which his latest project, Martin McDonagh's "The Banshees of Inisherin," won best screenplay, motion picture—musical or comedy, and leading actor for his costar Colin Farrell. (Keoghan also received a supporting actor nomination.) Still basking in that glow, the actor woke up the next morning to learn that "Banshees" had been nominated for five Screen Actors Guild Awards, including a best supporting actor nod for Keoghan himself.
"It doesn't feel real, to be honest," he says. I believe that, too. Keoghan's story is a true outsider's tale; raised in the foster system of Summerhill, Dublin, the actor speaks with an unshakeable authenticity about himself, his craft, and his unlikely road to Hollywood.
It's that same genuineness that makes his performances so affecting, particularly in "Banshees." Set on the tiny, fictional Irish island of Inisherin in 1923, McDonagh's pitch-black tragicomedy tells the story of two men, Pádraic Súilleabháin (Farrell) and Colm Doherty (Brendan Gleeson), and the increasingly intense dissolution of their friendship. Keoghan plays Dominic Kearney, a heartbreakingly earnest local with an air of tragedy hanging over his head.
Just two weeks after we spoke, the performance earned Keoghan his first Oscar nomination.
As someone inside it all, what's your relationship to awards season?
The only things that have changed for me are the opportunities I get from it, and I mean that with the highest respect.My commitment, my will to explore and learn from characters, to elevate [myself] as a human and as a man, to find myself, to reach artistic levels that I couldn't think I could reach before, to mature with it all—that all remains. The only thing is the opportunities. With [awards], people will listen and look at your work. It gives you a platform. You get to meet filmmakers you wouldn't have before, because you're in their circles now.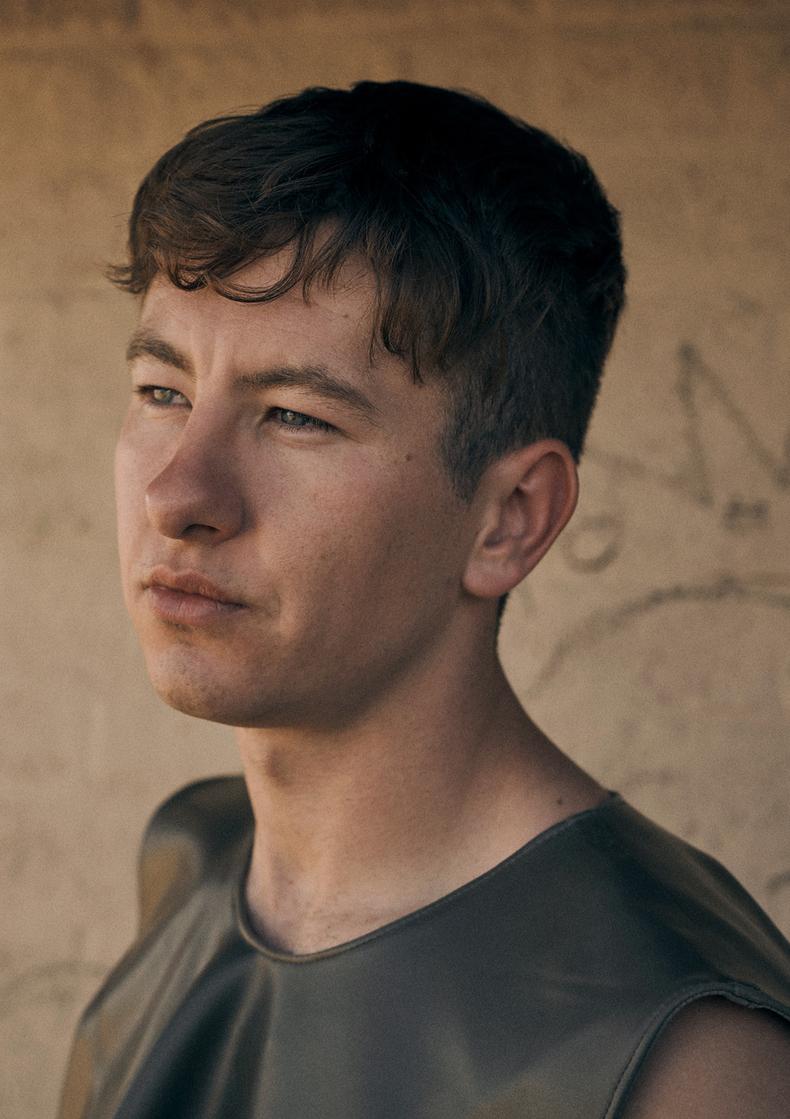 I'd love to go back to the beginning and look at how you got here. What was your first film role?
That would be "Between the Canals." I took this phone number off the local shop where I'm from, beside the boxing club I was in. It said "open audition." I remember taking the number down and not allowing anyone to see me, because I was afraid I'd get stink. My friends might say, "Oh, you're into acting?" I went home and rang the number, and the director, [Mark O'Connor,] told me they were waiting on funding. I had no clue what that meant. I was like, "OK, how do I get in the film? I'd seen you need a dirt bike. I've got a dirt bike." He said, "Just show up." So I showed up with my dirt bike. From there, I went on to another part and then another part, and then got a break in " '71" with [director] Yann Demange. I started to really learn about my craft and what it was I was actually doing. It wasn't just for escapism anymore.
What inspired you to take that number in the first place?
The movie was shooting on the same dates as school, so I thought, Oh, well, I'll get off school.
That's as good a reason as any.
Then I got paid 120 euros. That's 120 euros to show up on a bike! I was like, "I'm there."
"Hold onto that rawness. That's what the truest form [of acting] is, the purest form. Hold onto whatever that is, that untrained thing that you're doing. "
You also studied at an acting school in Dublin called the Factory in those early years.
I wouldn't even say [I was] studying. The Factory is what exactly it's called—it was an old factory. We'd be bringing in scenes, printing them off the internet. It wasn't a school of any sort. It was a place where we were experimenting with characters and cameras, watching documentaries and old movies. I'd leave school to go there. I'd go in my uniform.
Was it less about learning technique than just immersing yourself in the craft?
Yeah, it was like the Actors Studio—just a bunch of people who got together and workshopped scenes, asking ourselves, "What about doing it this way?" Or saying, "Go home for two days and be in character." My friends would go, "What are you doing?" I'd be wearing random clothes because I was in character. I loved it. It was escapism. I could never figure it out, and I think that's what I love about acting. It's just a big experiment.
Is that still how you approach it?
Yeah, I always want to hold onto some rawness. You look at non-actors, and you see their first movies or their second movies, and they're incredible. Then you get to that third or fourth movie, and they've lost it. They realize, Oh, I'm an actor; I should be an actor, therefore, I should learn how to have proper diction or how to project. And I'm like, Hold onto that rawness. That's what the truest form is, the purest form. Hold onto whatever that is, that untrained thing that you're doing.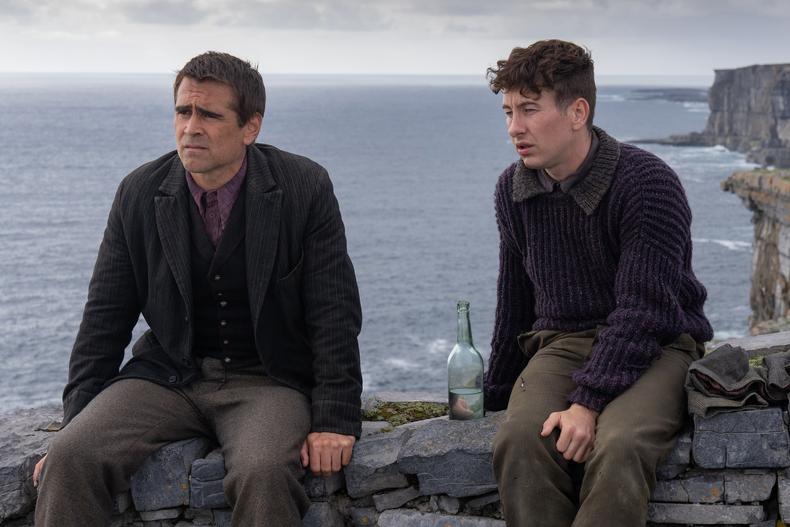 What does unpredictability mean for you in practice?
I've worked with actors before, and the director will ask them to do it in a different way, and they'll get offended by that. I don't understand why you'd get offended, because it's a collaboration. I want to give you everything I have. I'll do it 180 degrees the other way. I also want to explore and go deeper into this, and see if I can push limits. So unpredictability for me means: Know your backstory, know your homework, but let it go. Make those choices in the moment. I know that being present is what every actor strives for, but that can become mechanical, because you start thinking about it. You honestly need to just let it go.
I sound like such a fecking idiot. "Let it go." Coming from me, big actor. I'm still learning. I take little bits from others. I'm always curious about how other actors get into character and how they work. That's the beauty of this, man. [The process] is painful at the same time. It's really painful. But it is beautiful.
If there were just one way to do it, there would probably be a lot more actors.
I know. You hear, "Show up to the audition; make sure your hair is neat." No! How about I don't show up to the audition at all? Obviously, do what you need to get by. But I'm always under the impression that if you do it your way, it's different. That's unique. People sometimes say, "I don't know what it is [about this actor]; I can't pinpoint it." I think that's when you're truly doing it your way, rather than imitating or being predictable or playing it safe. Just do it your way and have fun. Or don't have fun; be in pain and be miserable, and be happy. That's what it's about. It's a roller coaster.
Your performance in Yorgos Lanthimos' "The Killing of a Sacred Deer" is deeply unsettling. Has that been hard to shake?
Definitely, definitely. That's the beauty of "The Banshees of Inisherin." I had a chance to really get people to feel for Dominic. There's a lot of stereotyping [when it comes to casting]; the weird characters will come in to my agent. It's just about picking now and being careful with choices. But, yeah, I'm still trying to shake ["The Killing of a Sacred Deer"], to be quite honest. I'm 30 years old. I'm trying to move into playing a dad. I've got a dad bod going on now.
It reminds me of when you played Druig in Marvel's "Eternals." Going in, many people assumed that you were secretly the villain; but I think audiences came out of that movie thinking, Oh, he could actually be a romantic lead.
I know, right? I'd seen myself on memes and TikToks. But Druig, he fought for what he thought was right. He was a likable character. I can do that. Well, I think I can. But that's the challenge, to go and play all sorts of characters and show range. I don't want to play villains for the rest of my life. It's not fun being comfortable with that.
What's your relationship to auditioning these days?
I hate auditions, man. I do. But you know what? It's a chance for you to put your vision down and make it into a scenario. I love that. With ["Eternals" director and co-writer] Chloé Zhao, I did that. With "The Batman," it wasn't an audition, but I made [filmmaker Matt Reeves] a little Riddler short. I love giving my interpretation. But I hate when it comes down to one or two choices and you're waiting on that call. You're like, Did I get it? Did I get it? Because then it feels like a job. I hate that. It should feel like a collaboration on all fronts.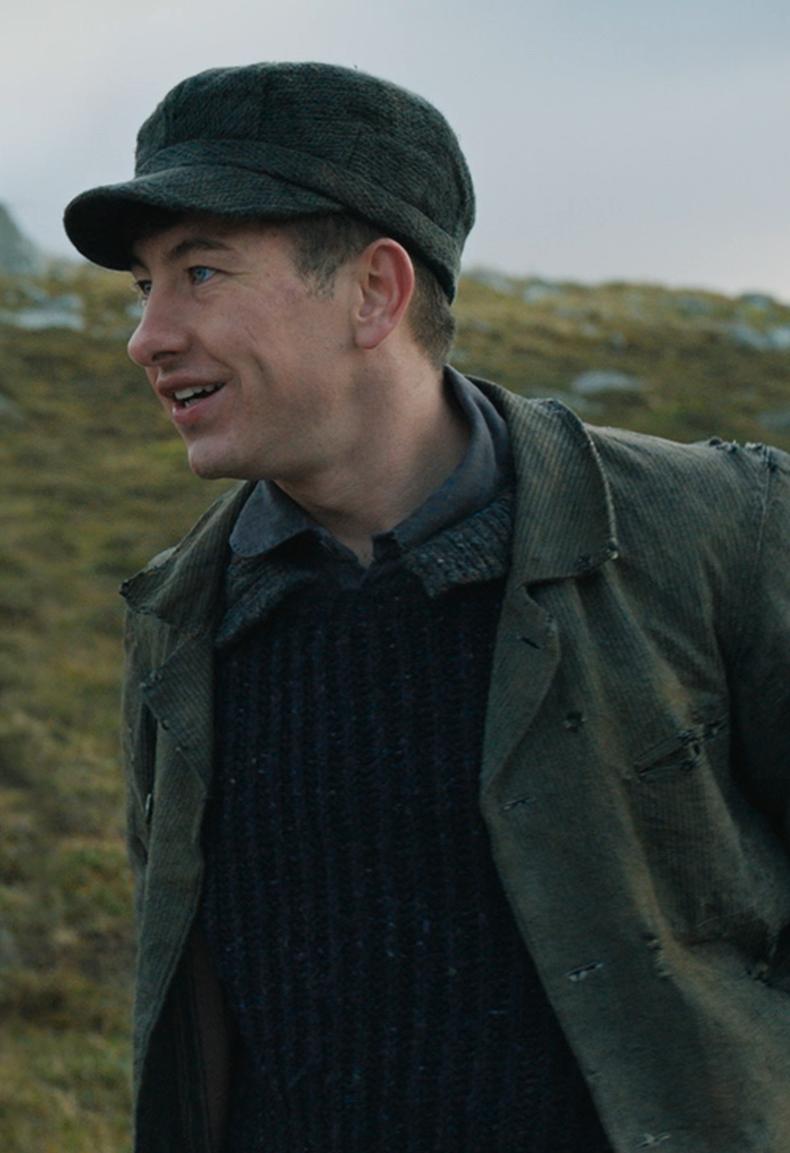 McDonagh wrote the role of Dominic in "Banshees" specifically for you, right?
He emailed me and said, "I've got this part—do you want to meet?" I had [his picture] on the front of my phone because I'm a big believer in attraction. I literally took him off my phone the minute before we met. I actually showed him the picture, and he was laughing about it. But I had him on my list for ages. For me, it's a law of attraction. It's not "getting," it's getting the opportunity. And when you get the opportunity, that's your chance to make it happen. If it doesn't, it doesn't. But I figure you can attract that [opportunity] by being—for me, anyways—slightly religious in combination with a law of attraction.
Did you arrive to set with an idea of Dominic fully formed in your head?
No, never. For every character, I want room to learn as I go along. If the director wants me to switch, I don't want to be set in stone. I'm totally open to them going, "We have that; let's do it this way." When you're totally set in stone and you think you have it down to a T, then you're not open to the challenge.
Can you talk about the scene in which Siobhán (Kerry Condon) gently rebuffs Dominic's romantic advances?
"There goes that dream." It's heartbreaking, because [the camera] is left on him. Martin does that on purpose. You see Dominic go through it—but not through it the way any other person would go through it. He goes through it in a way where he just accepts it, there and then. "All right; now, let's move on." That's the heartbreaking thing. He doesn't keep pushing. He doesn't get upset.
You see the whole character in that moment.
That was the last scene that I filmed. I was getting on a plane two hours after that.
That's incredible. How long did it take to get the version of the scene that ended up in the movie?
I think we'd done three takes. It was just Martin saying, "Do it again." I think coming toward the end, I knew Dominic so well. Leaving that as my last scene—it felt right. I literally walked off to get on a plane. Like: "OK, Kerry. Bye, then."
Was it strange to get yourself to such a highly emotional place and then immediately have to reenter real life?
It was, because I'd got into character [gold]. I just felt really fecking sad. That scene—I really went for it. I felt like it was the last bit of Dominic we'll ever get to see. He sat with me for weeks—for months, actually. I just wanted to pour it all out. I actually wanted to really feel heartbroken and feel convinced that if [Siobhán had] said there was a chance, I would've stayed. I wouldn't have gotten on that plane.
Does a character like Dominic stick with you?
For days after, and even weeks after, my girlfriend was like, "You're still talking like Dominic." I was still going on like him. I'd be touching my nose and pulling on my jumper, because it was so immersive. You're on that island, and it's beautiful. It's magical. Your surroundings are Dominic's surroundings. There's not a lot out there; there's one shop. It's the best form of being in character that you can ask for. It doesn't leave you.
This interview has been edited for clarity and length.
This story originally appeared in the Jan. 26 issue of Backstage Magazine. To hear our full conversation with Keoghan, listen and subscribe to In the Envelope: The Actor's Podcast.