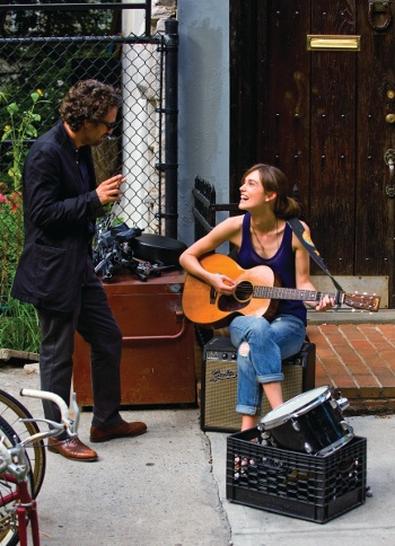 When John Carney began writing "Begin Again" in 2010, he knew the pressure was on. Since his 2006 film "Once" was so well received by critics and fans alike—earning an Oscar for best original song before being adapted into a Tony Award–winning Broadway musical—Carney knew there was no room for error.
"If 'Once' hadn't done quite so well, I think they'd cut me more slack," he says. "But it did and people were so warm about it and it meant so much to people that they almost don't want you to sort of, like, make another film ever, in a way."
Though Carney says he understands the sentiment as a film lover himself, the filmmaker side of him wouldn't rest. Opening in wide release July 11, "Begin Again" tells the story of a dispirited music executive (Mark Ruffalo) looking for the next big thing, and a timid and bruised singer-songwriter (Keira Knightley) trying to get over an ex-boyfriend and former music partner (Adam Levine) who made it big. Or, as Carney explains it, "an [artists and repertoire] man who needed to find an artist and the artist that didn't want to be found."
The film was inspired by Carney's teenage years, when A&R men flooded Ireland looking for the next U2. "They were all young guys starting off their careers and blowing money, staying in swanky hotel rooms, and had no-limit credit cards to impress the kids in the bands," he says. "You know, they had the great life and they had the cocaine habits and they were there to make the next big discovery.
"And I wanted to take that guy—one of those guys—and imagine what is his daily life like now? How does he cope with the fact that he doesn't have that credit card? Or that you just don't find bands playing gigs in that way...you go and be the first to sign them or whatever. And then once I did that I thought, Well what if he's struggling? What if he's not doing so well and is missing all that, and is a bit wild?"
Pairing him with an artist (Knightley) who's wary of the music industry, Carney says, gives the film "this immediate conflict that I think many filmmakers are looking for."
Add in an original soundtrack and "Begin Again" is complete. Carney wouldn't have it any other way; even when he made dramas, he says, the criticism was that "they had too much music in them." Carney remembers a friend telling him he needed to "stop it with the music constantly," which to him meant he had two options: "I was like, well, I either stop doing that or I go further."
It was a no-brainer for the Irish filmmaker. It's always felt to him "that music was so married to the images onscreen—that the two things had such a wavelike sort of effect, it would be like trying to separate the salt from seawater.
"I was just moved, always, by music in film and kind of naturally thought they were coupled together," he says.
With the success of "Once," there's a lot riding on the release of "Begin Again." But will the film follow in its predecessor's footsteps on Broadway? Though Carney admits that would be great, he says, "I'm not even going to jinx that by imaging that could happen twice in anybody's life!"
Inspired by this post? Check out our film audition listings!