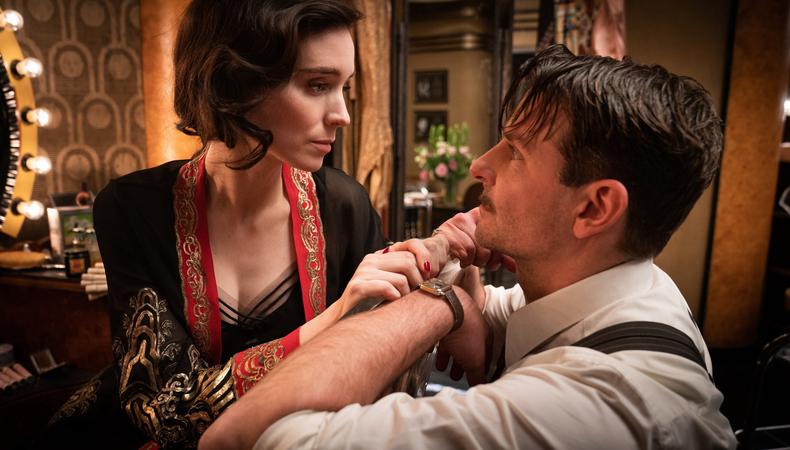 This sponsored story and video are brought to you by the studio Searchlight.
To follow up his Best Picture-winning "The Shape of Water," Guillermo del Toro pulled together an enviable ensemble of accomplished A-list actors for the noirish 1930s drama, "Nightmare Alley." Adapted from the 1946 novel, the film tracks the hubristic rise of drifting con artist Stanton Carlisle (Bradley Cooper, also a producer on the project). Carlisle parlays a show-stopping mentalist act to ascend from itinerant carnival sideshows to Chicago high society. From carnies to the upper-crust, the vibrant characters that move throughout Carlisle's orbit will test his mettle and his moral compass.
Cooper, in particular, delves into the personal and creative kinship developed with del Toro, as COVID delays allowed for extended prep work. The movie provided numerous firsts for the actor-producer, including the vulnerability of filming an intimate scene with Toni Collette's veteran seer character, Zeena. Cate Blanchett, who portrays a frosty psychoanalyst keen to Carlisle's deceptions, details how she situated a 'laser-focused' part within del Toro's collective vision. She recalls a crucial one-on-one scene with Carlisle: "You were amazing, Bradley. It was like suddenly the temperature dropped. All I had to do was let it come out of you; I didn't have to do anything!" The candid chat among peers offers a fascinating glimpse into masterful creative processes—resulting in a film that exceeds the sum of its considerable parts.
In this mega starry group chat organized by Searchlight Pictures, Laura Dern moderates a conversation with the principal ensemble including Bradley Cooper, Cate Blanchett, Toni Collette, Willem Dafoe, Richard Jenkins, Rooney Mara, Ron Perlman, Mary Steenburgen, and David Strathairn. With evident warmth and mutual respect, each actor shares their experiences collaborating with del Toro to nail their role in his meticulously realized world.
Ready to get started with Backstage? Become a subscriber here!