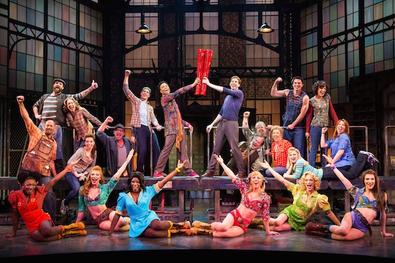 Do you know the choreographers behind your favorite Broadway shows? From the early days of the Great White Way to the greatest hits of the past 10 years, here are 12 legendary choreographers who have (literally) given shape to Broadway as we know it.
Bob Avian
A frequent collaborator of Michael Bennett's, Avian began his career as a dancer in shows like "West Side Story" and "Funny Girl," and later became a choreographer, producer, and director in his own right. He shared 1976 and 1979 Tony Awards with Bennett for their work on "A Chorus Line" and "Ballroom," respectively, and was nominated for his solo choreography in "Miss Saigon" (1991) and "Sunset Boulevard" (1994).
Michael Bennett
This great choreographer debuted on Broadway with (very) short-lived musicals "A Joyful Noise" in 1966 and "Henry, Sweet Henry" in 1967, before hitting it big with the Jerry Orbach-starring "Promises, Promises" in 1968. He partnered with Stephen Sondheim in the early 1970s for "Company" and "Follies," and made an indelible mark with 1975's "A Chorus Line" (co-choreographed with Avian) and 1981's "Dreamgirls." His work was character driven, plot-focused, and theatrically tailored.
Gower Champion
This beloved performer, director, and choreographer made Broadway history with 1960's "Bye Bye Birdie," when he won two separate Tony Awards for direction and choreography. Other famed (and award-winning) Champion-led productions include "Carnival!" (1961), "Hello, Dolly!" (1964), "The Happy Time" (1968), and "42nd Street" (1980). His ballroom-dance background infused his choreography with a clean and flowing style, and his work easily moved from song to dance (and back), sweeping every part of the stage.
George Faison
This Tony Award-winning choreographer began his career as a dancer with the famed Alvin Ailey American Dance Theater in New York, before making his Broadway debut (and starting his own company) in the early 1970s. He choreographed 1972's "Don't Bother Me, I Can't Cope" along with several other musicals, and made history with "The Wiz" in 1975 and "Porgy and Bess" in 1983. Today, Faison continues to spread his evocative yet universal movement style at the Faison Firehouse Theatre in Harlem.
Bob Fosse
What would Broadway be without Fosse? An American musical theater luminary, Fosse debuted as a Broadway choreographer with 1954's (Jerome Robbins-directed) "The Pajama Game." His upbeat, jazzy style has had a pervasive influence on countless 20th and 21st century choreographers, and is easily identified in famous works including the original "Sweet Charity" (1966), "Pippin" (1972), and "Chicago" (1975).
Bill T. Jones
Half of the great Bill T. Jones/Arnie Zane Dance Company—"where thinking and movement meet the future"—this legendary choreographer made his Tony Award-winning Broadway debut with 2006's "Spring Awakening" and won his second Tony in 2010 with "Fela!" His work is well-known in the dance and musical theater worlds for its power, energy, and theatricality.
Michael Kidd
Famous for choreography that he dubbed "human behavior and people's manners, stylized into musical rhythmic forms," Kidd created a unique dance style that integrated lyrical movements with theatrical plots. A multiple Tony Award-winner, Kidd's best-known Broadway credits include "Finian's Rainbow" (1947), "Guys and Dolls" (1950), "Can-Can" (1953), and "Li'l Abner" (1956). Kidd also boasted an impressive musical filmography, choreographing several hit movies including 1954's "Seven Brides for Seven Brothers."
Kathleen Marshall
This award-winning choreographer began her career by collaborating with brother (and fellow director) Rob Marshall on projects like "The Kiss of the Spiderwoman" (1993) and "Damn Yankees" (1994), and hit Broadway solo in 2003 when her concert revival of "Wonderful Town" moved from City Center to the Great White Way. She earned a Tony Award for her choreography (and a nomination for her direction) of "Wonderful Town" on Broadway, and has since directed and choreographed several revivals including 2011's award-winning "Anything Goes" and 2012's "Nice Work If You Can Get It."
Jerry Mitchell
A relative newcomer to the Broadway hall of fame, Mitchell impressed audiences in 2000 with his catchy work on "The Full Monty," and later "Hairspray" (2003), "Dirty Rotten Scoundrels" (2005), and "Legally Blonde: the Musical" (2007). He won his first Tony for "La Cage aux Folles" in 2005, and his second in 2013 for the original (awards-sweeping) Cyndi Lauper musical "Kinky Boots."
Jerome Robbins
Robbins hit Broadway with (the original) "On The Town" in 1944, and a full career of groundbreaking choreography followed. Robbins' work included original productions of "The King and I" (1951), "Peter Pan" (1954), "West Side Story" (1957), "Gypsy" (1959), and "Fiddler on the Roof" (1964), among many others. Also a legend in the ballet world, Robbins was known for creating effortless and lyrically-driven dances to some of the 20th century's most important scores.
Susan Stroman
One of the best-known Broadway directors of the past 20 years, Stroman is a multiple Tony Award-winner for both direction and choreography. She has been on the scene since the early 1990s, and choreographed such classics as "Crazy for You" (1992), "Show Boat" (1994), and "The Music Man" (2000) before crushing the competition with smash hit "The Producers" in 2001. Her latest works as director/choreographer include 2007's "Young Frankenstein," 2010's "The Scottsboro Boys," 2013's "Big Fish," and 2014's "Bullets Over Broadway."
Tommy Tune
This Broadway legend (and 10-time Tony Award-winner) is best known for his singing and dancing skills and for choreographing hits like "The Best Little Whorehouse in Texas" (1978), "A Day in Hollywood/A Night in the Ukraine" (1980), "Grand Hotel" (1989), and "The Will Rogers Follies" (1991). Fans can see the famous performer live in his "Taps, Tunes and Tall Tales" tour, dancing through the United States through April 2016.
Inspired by this post? Check out our Broadway audition listings!