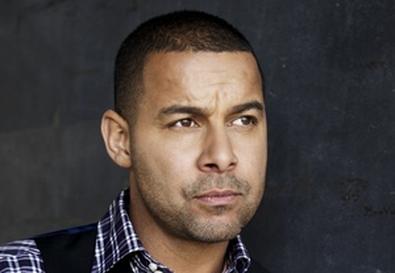 Jon Huertas has been a happy part of ABC's "Castle" for its five successful seasons, but he knew as a fresh face to L.A. in 1995 that he'd have some compromises to make. "The way Hollywood was back then, I think they were just starting to develop projects with bigger roles for Latinos," he says. "And I knew that you have to capitalize on what you are, who you are, early in the business, and just prove you're hirable in this industry. I knew if I wanted to make a career out of this, I had to play the game. So I had to play certain Latino stereotypes sometimes, which I wasn't always happy about.
Huertas made it clear to his agents early on that he wanted to be sent out on anything and everything. "I was adamant about being pitched an actor first, who happened to be Latino," he says. "When I tested for the role on 'Sabrina, the Teenage Witch,' it was against two white guys. And the character's name was Brad. There aren't usually a lot of Latinos named Brad, at least in the eyes of Hollywood." Huertas landed the role, and his performance on "Sabrina" secured him his first ALMA Award nomination. (He is nominated again this year for "Castle.") Since then, the actor has played a range of parts, including characters with Middle Eastern, Greek, and Native American backgrounds.
Huertas says he knew from an early age he wanted to be an actor; as a kid he was a fan of actors such as Ricky Schroder and Jason Bateman. "I could see, even from a young age, that these kids were talented. I wanted to work with them and share the screen with them," he says. In the second grade, a nun "forced" him to be in the school play. "She was the meanest nun we had in school, and after I completed singing my solo, I looked into the wings and she was wiping tears from her eyes. I was like, 'Aha, is that all it takes to make the mean people happy?' "
To study theater in college, Huertas enrolled in the Air Force. "I don't come from a lot of money and wasn't going to get an academic scholarship, so the only way to afford an education was to allow the military to supplement it," he says. That experience only helped him as an actor. Early in his career, Huertas wore his Air Force uniform to an audition for "JAG" -- and booked the part. Other military roles followed, most notably Sgt. Antonio Espera on the HBO series "Generation Kill," set during the Iraq War. For a veteran of Desert Storm, did it feel strange to Huertas to be playing war on camera? "I actually felt a little relieved that finally, somebody was telling a story that I thought was a realistic portrayal of the inner workings of a unit," he says. "There's been a lot of movies out there, and a lot of them don't care about getting it right, so I was really proud of this project."
Huertas says his military training also comes in handy at auditions. "I treat it like I'm going into battle," he says. "I make it competitive, like a sporting event. I think I've ended up getting pretty good at it."
Not even a background in the military could fully prepare anyone for Hollywood. After graduation, Huertas made the move to L.A. but didn't know how to break into show business. "The first thing I did was look in the Yellow Pages, under 'Acting,' " he says. He then sank nearly $3,000 into a company that gave him terrible headshots and enrolled him in classes he could tell weren't legitimate. "I'd seen one of those commercials -- 'Come audition this Saturday and see if you have what it takes to make it in Hollywood!' I showed up and of course they told me I had what it takes, as they told everybody who showed up."
Luckily, an agent he had worked with in Texas put in a call to ABC and helped land Huertas a movie of the week. His co-star, Jason Hervey, had starred on "The Wonder Years" as Fred Savage's older brother, and the two struck up a friendship. As it turned out, Hervey's mother was agent Marsha Hervey, and Huertas soon signed with Hervey-Grimes Talent Agency. "It was the best talent agency I could have started with," Huertas, who is now with Innovative Artists, says. "They really got me into the right rooms. I got so much work through them; I was very busy my first couple years here."
Even now that Huertas has steady work on "Castle," he stays as busy as possible by creating his own projects, many of which are viewable on his YouTube channel. He also just completed shooting the short film "The Box," for which he came up with the story and co-directed. As for what to expect from the new season of "Castle," Huertas prefaces his hints with praise for the show's offbeat tone. "One of my favorite things about 'Castle' is the fact our writers and producers are so collaborative. They allow us to bring in ideas, and they try to make them happen for us. So we get to have zombie episodes and werewolves and steampunk and superheroes. We take chances and risks and come out of the box a bit," he says, adding, "I think this season, the producers are going to try and make one of my dreams come true -- to ride a horse and carry a sword. You'll just have to wait to see how."