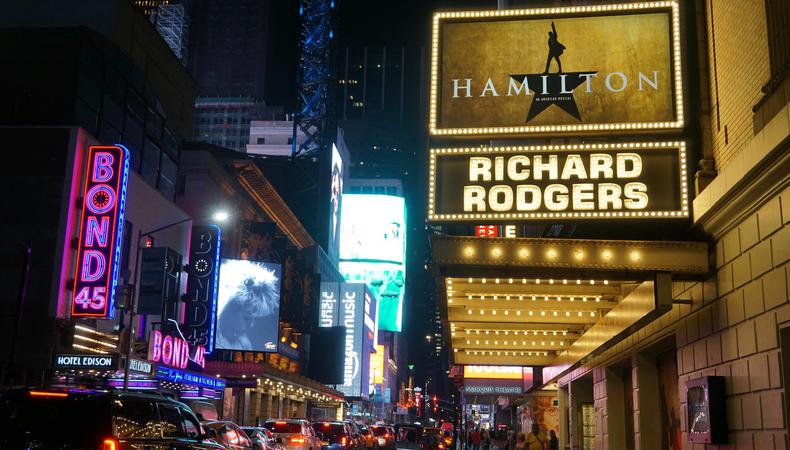 What is the racial and ethnic makeup of actors hired in theater? How many female playwrights have been produced on Broadway? Previously, if a person wanted the answer to those questions, they would have to use Google and ask other industry professionals. Now, a new website called Counting Together is gathering theater industry reports around gender, race, and disability in theater dating back to 2006 and putting them in one place.
The reports measure the demographics among actors, playwrights, designers, directors, composers, and other disciplines in theater across 15 different organizations and research projects about the theater industry.
Hosted by the American Theatre Wing and Dramatists Guild, the Wing's President and CEO Heather A. Hitchens says the site came out of a desire to establish a "floor" for where the theater industry is in terms of diversity and inclusion. "We kept hearing things like, 'Oh, we're doing better, right?' Well, that's a feeling," says Hitchens. "Could we join forces with some other folks that are collecting data to really give a bigger picture of what's actually happening in the theater community?"
Taken together, the report paints a picture of a field where women, people of color, people with disabilities, and transgender and non-binary artists are still underrepresented in all disciplines despite diversity efforts in the theater industry. For the Counting Together organizers, the issue isn't that there aren't enough artists of diverse backgrounds—it's that they are not being hired. The creators of Counting Together also want to ask why.
"There is an overarching theme that we see: There is an inequity and a disparity in terms of opportunity," says producer Luis Castro, who helped create Counting Together. "And so being able to first set that stage and see that it's happening across the board in different sectors is an important place to start. So then we can start thinking about and looking towards: How do we build and identify solutions for changing that?"
One of the reports hosted on Counting Together is from the Asian American Performers Action Coalition, which publishes an annual report called "Racial Representation on NYC Stages." The group finds that year after year, on Broadway and Off-Broadway, white actors are overrepresented in relation to the white population in NYC. They also found that for every $1.70 a white actor made, a BIPOC actor made $1, showing there is an income gap in the theater with regards to race.
"It's empowering for actors, in particular, to be able to point to data that matches the inequities that they feel personally," says Julienne Kim, who is an actor and a member of AAPAC. "I think [Counting Together] will be a huge resource to the industry. I think it will be a huge resource for advocates of not just diversity, but disability and gender parity."
The artists who spoke for this article hope that having these reports on a big platform such as the American Theatre Wing, which co-presents the Tony Awards and the Obie Awards, will inspire more diverse casting.
Anita Hollander is an actor and has also been collecting data about performers with disabilities in theater, film, and TV. She says that even though 25% of the U.S. population has a disability, people with disabilities make up less than 3.5% of all on screen characters. "And when we do see characters with disabilities, they're often played by non-disabled actors," she says.
Though there have been "incremental improvements" in performers with disability getting more work, the numbers are still extremely low (a grand total of six actors with a disability were working on Broadway in 2019). Hollander hopes the data encourages other producers to hire more performers with disabilities. "You need to look at performers that happen to have a disability and stop throwing them out as, 'You're not professional-grade material.' Because it's not true," she says.
Hollander's "Performers With Disabilities Watchdog Report" is available on Counting Together, and she's looking for collaborators to help her continue to monitor that demographic. The creators of Counting Together hope that the website will grow, and they will continue to collect data from different organizations and individuals who want to submit it.
"As we find out that there are other people, other groups doing different kinds of research, we can bring them into the collective so that [Counting Together] isn't a fixed thing, but that it actually changes with the field," says Counting Together co-creator Todd London, who is also the director of theater relations at the Dramatists Guild.
Counting Together is a partnership between the American Theatre Wing; the Asian American Performers Action Coalition; the "Baltimore Theatre Demographics" report by Brent Englar; Bay Area Theater Accountability Workgroup; "The Count" report from the Lillys & the Dramatists Guild; "The Count for Liberal Arts Colleges" report from Davidson College; Gwydion Suilebhan, Olivia Haller, and TheatreWashington; the "Historical Perspectives" report by Derek Miller; "The Living Document of BIPOC Experiences" report; Maestra Music; the "Who Designs & Directs in LORT Theatres by Pronoun" report by Porsche McGovern; the "Performers With Disabilities Watchdog Report" by Anita Hollander; the Sol Project; Stage Directors and Choreographers Society; Theatre Development Fund; Theatre Makers of Color Requirements; and Women Count.
To playwright Emmanuel Wilson, who is Interim Executive Director of Creative Affairs at the Dramatists Guild and who created the Counting Together website, the coming together of all of these different organizations is "phenomenal." Wilson believes that the data compiled within Counting Together will help the theater industry get a better, clearer look at itself and will better position it for change.
"I think too often in this industry, we pat ourselves on the back for the optics of doing the right things, and less for actual systemic change," he says. "Do we know who we are as an industry? I think that accountability in this age is understanding, are we being inclusive of age, ethnicity, and ability? And I hope this website remains a resource, not for shaming, in any respect, but for people to ask themselves, 'Am I doing the work within my own community? Who are the people I'm leaving out?' "