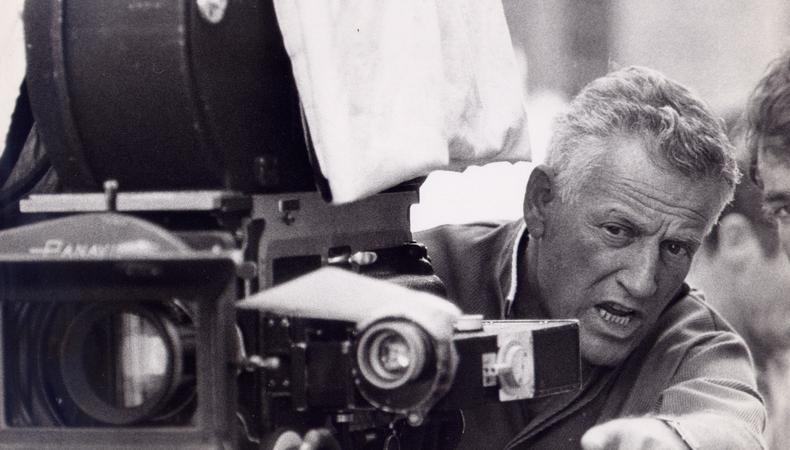 A celebration of legendary filmmaker Stanley Kramer will kick off Friday, Aug. 9 with a newly restored print of "Death of a Salesman" at the Billy Wilder Theater at the Hammer Museum in Westwood, Calif. It is the first of 15 of Kramer's films that will be presented over the coming weeks as part of the series "Champion: The Stanley Kramer Centennial," running through Sept. 29—Kramer's 100th birthday.
The celebration is presented by the UCLA Film & Television Archive and the Hugh M. Hefner Classic American Film Program and will include guest appearances by Louis Gossett Jr., Tippi Hedren, and Fred Willard, among many others. Some of the fims screening include the Oscar-winners "High Noon," "The Defiant Ones," and "Cyrano de Bergerac." A full schedule is available here.
As a director and producer, Kramer was responsible for 35 films, many of which made stars of unknowns and were often viewed as "message movies"—films that tackled sensitive issues at the time of release, like "Guess Who's Coming to Dinner?" He was also an opponent of Hollywood's Blacklist, hiring blacklisted writer Nedrick Young to pen both "The Defiant Ones" and "Inherit the Wind." The latter film was itself a thinly veiled attack on McCarthyism.
Kramer's widow, Karen Sharpe Kramer, points out that nine of those films were major Broadway plays that Kramer brought to the big screen, including "Home of the Brave," about anti-Semitism in World War II, starring James Edward. "Nobody had heard of James Edward when he cast him in that film," says Sharpe Kramer. "But nobody had heard of Jose Ferrer when he was cast in 'Cyrano.' No one ever heard of Marlon Brando when he did 'The Men,' which was his very first film." Asked if he could get away with casting unknowns today, Sharpe Kramer points out her late husband was one of the first true independent producers. "When you're an independent, you don't have the money to hire a known actor, so it was a lucky time, it was a very lucky time for Stanley," she says. "He was a lone independent that came along and brought his own money and financed his own films and paved the way for the rest of us."
Adds Sharpe Kramer, "He had a great eye for talent and he discovered a lot of people, Grace Kelly, Sophia Loren, and his last discovery, Glenn Ford, these are all Stanley's discoveries. And actors, not only actors, but also writers and directors and now they're all icons now." But Kramer's favorite actor, says Sharpe Kramer, was Spencer Tracy. "They made four films together. They started with 'Inherit the Wind,' then 'Judgment at Nuremberg,' then 'It's a Mad, Mad, Mad, Mad World,' and then 'Guess Who's Coming to Dinner?'"
While Kramer never won an Academy Award, he holds the record for the most nominated filmmaker in the industry. "He made 35 films and they garnered 85 Oscar nominations total," says Sharpe Kramer. And in 1961, he received the prestigious Irving G. Thalberg Memorial Award, which is only given out every few years at the Academy Awards. Fellow winners include the likes of Clint Eastwood and Steven Spielberg, who once called Kramer: "One of our great filmmakers, not just for the art and passion he put on screen, 
but for the impact he has made on the conscience of the world."