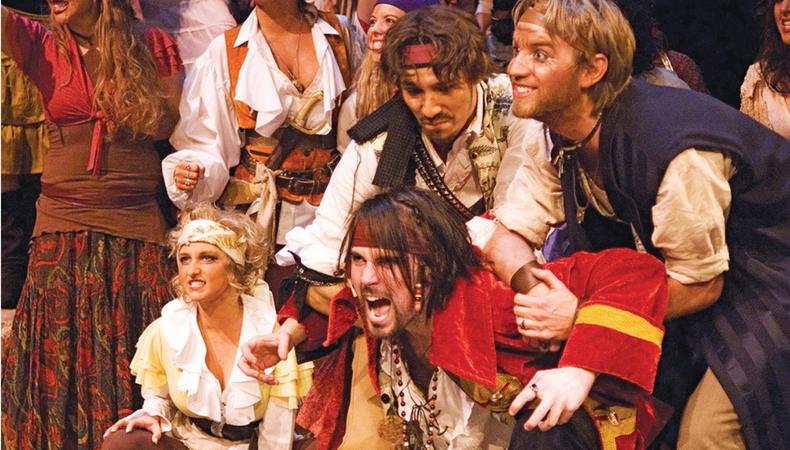 Canadian College of Performing Arts
The Canadian College of Performing Arts offers two one-year intensive certificate programs, as well as a half-year diploma program for advanced students. Total enrollment for Year I and Year II is approximately 60 students. Selected students may be eligible to enroll for the Enriched Performing Arts Certificate after successfully completing their first year of studies.
Graduates of this program are now starring in London's West End and have been featured in major productions around the world, including the Stratford Shakespeare Festival, the Charlottetown Festival, and more.

Programs: First- and second-year students enroll in acting, voice, dance, musical theater, and career development classes, in addition to enjoying access to master classes, guest artists, and special events. In their third year, students form a theatrical collective and mount three performances with guidance from guest directors.

Admissions: Auditions are held in February and March at the college and in major cities throughout Canada. Video auditions are accepted until May. Applicants should be prepared to participate in group dance or movement routines, sing a solo, and perform a 2-minute monologue. Applicants are expected to have had extensive training in at least one of the disciplines (voice, dance, or acting). Callbacks and interviews will be held for applicants who advance to the next round.

Tuition: $15,000 per year, for both Canadian and international students. Financial aid is available for those who qualify.

Notable alumni: Casting director Duncan Stewart, pop singer Carly Rae Jepsen, dancer Marie-Sophie Girard Olson.
Second City Toronto
Tracing its beginnings to the famed Second City in Chicago, Second City Toronto's Training Center has become the largest school of improvisation and sketch comedy in the world. In addition to its conservatory program for aspiring professionals, Second City offers à la carte classes for adults, as well as camps and courses for kids and teens in grades 2 through 12.

Conservatory Program: For students preparing for a professional career in improv, writing, acting, or comedy, the Conservatory Program is a 12–month program that explores the improvisational methods developed at the Second City over the last 50 years. Conservatory students move through six levels of study, and each three-hour class is held once a week for seven weeks. On graduation, students will have created an original Second City–style revue with sketches, songs, and monologues. Students of the Conservatory Program are expected to perform in their class shows.
Admissions: To apply, submit a headshot and résumé via mail or email. Acceptance is based on a Level 1 audition; one year of experience in the study of improv or a theater degree; and commitment to participate in all six levels of the Conservatory Program consecutively. To continue to Level 4, students must re-audition. A "Drop In" workshop is held at the training center prior to Conservatory Auditions. All auditioning performers are welcome to attend the optional workshop, which costs $10.

Tuition: Adult classes cost $280 per term; students who register for multiple classes are eligible for a discount. A $15 registration membership is required for all new students. Fees vary for summer camps and youth and teen programs.

Notable alumni: Dan Aykroyd, Gilda Radner, Martin Short, John Candy, Andrea Martin, Mike Myers, Eugene Levy, Catherine O'Hara, Dave Foley.
National Theatre School of Canada
Established in Montreal in 1960, the National Theatre School of Canada is one of the only co-lingual theater schools in the world, offering professional training in English and French. About 200 full- and part-time industry professionals teach and mentor approximately 160 students, with a maximum of 12 students per class.
On the last Saturday of September, the National Theatre School opens its doors to the public for an open house during the annual Journées de la culture festivities. Prospective students can learn about the school's training programs, participate in special events, and meet current students and alumni. The next open house will be held Sept. 29.

Admissions: Auditions and interviews are held across the country between February and June. Choices are made in June.

Tuition: Canadian citizens, $4,500. Non-citizens, $9,000.

Notable alumni: Colm Feore, Luke Kirby, Sandra Oh, voice actor Peter Cullen.
Vancouver Film School
Vancouver Film School offers two acting programs—a four-month Acting Essentials course and a one-year Acting for Film and Television program.

Admissions: Programs at VFS start at various times throughout the year, so you can choose the best time to begin your education. Prospective students must complete an online application form and provide transcripts and references; they also must be able to speak and write in English. Each VFS program has its own entrance requirements. Prospective students in the one-year acting program must either have completed the four-month acting essentials program or be able to demonstrate, via video audition, a high level of acting ability.

Tuition: The one-year Acting for Film and Television Program costs $20,500 for Canadians and $30,500 for international students. Tuition for the four-month Acting Essentials program is $7,500 for Canadians and $10,500 for international students.

Notable alumni: Colby Johannson, Dany Papineau, Magda Apanowicz, Tara Spencer-Nairn.