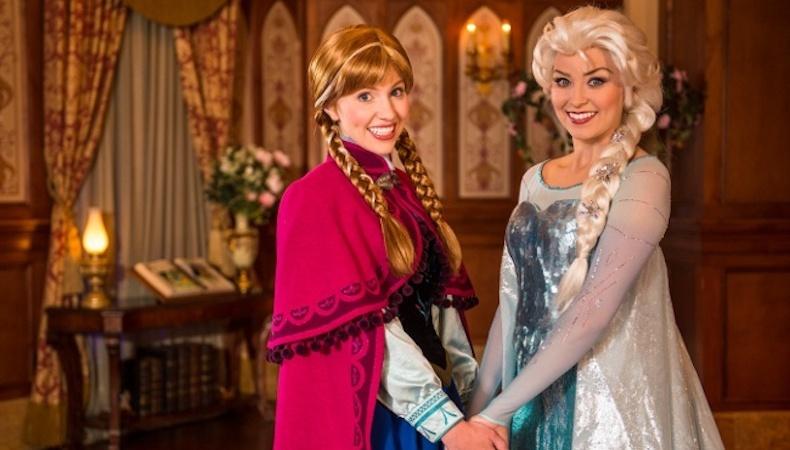 When it comes to bringing your favorite Disney character to life, it's like Walt Disney himself once said: "All your dreams can come true if you have the courage to pursue them." The courage—and a little audition know-how!
"We try to have that 'Disney take' on the audition where everybody feels welcome," says Darla Hayward, a casting director for Walt Disney Parks and Resorts main-stage shows. "Those who have what it is we're looking for easily rise to the surface."
Certain roles have some basic physical restrictions from Disney's Service Trades Council Union, a separate non-Equity casting department that brings Disney characters straight to the audience with parades and street level meet-and-greets. Here, the characters' features are up close and personal. "It's important to us to make sure that we're being careful with continuity from performer to performer when we're representing Disney-branded characters," says Kelly Goff, a casting director for this Walt Disney Parks and Resorts characters department.
Hayward says that for Equity main-stage productions, while certain typecasting is necessary for continuity, she still looks for a "spark" from each actor. She cites the various Ariels hired for Disney's "Voyage of the Little Mermaid" attraction as an example.
"A mistake that a lot of people make is that they think I'm looking for them to be exactly like the girl in the film, but with our live entertainment, we have a little more leeway. Each one of our Ariels brings something different to the table, and that's what I'm looking for: I'm looking for the best of you, not you pretending to be something else," she says. "The same thing goes for Belle or any of the other Disney-branded roles."
Both Hayward and Goff agree that nailing the audition takes the right amount of confidence and love for what they're doing. "You're looking for something that's going to draw your eye to them and you think, My audience is really going to want to see this person," Hayward says.
That process begins by standing out from the crowd. A typical audition starts with a line of dancers doing two counts of eight—usually something ballet-based—across the floor. That will "really narrow it down to who we want to investigate further," Goff says. From there, actors are put through an animation and movement exercise, which showcases how a performer can nonverbally express emotion and tell a story. Specialty skills like tap and tumbling and additional musical theater styles are explored from there.
"In one audition, I can hire a Disney character look-alike, a parade performer, someone to portray our new 'Star Wars' characters—we're looking for multiple things in one audition," Goff says.
Sometimes, Hayward's main-stage auditions also require a song. In that case, stay away from the Disney songbook. "It's always great if you see that we're looking for a pop tenor [and] you pick something that's in the pop genre, but I think when you get down to individual songs, it doesn't really matter so much," she says. "If you're coming in for Ariel, it's probably a good idea not to sing her song because you don't want us to make that comparison right off the bat."
---
Did you know that some of today's best-known actors got their start at Disney theme parks?
Wayne Brady got in the Tigger suit as a teenager, where he danced and sweated his way through the parade at Orlando, Florida's Walt Disney World.
Kevin Costner was a tour guide on the Disneyland Jungle Cruise when he met his now ex-wife, Cindy Silva, who was playing Snow White.
About 20 years ago, Taye Diggs was a dancer in Sebastian's Caribbean Carnival at Tokyo Disneyland.
As a teen, Steve Martin worked in Disneyland's Merlin's Magic Shop. That's where he found his love of magic!
And before she sparred with Batman as Catwoman, Michelle Pfeiffer went down the rabbit hole as Alice from "Alice in Wonderland" in Disneyland's Main Street Electrical Parade.
Inspired by this post? Check out our Disney Casting Audition Listings!