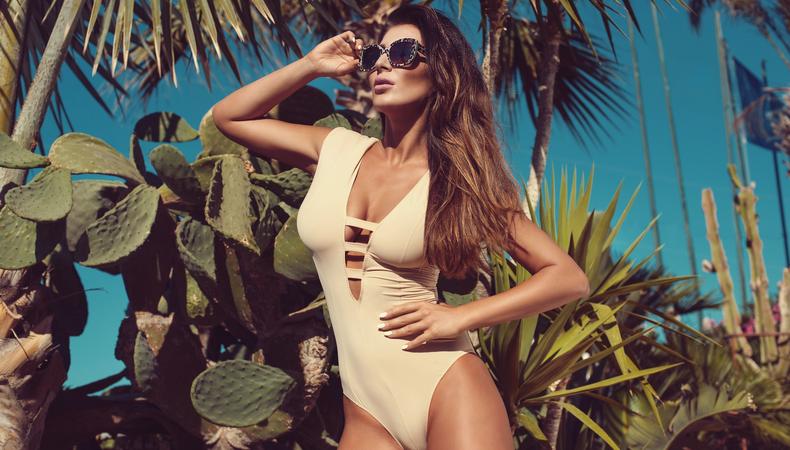 When you think of a swimsuit model, images of Sport Illustrated cover stars jumping waves and posing in the sand likely come to mind. But there are opportunities to become a swimsuit model everywhere—and there are unique demands to this field of modeling not seen on fashion runways. In this article, you will learn what a swimsuit and bikini model is, the requirements of modeling swimwear, how to become a model, how much you can make modeling swimsuits, and much more.
A swimsuit model promotes all kinds of swimwear products for women and men. They're more than just the bikini-clad women you see on magazine covers; you'll see them in advertisements for just about every brand that sells swimsuits. According to actor and model Meghan Roberts, "Swimwear is everywhere these days, from Amazon to Fashion Nova to Net-a-Porter. Swimwear models are booked for swim brand catalogs and for e-commerce, which is basically shooting the products you see online."
Outside of the digital sales and marketing space, you'll find swimsuit and bikini models doing showroom modeling, which, Roberts says, "is exactly what it sounds like: Models wear swimwear garments in designer showrooms during buyer meetings."
A third job a swimsuit model may be employed for is as a fit model, where the model acts as a live mannequin during the production of swimwear. "I try on the first few prototypes of new designs and explain to designers and seamstresses how to make the garment fit better," Roberts explains of her time as a swimwear fit model. "I'm mainly booked by larger companies that own multiple swimwear brands as well as a lot of smaller brands that are popular on social media."
As with any profession, being a swimsuit model comes with a set of specific requirements and expectations. If you'd specifically like to become a bikini model, remember that your physique is by design on full display, so maintaining a fit lifestyle is paramount. Fortunately, the physical requirements for modeling swimsuits have become more inclusive over the years.
Allee Newhoff, director at Front Management, says she has noticed a shift in the market over the years to be representative of the average swimsuit consumer. "The standards when I started in this industry called for very thin models," she recalls, noting a change about 20 years ago to a "healthier athletic physique" for sports brands and labels like Nike and Adidas. Today, media brands like Sports Illustrated regularly promote "a very healthy body type and curvy models." Particularly in the last two years, swimsuit modeling across the board has "celebrated every body type" for both women and men. There are no specific swimsuit or bikini model measurement requirements. "It's a very exciting time right now for modeling," Newhoff says.
To become a swimsuit model, the first thing you should do is look at magazines, swimwear product websites, and swimwear-related catalogs. Carefully study the different types of swimsuit models and what they are doing in the shots. This preliminary research will help you understand what is expected of swimsuit models during a shoot and which areas of swimwear you should be focusing on.
Martez Saporta-Rothuysen, owner of South Africa's MMM Agency, believes that "it is helpful" to draw up a list of modeling agencies that work with the companies you've researched and to simply "reach out to them." Putting yourself out there and showing off your work never hurts!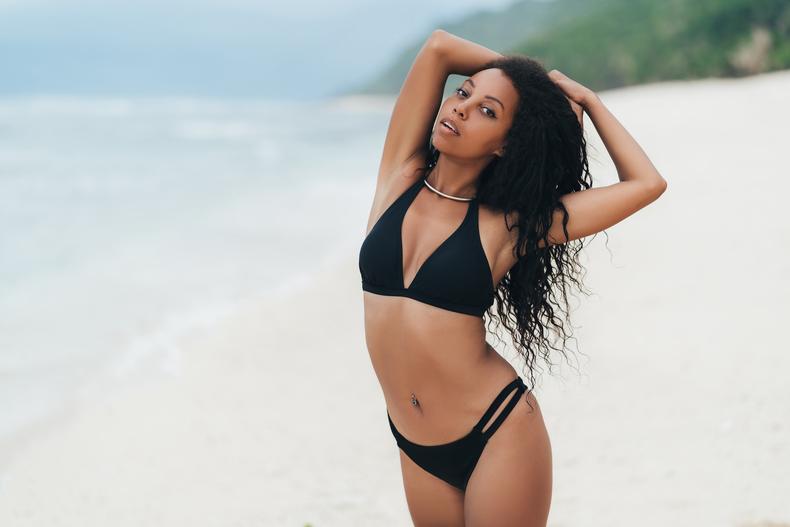 Romanno/Shutterstock
Newhoff similarly recommends finding representation: "Do your research. Every agency has a website and Instagram that you can submit to directly." When emailing images of yourself during agency outreach, be sure to follow the instructions for submission, get digital photographs of everything that's required by a certain agency (full body vs. profile vs. headshot), and keep things minimal.

Images should be "simple with good lighting and no distractions," Newhoff advises. That means: no jewelry, no filters, and a clean, clear face. Pull your hair back. "Manage your expectations. Find your representation and trust them," she adds.
Speaking from her own experience as an actor and model, Roberts says, "Make sure you have good, natural lighting, a plain background, and take photos in both a form-fitting outfit (black is best) and a bikini. Make sure you only communicate with legitimate websites and email addresses."
Then, it's time to play the waiting game. "If an agency is interested, they will set up a meeting," Roberts says.
Like with any type of modeling, a swimsuit model can find work on their own. But, especially in the field of swimwear and bikinis, having an agent helps. You want to have a modeling agent who knows the proper fee for a photoshoot or ad campaign, who understands if the job is legitimate and safe, and who can help make sure you get your money in a timely manner. Ashley Schmerling, owner of Meredith Models, says, "If you are not booking through a trusted agency, you must do your due diligence and research the photographer, creative or casting director, and client before accepting the booking. Unfortunately, this information is not always readily available." A modeling agent can help ensure all of the above is up to snuff.
Roberts further emphasizes why swimsuit and bikini models should have professional representation. "Swimwear modeling, which is by nature 'sexy,' can put models in a vulnerable position," she says. "So always work with professional people who are vetted and trusted in this industry. Swimwear models need to be vigilant and do what they can to keep safe. This is why if you are new to the industry, it's imperative to work with an agency, manager, or mother agent who has already vetted potential photographers and clients."
New York City, Los Angeles, and Miami have the most work for major swimsuit projects in the United States. Newhoff says that each market has its own needs and specialties. Miami, for instance, "specializes in beautiful locations and special lighting. The swim market is a major force in what we book."
If you live outside of these three cities, however, Schmerling assures that there is local work available. Those modeling jobs largely come through small businesses looking to locally promote their swimsuit line on their website.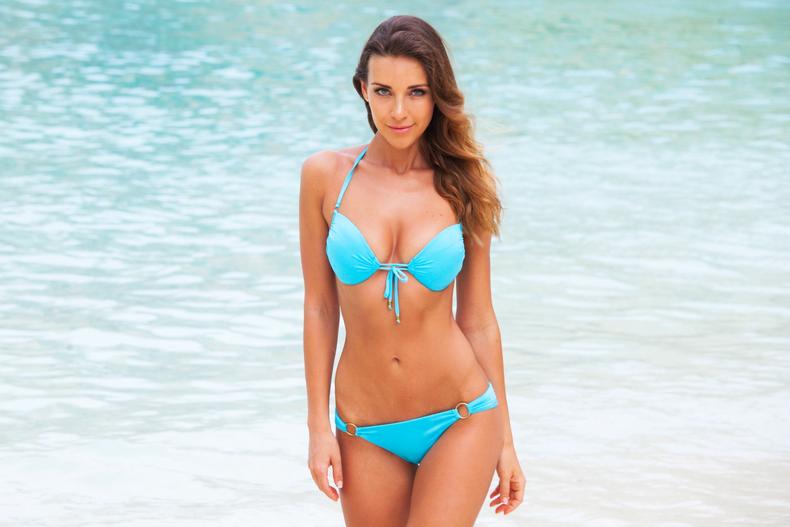 Yellowj/Shutterstock.com
How much a swimsuit model makes depends on several factors, including where they're modeling, what brands they're working for, and their level of experience. While actors have unions like SAG-AFTRA and Equity, where minimum fees are negotiated for performers, there is no modeling union. Every project is negotiated anew.
Famous swimsuit models like Katrina Scott, Camille Kostek, Allie Ayers Lindsey, and Brooks Nader will earn quite a bit more money than someone just getting started in the industry. (Elle Macpherson is another famous swimsuit model to know; with five total, she holds the record for most Sports Illustrated swimsuit issue covers.) A swimsuit model's annual income is also dependent on projects that they may have outside of swimsuit modeling gigs. Supermodels like Tyra Banks and Emily Ratajkowski, for instance, have leveraged their careers into hosting contracts, book deals, and more.
"Print models of any type get different rates," says Newhoff. "No model's careers are exactly the same. In terms of payment, the rate completely depends on what the job is, what the hours are, what the usage is, and who the model is and their experience level. It totally depends!" It's worth noting, as well, that "there isn't usually an added fee for swimwear like there is for lingerie."
That said, for swimsuit models starting out, Roberts says she has found in her experience that a model should expect to make $1,000–$2,000 per day for a professional swimwear photoshoot.
If you are interested in becoming a swimsuit model, do your research and try to find a great modeling agent. Starting off in a secondary market can be a great way to gain experience doing swimsuit and bikini shoots with various photographers. This also allows you to build your portfolio. Always make sure that whoever you are working with is legitimate, and never do anything that is outside of your comfort zone.