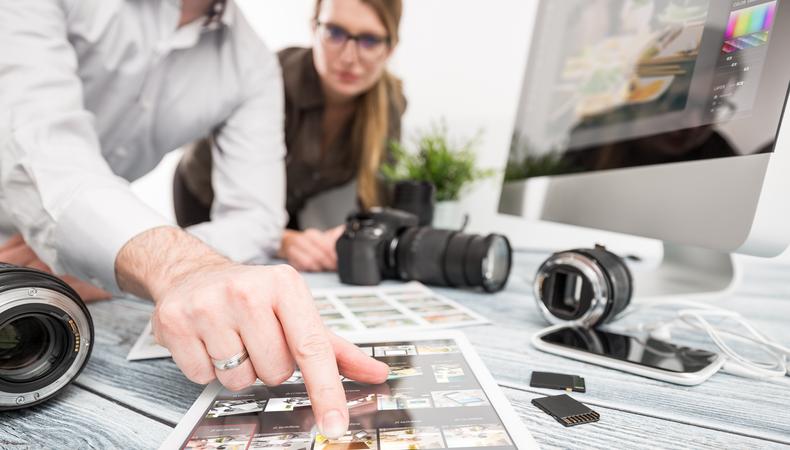 If you've seen "Zoolander," you already know it can be difficult to break into the cutthroat world of being "professionally good looking." To help ease the way, aspiring models need to have an assortment of high-quality shots that showcase their talents. Known as the modeling portfolio, this assemblage of photos depicts your style and capabilities, and hopefully snags the attention of a client or modeling agent. Learn about how to make a modeling portfolio and the steps needed to craft the perfect representation of you and your look.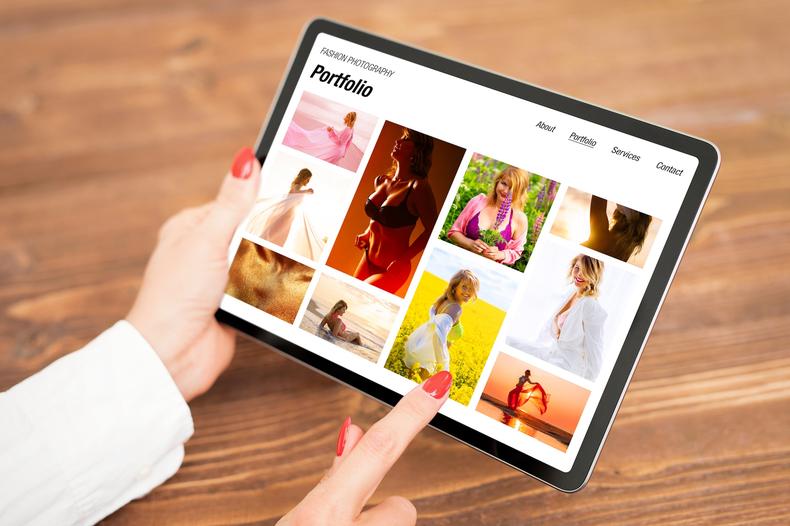 Kaspars Grinvalds/Shutterstock
A model portfolio is a professional demonstration of your work and capabilities—in this case, your face and body, and the multitude of beautiful ways you can pose them. It gets your foot in the door when you apply to modeling jobs and agencies. The best model portfolios create a narrative about who you are, your personal brand, and where your career is headed.
Try to update your portfolio at least once a year to ensure that your pictures reflect what you look like now. The more you do photo shoots, the more at ease you'll feel in front of a camera, so expect your modeling portfolio to get better with each passing year.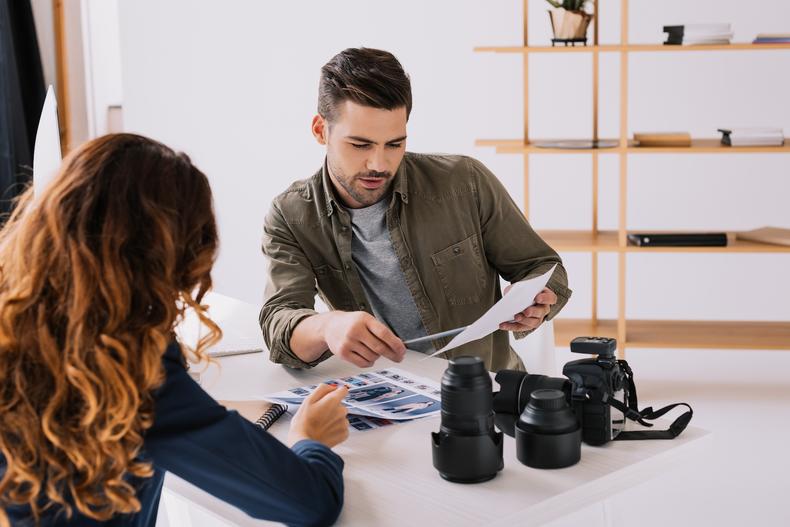 Kaspars Grinvalds/Shutterstock
Photos
Have your modeling portfolio photos taken by a professional photographer, particularly one who has experience with models. Check out the photographer's work beforehand to see if it meshes well with your look and intended roles. Tip: If you don't have the bucks to shell out for a professional photographer, you can always try setting up a trade for print (TFP) arrangement with a skilled photographer who's still in the process of building their work portfolio.
Photos should be high quality, meaning high resolution of at least 300 dots-per-inch (dpi) for web and 600 for print—the higher the better. Request photo file sizes of at least 1MB. Print either 8x10 or 9x12 photos using flat/matte or semigloss finishes. Glossy finishes can distract from the true focus of the image: you!
According to Aaron Marcus, author of "How to Become a Successful Actor and Model," image diversity is key. "Creating a number of different shots that look like ads while showing a variety of expressions and emotions will give you your best chance for getting both representation and bookings," he says. To achieve this diversity, take 10–20 different types of photos for your portfolio.
If you're wondering how to organize a model portfolio, try arranging it in this order:
Headshot/portrait: The first photo in your modeling portfolio should depict your face from the shoulders up, without heavy makeup, extensive styling—or even a smile. Think of it like a passport photo, but spirited instead of lackluster; it should highlight your distinctive allure while remaining simplistic.
Body shot: Next in your portfolio should be a full-length body picture. Wear plain clothing with clean lines that hug your body so that potential clients can see your physique—it might be time to pull out those yoga pants. You can also make this a swimsuit shot if you're comfortable.
Black-and-white shot: Black-and-white photos can show clients your capabilities in fashion and artistic photography. Try to capture intense emotion without teetering overboard into melodrama.
Creative shot: If you're aiming for an editorial modeling role, include an editorial fashion photo. Think avant-garde and expressive, and Vogue it out. If you're shooting for a commercial modeling position, your creative shot(s) should exhibit the wide range of emotions you can convey via photographs. Really try to highlight your particular beauty in these shots to catch an agent's eye.
Location shot: Most of your portfolio photos will come from the studio session with your photographer, but it's helpful to have a location shot outside of the studio setting to indicate what you look like in more candid images.
Closing shot: End with a photo that best highlights your look. Ask friends, family, and anyone you know in the industry which photo they think is your strongest, and end with that.
Personal stats
Relevant information such as age, coloring (hair and eye), body measurements (height, weight, body type), and any unique features (birthmarks, skin conditions, tattoos) helps potential clients decide if you're right for them.
Professional summary
It's up to you whether you put a full modeling résumé in your portfolio. If you don't, you'll want to include a professional summary that outlines your technical skills and creative abilities. The summary should concisely portray your modeling experience and style, any big names you've worked with, your agency (if you have one), and your personal traits that work well in the industry.
For example, it might read something like:
"Fitness model with five years of diverse print and digital experience with clients including Nike and 24 Hour Fitness. Ability to follow directions, hold difficult yoga poses, and adapt to new situations."
Contact info
Include your full contact details: name, professional email address, phone number, and general location (for example, New York City or Los Angeles). You also want to add your social media handles, particularly if using an online portfolio.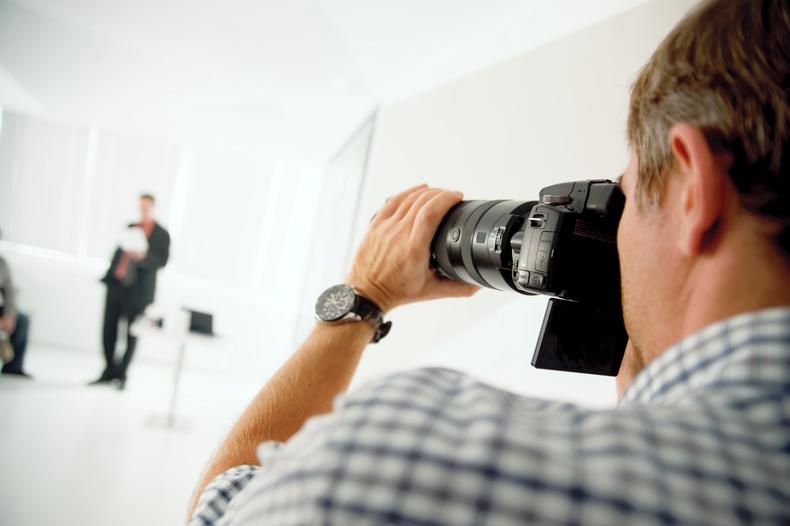 Stock image/Shutterstock
A modeling portfolio can cost anywhere between $500 and $2,000 or more.
The cost varies depending on the price of your photographer, clothes, and hair and makeup. Other factors that might affect the cost include whether you're interested in making a physical book or going digital. A professional photography shoot usually costs between $200 and $1,000. The cost for clothing stylists and professional hair and makeup artists varies, but will generally be at least several hundred dollars.
Keep in mind not to go too overboard; professional model and modeling coach Kamla-Kay McKenzie says that new aspiring models should not spend more than $700 to start their portfolio.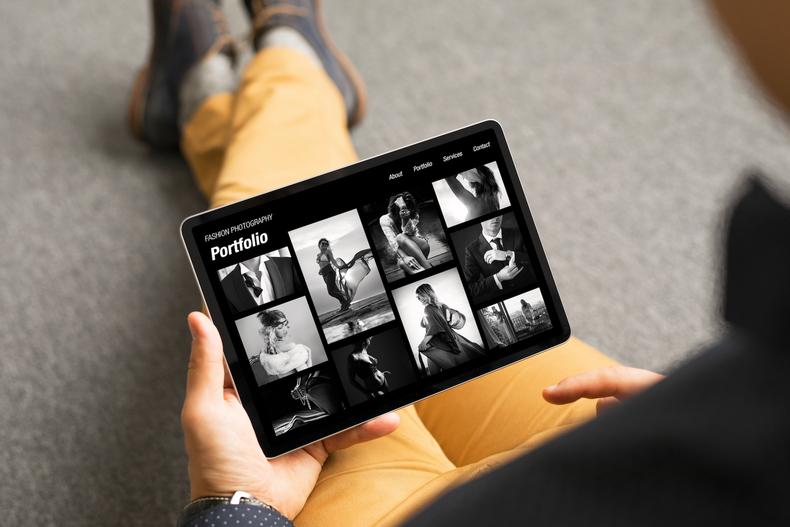 Kaspars Grinvalds/Shutterstock
Use these and other well-crafted model portfolio examples to inspire your own:
Fashion: Supermodel Karlie Kloss uses a clean, minimalist aesthetic for her website, which has links to her projects and social media publications.
Commercial: Model Erik Vent lands commercial brands like Target and Lego with his easily navigable selection of digital images.
Fitness/lifestyle: Model Laura Oliveira Granja highlights her physique and experience on her website.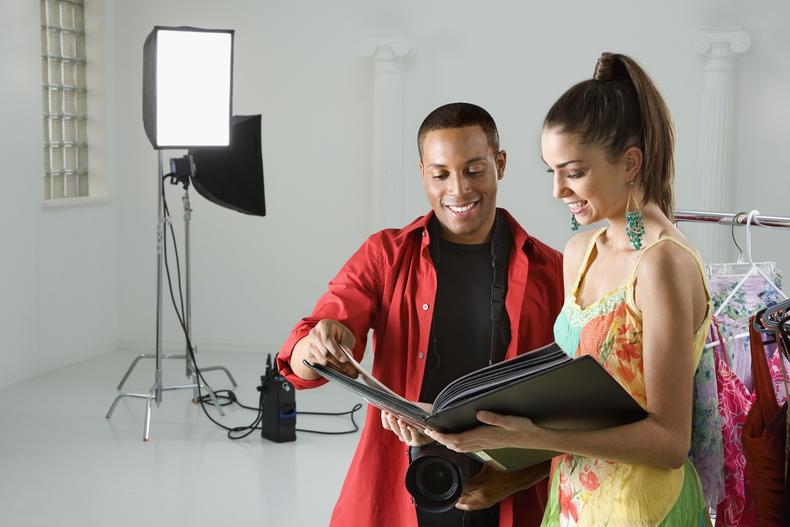 iofoto/Shutterstock
Follow these steps to create a modeling portfolio and start landing modeling gigs.
1. Figure out your type. From catalog to editorial and everything in between, there are (at least) 16 different types of modeling. To decide what type you are, "Look in the mirror and be honest with yourself," Marcus advises. Ask yourself if you can realistically get cast in a commercial print campaign, he adds, or if you have "more of the everyday person type of look" and should seek a different path accordingly. Consider your physique, skill set, and desired career path, and compare it with the different modeling types and what they require.
2. Pick out your photographer. Do some research to determine the best photographer for you and your personal style. Check their websites, photos, reviews, and credentials for the quality and aesthetic required for your modeling portfolio. Ensure your safety in these ways:
Only go to a professional photography studio—not someone's house
Bring a companion; never attend a shoot solo
Tell several people where you're going
Turn on location sharing on your phone
The Professional Photographers of America (PPA) service Find a Photographer is a great way to ensure you're only connecting with professionals.
3. Hire hair and makeup. Some photographers have hair and makeup artists whom they like to work with. If you find a photographer you like, ask if they have stylist recommendations; it's likely if they've worked together for a while, the hair and makeup artists know how to create the ideal look for a modeling shoot. If your photographer doesn't come with a readymade team, word-of-mouth references from other models you know in real life or on social media can be a helpful resource. If money is a concern, consider contacting a local cosmetology school for more budget-friendly options.
4. Choose a wardrobe stylist. This isn't as necessary as hair and makeup, but as the saying goes, the clothing makes the man (and persons of all genders). You can find a stylist by searching on social media, asking for a recommendation from a friend or fellow model, or even looking through magazine styling credits.
5. Shoot your shot(s). Arrange a date and time for your shoot and set up hair, makeup, and wardrobe styling beforehand. Bring a list of the different types of shots you need so you hit them all. Most importantly, remember to have fun!
6. Choose your photos. The photographer will likely present you with many photos. You want to choose the best of the best, while also depicting a diversity of images. Ask friends, family, and industry contacts to help you decide which photos to use and which to leave out. The photographer should edit the chosen images for you; just remember to request minimal filters and Photoshop.
7. Create a photo book. Even with today's advanced technology, the printed model portfolio is still considered industry standard. To assemble your printed photos in a book, either buy a photo album and insert the photos, or make a professional portfolio book online and have copies sent to you. General photo book services like Artifact Uprising and MILK offer premium photos and binding; specialty services that cater to models such as The Model Shop have expertise in crafting model portfolios. No matter what, you should avoid ring bindings, which can tear photographs.
8. Create a digital portfolio. Get your face out there in the digital realm by creating a professional website with your modeling portfolio (or hiring someone to create one). For sharp, eye-catching images, use a professional gallery service like Pic-Time, Zenfolio, or ShootProof. You can also include video and audio on your website to give better insight into your personality.
9. Make comp cards. Create composite cards, or Zed cards, with photos from your shoot. You can think of your comp card as an abridged version of your portfolio photo book. Put the best photo on the front and three or four photos, contact information, and personal stats on the back.
10. Self-promote. Post your digital portfolio across social media platforms for an even better chance of being discovered. Use hashtags like #Model, #AspiringModel, and #ScoutMe to generate interest. Reach out to anyone you know in the industry to advocate for yourself as a model and ask for advice. Marcus recommends that beyond bringing your comp card with you to go-sees, you should also self-promote by mailing it to photographers, advertising agencies, and agents.