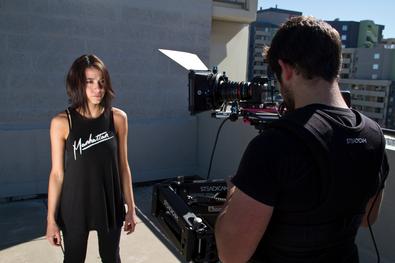 Casting directors, producers, and directors are not the only pros in the business who need an eye for casting. There are almost countless ways actors and models can use their talent to book a job, and one of those ways is through marketing content. With the insight and experience from a background in marketing, Gregory Frank has carved out a niche for his Early Bird Studios production company. He offers everything a small business would need when launching a new product. Much of the company's work is for Indiegogo and Kickstarter campaigns, but it's not limited to crowdfunding. They offer a variety of media for marketing campaigns: pitch videos, social media clips, advertising and e-commerce, and photography (both lifestyle and product).
It might surprise you, but Frank does most of the casting for his studio's projects himself, using Backstage to find talent that matches the client's demographic and preferences. "I've learned from Backstage that there's a plethora of talent out there." That's where Backstage's filters come in—Frank uses them to hone in on what he's looking for, "experience, demo reels or cover letter requirements4, and especially on the modeling side, it [gives] us measurements and headshots that we could easily share with our agencies or our clients for approval."
Location and headshots are always a factor.
Since there's rarely a budget for travel with his projects, Frank filters for local actors first and then focuses on the headshots. He says, "It's really about what kind of emotions their headshots evoke. Are they a more sinister, villainous type, with a darker edge? Or do they have something lighter or more commercial, which tends to be what we're typically going for?"
You don't need to be union or represented to get cast—sometimes it's better if you're not.
"Because of the nature of our productions, we can't meet certain union requirements, so we really do look for that value with nonunion talent," Frank says. He also notes that because of time and budget constraints, sometimes it's easier to deal directly with the talent than having to go through two or three outside representatives. "We're looking for people who are fairly independent, have good experience under their belt, and also have that energy in their headshots so we can see them filling the available role within our production."
Do good work and you will be invited back.
Frank doesn't typically cast actors in projects back to back. He wants to ensure that he's effectively meeting each client's specific needs while also continuing to build his portfolio, but he is happy to revisit talent he enjoyed working with. He has worked with Backstage user Sarah Hansen (GoChair, Saigo eBike, and more) several times. "She is absolutely stellar, a multi-talented dancer, actor, and model, and she's really crushed it for us." Frank also found Ben Oakes, who has a theater, modeling, and acting background, on Backstage. Frank says he was at a conference recently and walked by a booth showing a video with Oakes in it. He was thrilled (and validated) to see that he's not the only one who has noticed Oakes' talent.
READ: How to Make Yourself Unforgettable to Casting Directors
Talent is more than just delivering lines.
Because of the nature of the crowdfunding projects, Frank says most of his videos are voiceover driven. While some of their videos include on-camera lines for actors, primarily using voiceovers reduces cost. As a result, Frank says, "we try to find talent that is very good at physical acting and can convey emotions without necessarily having to speak on camera." He notes he often looks for dancers or people who are graceful and in good physical shape, not just actors.
Flexibility is important.
Frank says that for clients like his who need to keep costs low and use their funds to start their businesses, finding actors who will arrive on set on time is vital. Additionally, while they typically hire a make-up artist to be on set, he says, "If we're really tight on budget, we'll ask talent to bring wardrobe or have their hair prepared and camera-ready." Adaptability and willingness to work with the needs of the production are key.
There's no such thing as too much content.
Include all the headshots and video you can on your profile. "The more we have to analyze, the fewer questions we're going to have and the sooner we have the confidence to hire," says Frank. Including a cover letter that confirms your availability and says something about your interest in the project gives the submission a personalized touch. "It starts the relationship before we even have a chance to be introduced," he says.
Make the required information easy to find.
It helps Frank if he doesn't have to dig around to find the information he needs. Make contact information easy to find and include relevant work samples to get a leg up in the casting process. "If we're doing a fitness-related video, photos, reels, or footage in a similar setting, wearing leisure attire, or working out, help us visualize the final product and have those materials fast tracks everything."
What about those who are trying to cast their own projects? "Don't worry about trying to get hundreds of submissions. I would much rather have 20 people submit who are highly relevant than 200 people submitting with very loose relevancy. It's all about efficiency and ROI—the less time we have to take to find people the better." Provide as much detail as possible, including the specifics of what you're looking for and what you need actors to submit. Then you won't have to reach out to each actor who applies for additional information.