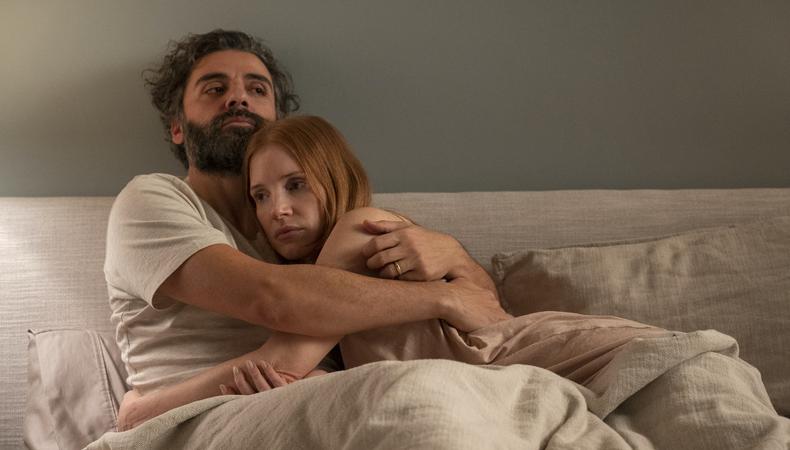 Jessica Chastain is virtually fearless. The actor's career has taken her from 1960s Mississippi ("The Help") to outer space ("Interstellar") and then to outer space again ("The Martian"). Currently, she's starring on HBO's remake of Ingmar Bergman's "Scenes From a Marriage."
The limited series, which gender-swaps the premise of Bergman's original, is a master class in scene partnership, made all the more potent because Chastain's co-star is her longtime friend (and Juilliard classmate) Oscar Isaac. When it came to stepping into her character Mira's designer pumps, Chastain had just one reservation.
"Sex scenes, to me, are embarassing," admits Chastain, speaking to Vulture. She clarifies that this is despite the fact that she's extremely comfortable working with Isaac, who begged her to star opposite him in the project. In fact, Chastain says she and her co-star—who played her husband once before, in 2014's "A Most Violent Year"—were "feeling each other's thoughts" by the end of the shoot. "There was no wall between us," she says. "We joke he's my work husband. I could tell immediately if someone said something and it bothered him."
However, the duo's closeness didn't squash the awkwardness of the show's intimate scenes. During one take, the intimacy coordinator interjected with the note that their sex didn't look believable. Chastain attempted to employ more "up-and-down action," but worried it still didn't look particularly erotic. Sensing her angst, Isaac devised a strategy to help his co-star loosen up. "Oscar is such a good friend," Chastain says. "Because I was so nervous, he played music and we drank a little bit of bourbon. He'd say, 'Just pretend there's no one else here. It's OK.' "
Chastain also credits Isaac with helping her navigate the series' heavier material—though she adds that starring opposite someone who can see you so clearly is both a "blessing and a curse." During one taxing table read, "He could see I was in a tough place, where nobody else in the room could tell," Chastain recalls. "That's the curse part. Because I was like, OK, I'm about to go on this journey with this scene partner who I can't hide anything from."
We can't wait to see where Chastain and Isaac's artistic chemistry will take them next; something tells us it could be to next year's Emmy Awards.