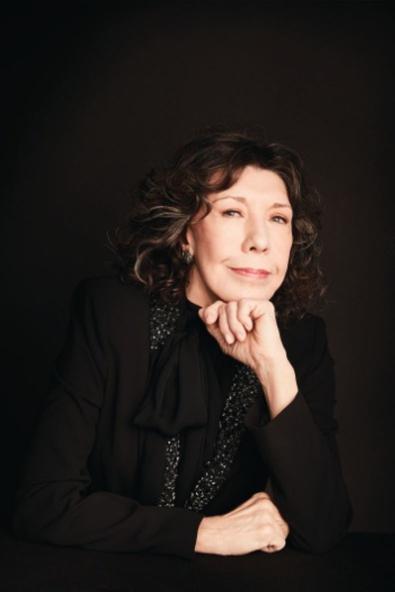 Lily Tomlin's stories are like a road map to becoming a great actor.
"I've always worked," she says, reflecting on the course that's led to an illustrious career and a forthcoming Screen Actors Guild Life Achievement Award. "Even as a kid, I wanted to work. I babysat when I was 10 years old. I had a big babysitting service; I lived in an old apartment house, and back in those days, working-class people didn't pay too much mind to who was looking after their children. I spoke with authority, and I looked like the kind of kid that [parents] probably could rely on."
Laughing, Tomlin proceeds to launch into a fantastic digression about the time she and a gal friend babysat some kids on New Year's Eve, only to spend part of the evening reading the parents' love letters. "We were going through all their personal belongings," she confides. "Her husband was in Korea, and he wrote the most sexy letters."
The brief story—impish, candid, conspiratorial—is key to Tomlin's appeal. From the characters she created in the 1960s to her television and film work to her one-woman stage shows, Tomlin has always seemed like she's leveling with us, revealing sometimes pained, always real people with wisdom and a light touch. The same woman who dreamt up the mischievous little girl Edith Ann and portrayed the disenchanted mother Linnea of "Nashville," Tomlin pulls her characters' interior lives out into the open, letting us see their messy vitality by stripping away any barrier between viewer and actor.
"I liked to make up stuff," she recalls of her Detroit childhood, "and I started putting shows on in the apartment house. But I didn't expect to do that for my life's work. I would do characters. I would do people in the building. I would tell stories—my mother and father, and things that I experienced. But I would also tap dance and do magic tricks. I did all kinds of stuff."
This reminiscence in a Studio City café in early December 2016 leads to another story. The month prior, she had attended the Country Music Awards, where her friend and "9 to 5" co-star Dolly Parton was honored. Tomlin visited her brother in Nashville, and they traveled to Kentucky, where they have family. During that trip, a cousin reminded Tomlin that, during the summer that "How the West Was Won" filmed in Paducah, Kentucky, when Tomlin was in her 20s, she had announced, "I'll be a movie star some day." Tomlin laughs—she has no memory of her youthful proclamation. "I didn't think of [acting] in any grandiose terms. I don't know why I made those characters in the beginning."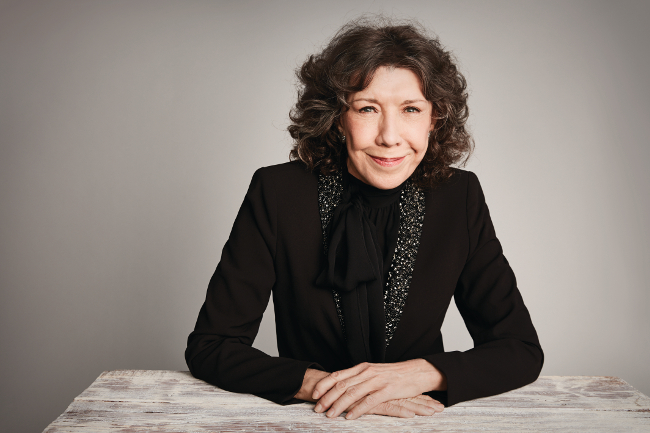 Now, between co-starring on Netflix's "Grace and Frankie" with fellow SAG Award nominee Jane Fonda and touring dates around the country, she and her characters are busy as ever, and as she recalls more memories, clues start to emerge as to why.
READ: "10 Comedy Reboots We'd Like to See"
Tomlin speaks about a recent exchange with a director in which she asked him about his parents; it's a technique she often uses with filmmakers. "I always ask someone, 'What did your father do? What did your mother do?' Just to make conversation, but I'm interested in other people's origins." She then adds, jokingly, "Maybe I wanted them to ask me what my mother and father did." (For the record, her father worked in a factory and her mother was a nurse's aide. "She made the babies' formula. Oh, she was a delightful person. She was sweet and fun.")
Unsurprisingly, the endearing presentness of Edith Ann or the cantankerous phone operator Ernestine developed from what Tomlin calls her interest in "individuals and their point of view." Her creations might be foolish, but "I want them to be confident in who they are, even if everybody else is belittling them, which they might be. I try to express who they are in that place where, even if they're lost and confused, their confusion is paramount."
It was director Robert Altman who cast Tomlin in her first movie, 1975's "Nashville," which earned the actor her sole Oscar nomination. Tomlin went on to work with the filmmaker several times over subsequent decades, and even now, 10 years after his death, thinking about him and his wife Kathryn, who died in March, makes her weepy.
"Kathryn just died," she says, dabbing her eyes. "It's just so horrible. Kathryn dying was the final note. I'm not maudlin or anything like that—it's just, he was so great. They meant so much to me in terms of a movie career. Nobody would've given me a part in a movie. We had the same agent, so that was a help, I'm sure, but Altman, in spite of the fact that most people thought I was Ernestine, he gave me a straight part in 'Nashville.' It was a wonderful part for me."
When Tomlin moved to New York in the early '60s, before she ever met Altman, she thought she had her career path mapped out: She was going to be a mime. "It was too narcissistic to be an actress," she explains. To her mind, being a mime was "more organic. You just have your body—you don't have words, and it's more artful. The hip used to make fun of actors: 'You have to be a writer or a composer. You have to be a creator of the art, not an interpreter.' I lasted about three weeks at the American Mime Theatre—it was so arduous, and there were no words."
Tomlin's massive verbal faculty found its perfect complement in Jane Wagner, an aspiring songwriter who shifted to writing TV and theater. Creative collaborators for more than 45 years—they've been a couple almost as long—Tomlin and Wagner have achieved great critical and commercial success with one-woman shows, including "The Search for Signs of Intelligent Life in the Universe," that were penned by Wagner. And while Tomlin is happy for the awards she's won over the years—including six Emmys, a Grammy, two Tonys, and two Peabody Awards—she laments, "I wanted Jane to be acknowledged in some way. It was so awful that I got credit for everything. When we did 'The Search,' we tried to incorporate her name into the title so it would never be published without her, but it still doesn't take."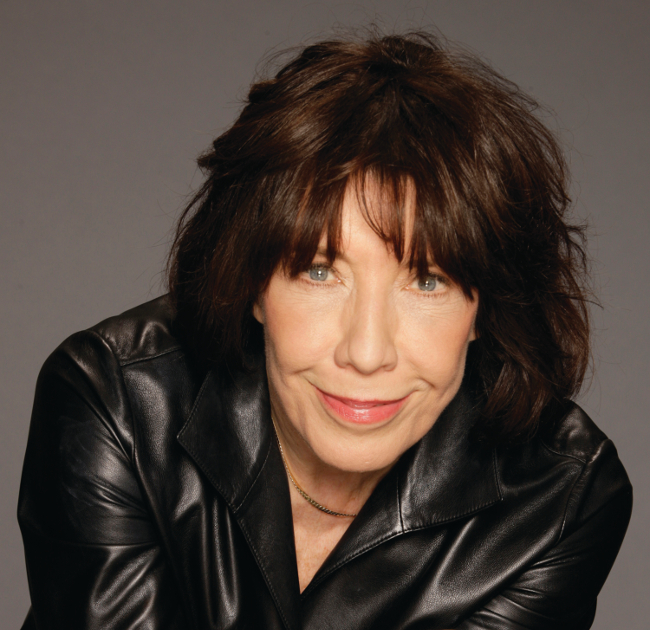 Tomlin often circles back to her time in New York when she was starting out, sleeping in crappy apartments where she had to fend off roaches. Her retellings are funny and full of vivid personalities: the painter she befriended who ended up being Sen. Barbara Boxer's brother-in-law; the day-job boss who went on to create the ICM agency. The stories circle back onto one another, and Tomlin stops herself midstream to energetically punctuate them with asides like, "Oh, this is so exciting—I forgot to tell you this part!" After one particularly rich thicket of New York anecdotes, she announces, "Oh, it's too many stories to tell you. But it's so of that time—of young people wanting to do this and do that."
It's suggested that all these memories could form the foundation of a great new theater piece, and Tomlin warms to the idea. "I can talk about this part of my life in such [detail] because I'm more deeply imprinted by it," she says. "Then I go through a flurry of 20 years where I can hardly—it's like I'm not sure I remember a lot. It's all those early years that are very deeply imprinted."
And yet, for a performer so blessed with the ability to communicate directly to an audience—to talk to you as if you're the only person in the room—she admits to feeling trepidation about what to say when she accepts her SAG Life Achievement Award.
"I have no idea," she says, laughing. "That's what I don't like about winning awards: [having to] say something that's life-changing for Cate Blanchett."
She laughs again and declares, cryptically, "I think I'll say, 'Zip-a-dee-doo-dah,' " and then she starts humming the song. Why pick that tune? Sounds like there might be another great story behind it.
Want to bring your own characters to life? Check out our film audition listings!