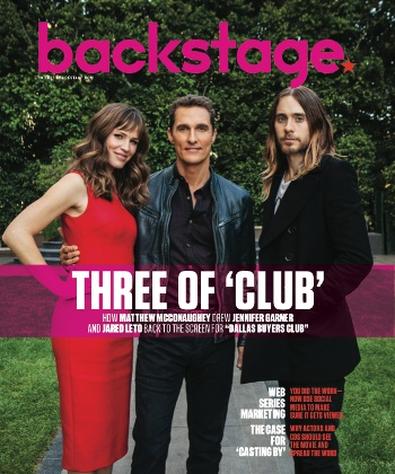 Matthew McConaughey, Jennifer Garner and Jared Leto grace our cover this week, and they chat with Backstage about their roles in "Dallas Buyers Club" in theaters Nov. 1. Check out a sneak peek from the feature below!
---
Matthew McConaughey and Jennifer Garner on Shooting in a Working Emergency Room
"Dallas Buyers Club" was shot in 25 days on a budget that was a fraction of what its filmmakers thought necessary to make the movie. The breakneck pace and limited resources led to some challenging moments for the cast.
"We shot in an emergency room that was working as people were coming in," Jennifer Garner says. "I did not like shooting there at all. You could hear horrible things going on behind the curtains. This woman came up to me and said, 'I came because I have shortness of breath.' I was like, 'OK, cut! We have to find this woman some help.' "
Amid the chaos, the actors managed to get what they needed out of their scenes.
"There was urgency and emergency all around," Matthew McConaughey said. "I smoked a cigarette in there, because Ron [his character] smoked. I lit the cigarette, and they said, 'Not in here.' And I was like, 'It's 1986.' And they said, 'No, really.' I was like, 'Did we get it?' 'Yeah, we got it.' "